In a nutshell – as part of the Ikea Live LAGOM project I chose to save money on energy escaping the house. This was easy with curtains and rugs to keep us warm and save money.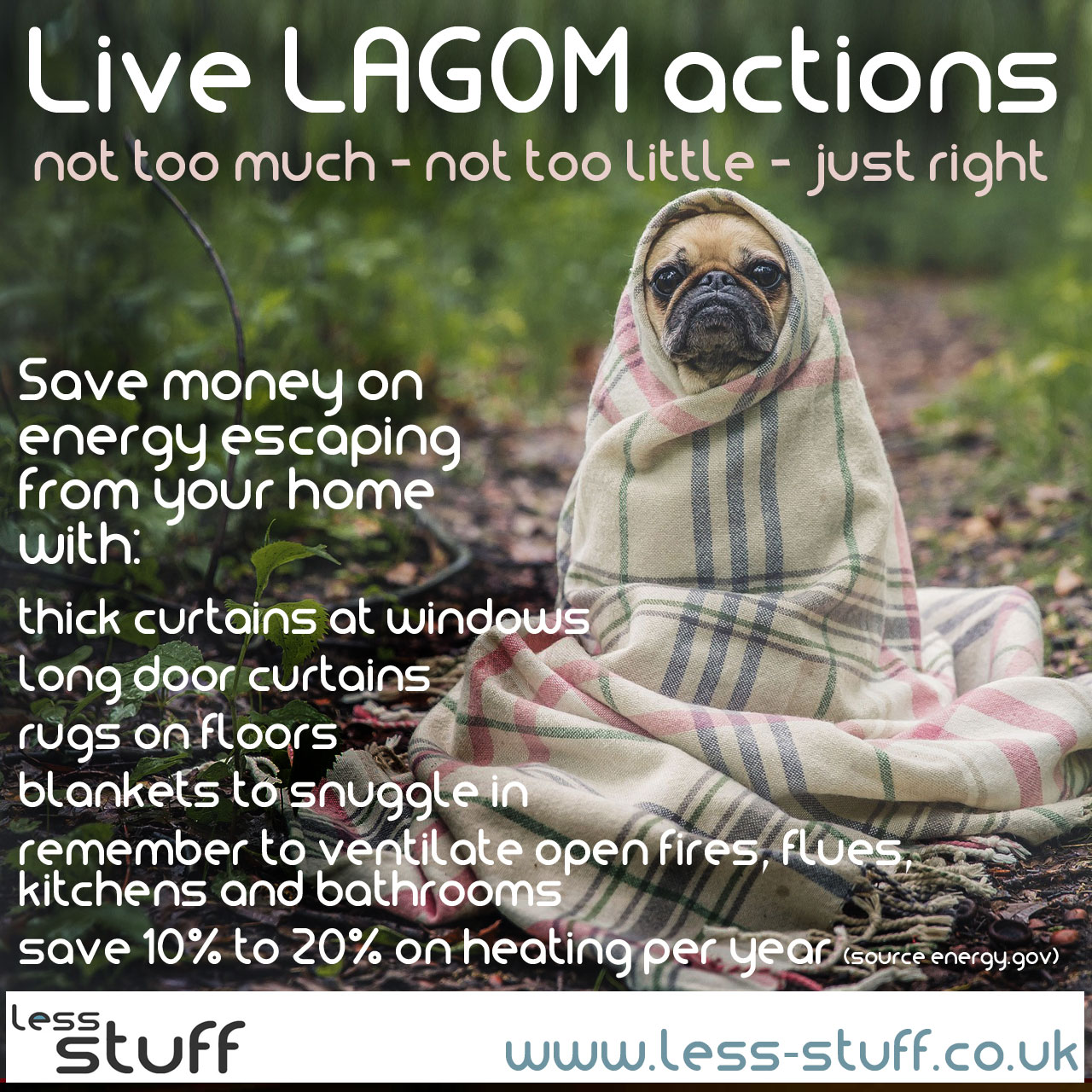 I'm the sort of person who craves daylight during the winter.  For years I've put up with wind whistling through cracks in doors and windows instead of blocking the light and drafts out. This year I gave into the idea of comfort, warmth and saving money on the bills so we have winter curtains up.
As part of the Ikea Live LAGOM project Aime and Tara from Bristol Ikea came to my home. They gave me lots of ideas about how to be more comfortable and live more sustainably. All that wasted heat in my house is wasted energy and wasted money. After lighting (I didn't realise I could change my bulbs to LED's) stopping drafts were a high priority and became one of the things I was going to work on.
You can see from our house plan that we didn't have any curtains at the front or back doors originally. We went shopping and found 2 thickish curtains for £5 each in the bargain basement.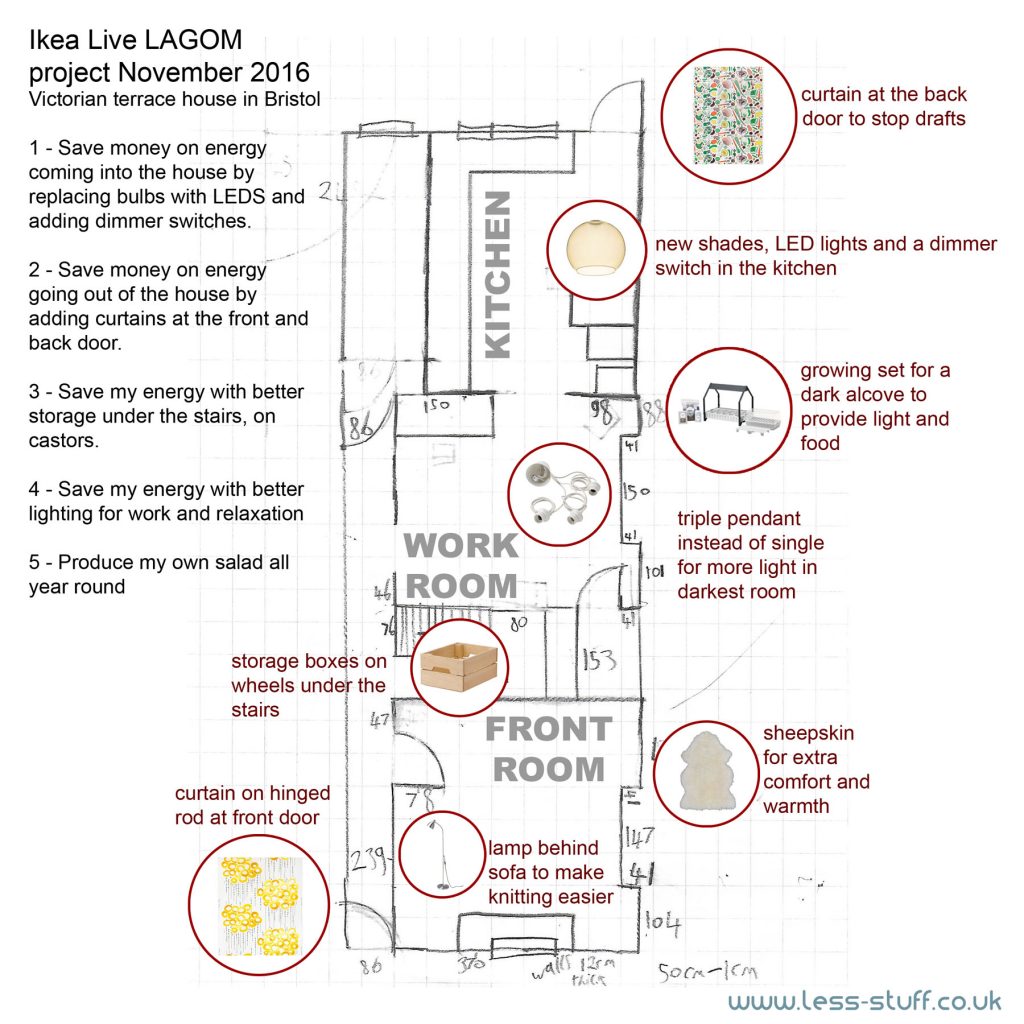 Curtains at the back door
The back door of my home opens out onto the garden. I love my garden and like to be able to see it. The cats like to sit at the back window and door and monitor the birds. We are all 3 of us very sad when we cannot see the outside world. However, when your teenager casually mentions that it's weird having dinner in the warm, it is time to sort things out.
The curtain rail was easy to put up as it screwed straight into the wooden door surround. The curtain has been up for a month now and the difference in comfort is impressive.  I am looking forward to taking it down as soon as the biting wind turns into summer.
Brackets cost £1.50 each and the curtain rail was £1 bringing the total cost of curtaining the back door to £9. I have left the hem of the curtain down because I want to wash the curtains first incase they shrink.
A hinged curtain at the front door
I had a hinged curtain rail made by a very talented blacksmith friend years ago but I had never got round to installing it. It is a raven to protect the house and it is made in 2 parts: a wall plate and a bar that swings back and forth on it. The curtain just hooks onto the rail. When the curtain is pulled across the door I weigh it down with a draft excluder. If I don't secure it in place the cats fight around it and it gets moved.
Again, I'm grumpy about losing light but the house is lots warmer than it used to be. Heat actually seems to stay rather than vanish. I am getting some diffused light through the door and I like the pattern on the fabric.
A curtain for my sons room
My teenager wanted a black curtain and the cheapest way to do this was to buy a throw and clips to get it onto the rail. It has a lovely diffused quality about it but he really will need a thicker curtain at some point. I was originally going to get him a cellular blind but they don't fit windows built in 1860.
Rug for the kitchen floor
I had to take some of the original shopping back to Ikea because lightbulbs didn't fit so I exchanged them for different things. Everything I bought had to fit in with the idea of sustainable living and my goals. The rug was a bit of a last minute grab and I'm so glad I have it. I generally don't have time to find slippers first thing. I have 2 cats that are clearly starving to death and who will eat my face if I don't feed them before doing anything else. The rug is in the kitchen on a concrete floor that is covered in lino.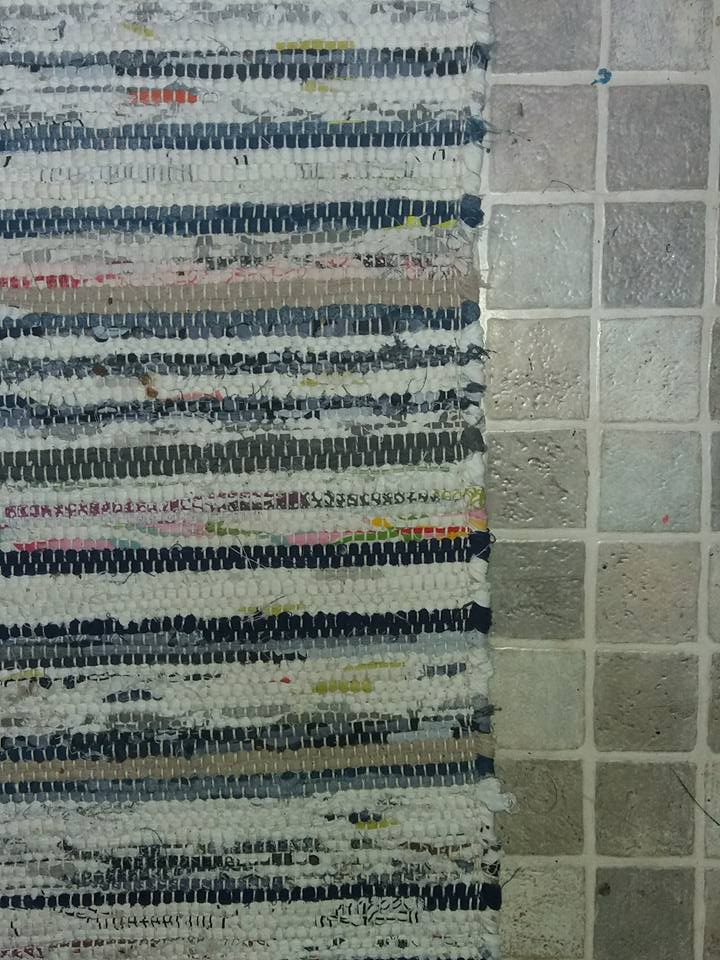 It wasn't until I had the rug that I realised I needed it badly. It has made such a difference, so quickly. I'm not hopping around on a freezing cold floor first thing, juggling cat food, packed lunches and cups of tea. I hope that it will fit in the washing machine because realistically it is not going to stay that clean. I may dye it at a later date.
Because the rug was a last minute buy I didn't research it at all. A few days later Ikea sent me an email all about it, and it looks like I chose well for me and for the people in Bangladesh who made it.

Is it saving money?
Short answer – I don't know yet. It's January, my phone says it's 1 degree outside and the thermometer on the fridge says 13. The heating is off and I feel fine. The cats are not fluffed up like puffballs so I assume they feel fine too. If I'm not using the heating then I must be saving money but I won't know until I get the next bill and I can compare it to last years.
Is it keeping warm Lagom style?
Yes, with minimum fuss our home is more comfortable and warmer. Not too hot, not too cold. Just right, very Lagom! We are a lot cozier and the sacrifice of light is worth it for a few months of the year.