In a nutshell – 4 months ago I was given £300 by Ikea to help make our home more sustainable. This is what has changed in that time.
It seems like a very long time ago that Tara and Aime from Bristol Ikea came round to look at my house. They had loads of great ideas about how to make it more sustainable, with the lovely knock on effect of making it more comfortable too. I wrote about how we planned to spend the money and broke the sustainability challenge down into 5 goals. We were supposed to make resolutions but I much prefer goals as resolutions don't work for me.
Goal 1 Save money on energy coming into the house by changing all the lightbulbs to LED's
Light bulbs changed to LED's
95% of Light bulbs changed to LED's
After some initial hassles around getting the right type of bulbs we now have all the bulbs in the house, apart from my bedside table one as LED's. They are fine, a little fussier than incandescent on dimmer switches but the light is good and stable with no noticeable flicker now.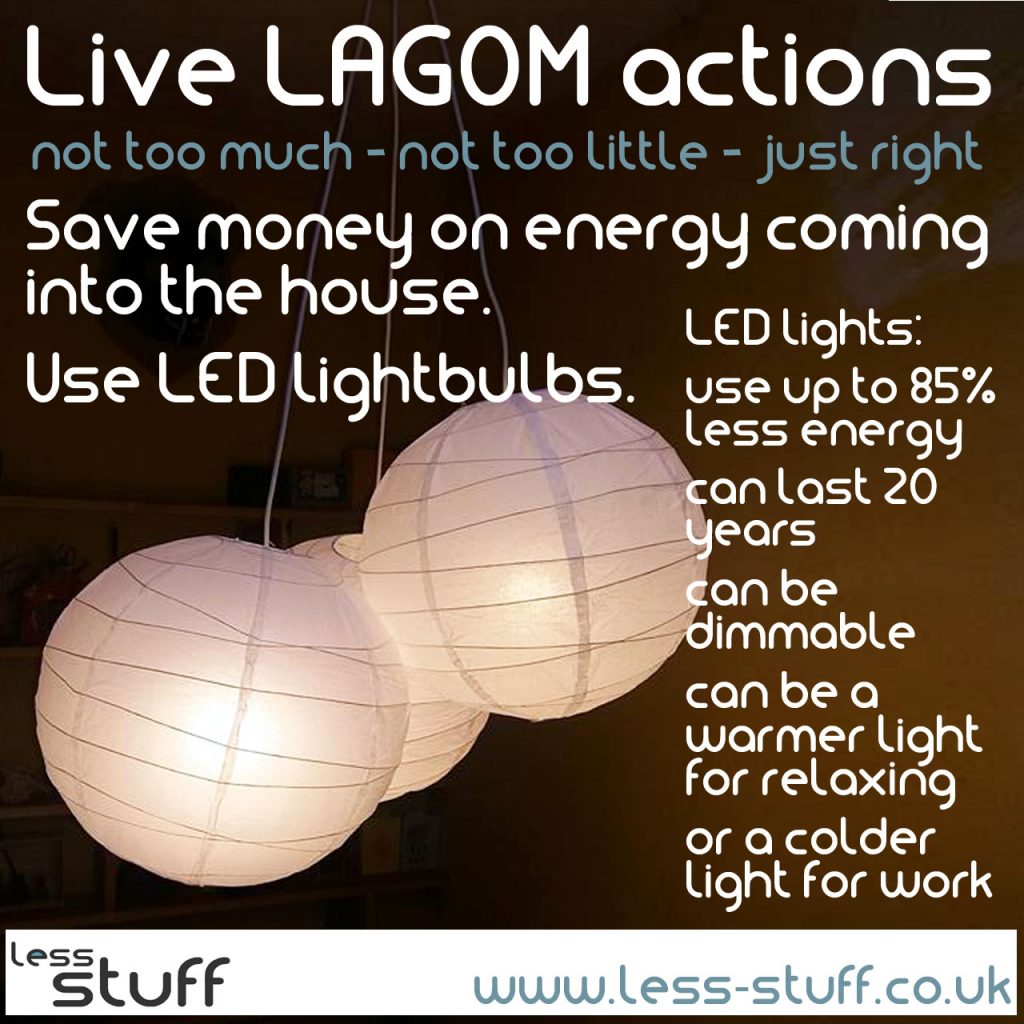 Goal 2 Save money on energy going out of the house by insulating
Drafts excluded
our house is 50% less drafty
We are used to curtains at the back and front doors now and the draft excluders we made really do cut out drafts! My project for the summer is to work out a cost effective way of insulating my Victorian sash windows.
How did this impact on the bills?
Other than buying a new energy-efficient kettle in December, the only change I have made to our electrical consumption is changing the bulbs. After 4 months we have already seen a gigantic difference in the electricity consumption, it is 23.5% lower than last year. Sadly this makes no difference to the cost of our electricity because the prices have gone up.
Gas consumption is the central heating which I have had on far to often. We also had a bit of a gas leak that is fixed now. I'm blown away with the difference a little change can make in the electricity. Lightbulbs for the whole house cost about £70, with a bit extra for new switches and the time of the electrician. It's going to be a while before it pays itself back but it is well worth it.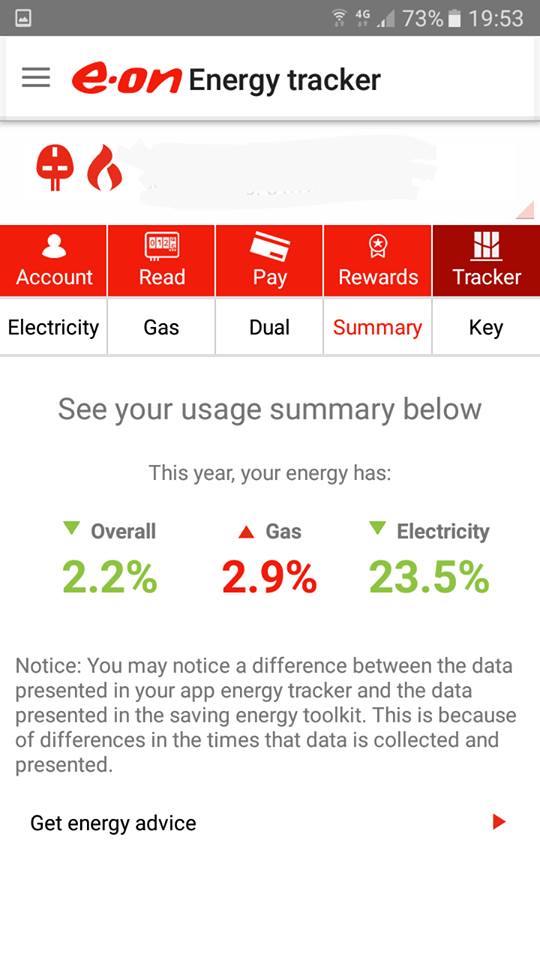 Goal 3 Save my energy with better storage under the stairs
Use of better storage
I have lovely wooden boxes on castors under the stairs. I also have piles of crap in front of them waiting to go to the charity shop etc. It is back to being a dumping ground. This is no failing of the boxes, it's just the way I use the house. The boxes do mean that it's easier to find things, but I still have to move everything out of the way first.
Goal 4 Save my energy with better lighting for work and relaxation
Better lighting
Better lighting has made a big impact on my life. I can knit black wool at night even in mid winter now. My work room has a flexible lighting system so when I move the table into it's summer position, the lights can go with me. It's 3 cords that come out of the central point in the ceiling and I have hooks in the ceiling so I can move the lights and shades when I need.
Goal 5 Produce my own salad all year round
Giving up bagged shop bought salad
The hydroponics unit is the clear winner from all the Ikea goodies. It gives off so much light we no longer need the hallway light on at night. It is churning out fresh salad and I've just started off some tomato seeds under the light. I'm not convinced it's producing very tasty salad but I'm hoping that is just the variety and not the method of growing.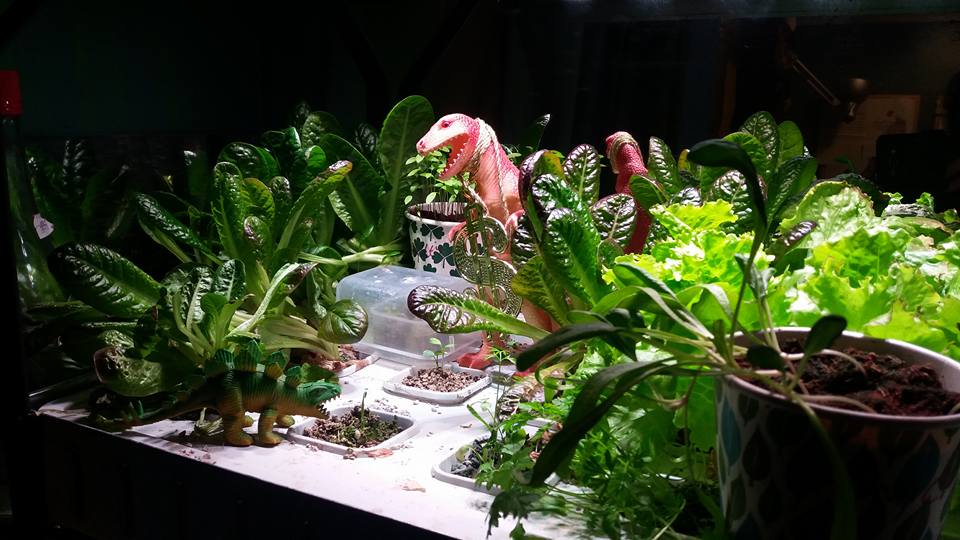 Additional personal goal of giving up one use plastic bottles.
Giving up one use plastic bottles
no single use plastic bottles used
After our first Live Lagom workshop we were given a little bag (reusable) of goodies. In that bag was a sturdy, refillable plastic bottle and that was the start of me giving up single use bottles. I used to buy 6 a week in the supermarket shop and the odd one or two when I was out and about. I've bought none! We have a special sports top bottle for the car and I have a little bottle that fits in my handbag. In 4 months I estimate I would have got through almost 300 single use plastic water bottles. This year I have bought none. It takes a bit of getting used to and I've been caught thirsty in town once but I used that as an excuse to have a coffee and a large glass of water instead.
[amazon_link asins='B00IS3AJYI,B01LX9TVRE,B01CQBSNHM,B0093IQYQ4,B009F7XSVC' template='ProductAd' store='lessstuff08-21′ marketplace='UK' link_id='b43fb7d9-0d87-11e7-bfcd-3986df909ae3′]
Conclusion
Goal 1 change lightbulbs
95% of Light bulbs changed to LED's
Goal 2 block out drafts
our house is 50% less drafty
Goal 3 have better storage
Goal 4 better lighting for work and play
Goal 5 Giving up bagged shop bought salad
Bonus Goal Giving up one use plastic bottles
no single use plastic bottles used
I am still incredibly grateful to be a part of the Live LAGOM project. It's made me look at my house in a very different way and I've learned that you can combine comfort with energy saving really easily and without spending a fortune.