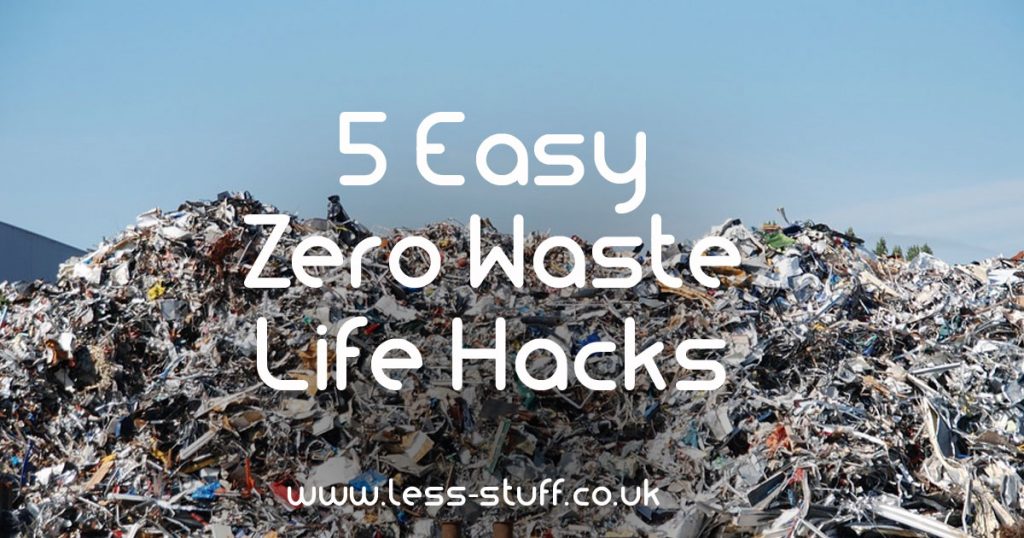 This quick list has some ideas for making zero waste part of life. There are all easy, minor hassle options that can save you money too.
Save stale bread
I love sourdough bread but it gets pretty hard after a couple of days.  Whizzed up in a blender it makes the most amazing breadcrumbs to sprinkle on top of baked dishes, or to make home made fish fingers with. It makes mean croutons too! I save all the crusts in a bowl so the air can get to them and turn them into breadcrumbs as I need them.
You might like this too – The less-stuff Facebook group came up with an amazing A-Z of leftovers which has loads of ideas for saving food
Keep a stock pot
Almost all vegetable trimmings other than broccoli and cauliflower make good stock. It is just a matter of saving up the ends and simmering them for half an hour or so. Strain off and freeze in portion sizes or keep in the fridge for a week. If you have freezer space you can keep your veg trimmings in there until you have enough for stock.
Leave out carrot tops (you can make pesto with them instead).
Don't use cabbage, cauliflower or broccoli as it will have a bitter taste. You can use the stalks to make a soup afterwards but none of these brassicas respond well to a long cooking process.
Too much potato or sweet potato will absorb the taste and you might end up with glue because of the potato starch.
Don't use food that smells bad or off.
Beetroot can be used but in moderation, and you will get red stock.
More detailed instructions for making stock are here.
Have buy nothing days
Buying less stuff is the key to producing less waste. It is easy to get into the habit of buying out of boredom but there are many ways of distracting yourself. Avoiding adverts helps, and remembering that bargains are not bargains unless you have been specifically looking for something. A £10 reduction on a £50 pair of shoes is still £40 you were not intending to spend. Not a bargain!
If you like the idea of shopping less read this – 10 Strategies to help you stop getting more stuff when you are trying to declutter
Avoid plastic
Plastic is the most expensive and difficult thing to recycle. There are so many types of it that sorting to recycle is time consuming and costly. Plastic basically lives forever so if you can avoid it you are on a zero waste winner. When recyclable is an option choose things that can be recycled more easily. Buy tins instead of foil pouches, paper packaging or glass instead of plastic. It is relatively little hassle choosing paper wrapped oats at the supermarket instead of plastic wrapped ones. This does not need to cost more as places like Lidl stock many plastic free alternatives.
You might like to read about 5 Things you need to buy to reduce your family's plastic consumption. I like this guest post by Arabella especially because she talks about paying back her plastic usage by doing quick beach litter picks.
The Plastic is Rubbish website has lots of resources to help you lead a plastic free life, and a very friendly Facebook group too.
Wrap presents with another present
Ripping off the wrapping paper is part of the joy of getting a present but if you are giving the present to an adult they may prefer a more stylist, and less wasteful approach. Furoshiki is usually done with square bits of cloth. You can usually find scarves in charity shops pretty cheaply. Or, for food related presents try wrapping in tea towels. I'm aiming for a Zero Waste Christmas this year so if you want to hear how I get on please sign up to the mailing list.
[amazon_link asins='B00OMXNK0S,4805313145,1574861069,0312566670,B00SLVZKK0,1607054337′ template='ProductCarousel' store='lessstuff08-21′ marketplace='UK' link_id='764c5f84-939b-11e7-b54d-b90628112e93′]