Plastic Free July Themed guest post by Arabella from Exeter Baby Activities.
Arabella writes about crafts with kids, cooking, growing and other eco-friendly things that are useful to people outside of Exeter too – check out her Mummy Musings.

Spending to save money
Treading lightly is all about reducing the number of things we buy.  Decluttering gently to minimise the stuff in our houses.  Not spending money on unnecessary objects.
But sometimes, it pays to invest in well considered objects, especially when you are looking to reduce your reliance on single use plastic objects.  Here are 5 things you should consider buying to help you reduce your family's reliance on plastic – and save you money!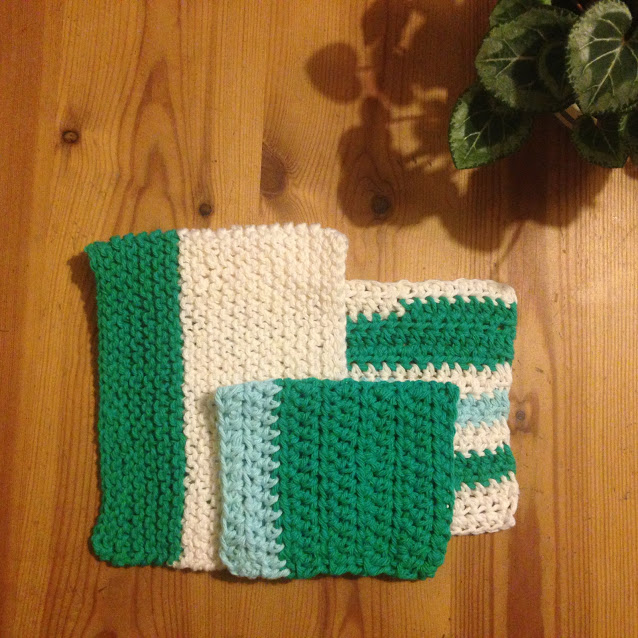 Cloth wipes
A cheap set of cloth wipes will set you back under £20 and will save you a fortune plus a ton of plastic.  And they feel so much nicer on your skin!
Wet wipes and their grown-up version, face cleansing wipes, are consumer products designed to make you buy them again and again and again, earning the companies £millions every year while clogging up our beaches and water systems and producing millions of tons of unnecessary plastic.
Look for cloths that are about the same size as your hand for ease of use and preferably 100% cotton cloths as they last through hundreds of washes and won't shed microscopic bits of plastic that end up in the rivers and seas.
I like to have plain ones for children's bottoms and coloured ones for their faces and to remove my make-up. This is one time when even frugal old me would buy in bulk – having lots of cloths makes for ease of use so you don't feel rushed into washing all the time.
Just dampen with warm water, use and wash ready for next time.  Easy peasy win – the average family can save around £250 a year by making the switch.
If you are crafty and super frugal, you can even make your own by knitting or crocheting squares out of scraps of yarn.  Cotton is best for durability – these are made from ends of balls from tops I made for my children.
Soap dishes
The Gods of marketing have elevated the humble hand wash into the latest designer fad.  No longer just about washing the grot off mucky hands, soap is here to save the day with the latest developments in bug busting -chemicals or spirit raising synthetic perfumes.
But this comes at a high cost – both to your pocket and the environment.  All that marketing to convince you liquid soap is better bumps the price up dramatically.
My highly robust method of checking out the prices at the supermarket, estimating how long a bottle of soap lasts v a bar of soap and doing some dodgy maths in my head, showed me that liquid soap costs around TEN TIMES more than bar soap per hand wash.
That's a lot of money to wash down the drain.
Plus a LOT of plastic.  With some families using 3-4 bottles of hand wash and the same number of shower gel bottles a week, the pile of unnecessary plastic soon mounts up.
So invest in a couple soap dishes (I like child friendly wooden ones), a few good old fashioned soaps on ropes for the showers and some bar shampoo and you'll have a huge impact on your family's plastic consumption.  Lush estimates that they save 6 million plastic bottles a year from the sales of their bar shampoo alone.
If you really, really can't do without liquid soap, why not make your own with the kids?  It's super easy, very cost effective and great fun – plus you'll be reusing existing plastic bottles, not buying new ones.
Water bottles
The UK bottled water market is worth £2.4 billion.  Bottled water costs around 500 times more than tap water – so every time you buy a bottle of water, it's like paying £1,500 for a pint of beer!
A set of GOOD stainless steel water bottles for your family will cost you around £50 but they will last you for years and the price pales into insignificance when the average person is expected to spend £25,000 on bottled water and soft drinks in their lifetime.
And the planet will be super happy too. A litre of French mineral water can generate up to 600 times more carbon dioxide than a litre of UK tap water.  And the average Brit gets through 150 plastic water bottles each year and then there's environmental impact of shipping water to the UK from Fuji!
Packing a refillable water bottle every time you go out is such a simple way of reducing your plastic load and does save you a fortune too.  And it's getting easier to find places to refill when you are out using apps such as Refill.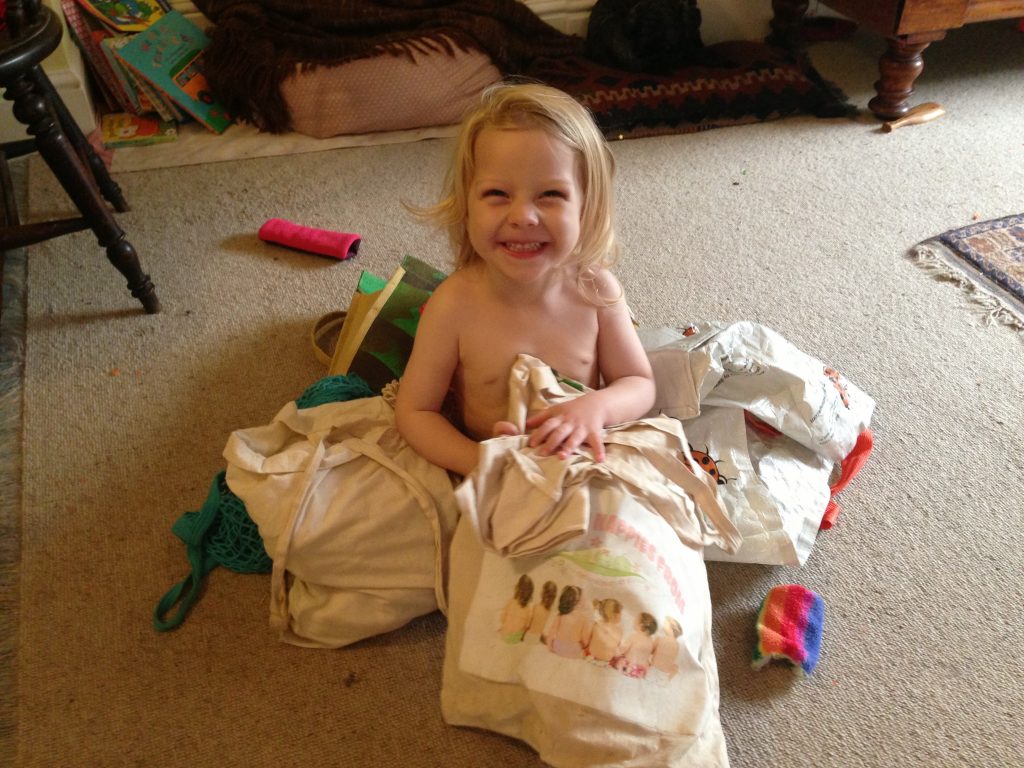 A set of Reusable Bags
The plastic bag tax has dramatically reduced the number of single use bags given out each year but we still get though around a BILLION disposable bags every year in the UK.
The better solution is to buy or make a set of reusable bags.  I've a dozen or so, in different shapes and sizes to cover all eventualities, collected over many years.
I've a polyester one that lives in my handbag.  Not perfect environmentally but it folds up small enough for me to carry EVERYWHERE and it means I'm never caught short if I make an impulse purchase or just pop to the shops on the way home for a couple things.  I reckon it saves about 30 single use bags a year and will last for over 10 years, so an excusable bit of plastic.
Then I've organic cotton string bags that expand massively and are comfortable to carry back from the Farmers' Market.
I've flat bottomed canvas bags that I can lob a load of tins in and heavier and less user-friendly jute bags which are great for protecting more delicate items, such as soft fruit or glass bottles.
I'm not sure investing a set of reusable bags will actually save you money and I know the jury is out on the carbon footprint of plastic v cotton bags.
But even 'green' plastic bags won't degrade unless the conditions are exactly right so will hang around for years.  Single use paper bags feel better but still come at a huge environmental cost.
And it IS very clear that single use plastic bags have a hugely detrimental effect on our landscape and wildlife.  100,000s of animals are injured or killed each year by eating or being tangled in bags.  Our beaches, rivers and moors are cluttered with them.  They block drains and cause flooding, costing a fortune to repair.
So investing in a variety of reusable bags is definitely an ecologically sound way to reduce your plastic consumption.
Food boxes and tubs
Hmmm, some plastic here but bear with me.
The girls take packed lunches to school every day.  We picnic out at least once or twice every weekend.  Then there are the after-school snacks.  The going on a road trip nibbles.  The waiting outside drama, music, Parkour lessons, staving off the boredom snacks.
We make a lot of these snacks and foods at home, so there is little plastic there.  But we do need to carry them around with us, more often than not on bikes, so we do have the box of plastic doom in the kitchen.
In it is a random selection of recycled ice-cream etc tubs, sandwich boxes, many shaped pots and containers, so we can carry pretty much any food substance with us, without needing to use foil, wrap or plastic sandwich bags.
In an ideal world, we'd use glass containers but they just don't work for us.  Too heavy for our mostly walking, cycling, train mode of transport.  Too dangerous on beaches and rocky bits of Dartmoor.  Not allowed at many of the festivals and wilder campsites that we visit.
We are trying out metal containers too but they are wildly expensive and most seem to come with some form of plastic lid anyway.  And I'm loath to throw away our perfectly useable containers just so we can be seen to be green.
So plastic it is.  I reckon the box of doom has cost us about £40 over the years but has saved £100s in not buying single use plastic wrapping and reduced our plastic consumption over all.
I hope this has given you some inspiration to start cutting down on your family's reliance on single use plastic without feeling guilty or overwhelmed.  Remember, it's about being conscious of your choices and doing the best that you can in a society that makes it far from easy.
Bio
Arabella is a 40 something mum of two strong girls aged 14 and 6, living a life of beaches, pets, cycling and green things in Exeter with Mr Husband.
A lawyer by training, Arabella runs www.exeterbabyactivities.co.uk, the ultimate guide for families in Exeter.  She gets a real kick out of sparking connections; putting local businesses in touch with families; spreading the news about exciting family friendly events and celebrating all that is fabulous about glorious Devon.
You can find her:
Pinterest 

Save more money:
Get ideas for using your leftovers with a free A-Z of Leftover food ideas when you sign up for the less-stuff newsletter.
Use up leftover food with easy recipe ideas.
Save money on your food bill.
Help the environment by throwing away less food.
You will also get:
A voucher for a free book from the less-stuff shop so you can choose any book you like and pay nothing at all!
News about what is happening at www.less-stuff.co.uk including exclusive special offers
Occasional reminders and tips with ways to declutter gently without getting stressed out about it.
And a calendar that you can start at any time and print off as many times as you like with:
A checklist of questions to help you declutter the right things.
A list of ideas for rewarding yourself when you declutter 5 things in a week.
A tiny decluttering challenge every weekday for 4 weeks.
Emails are infrequent, so as not to clutter up your inbox and you can easily unsubscribe at any time.