In a nutshell – it is day 8 of plastic free July.  On day 4 I ran out of toilet duck so I tried to find a plastic free alternative. White vinegar came to the rescue and it is better than toilet cleaners!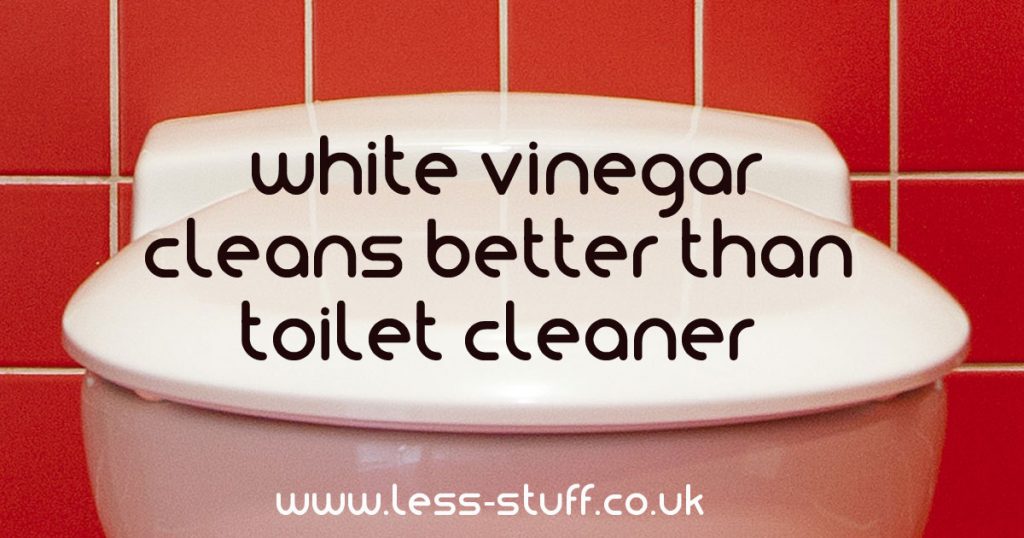 My goal for Plastic Free July is to find solutions to plasticy problems that are easy for me to maintain. It is becoming clear that the richer you are, the easier it is to be plastic free but that is not always the case. This week I found a cheaper way to clean the loo that works better too.
As things run out I'm testing and trialling plastic free alternatives. My cleaning products generally come from Poundland, so whatever bleachy, adds sparkle, kills every known germ to man kind of stuff looks most effective, is what I'd use. I'd pour the blue gloop into the toilet overnight, leave the lid down in case the cats fell in and hope it was clean the next day after a bit of a scrub. For the last couple of months it's not been working well. I tried different types of magical gloop but the loo was always a bit grubby at the bottom (I have spared you a picture!).
So, I had a good read of www.plasticisrubbish.com and asked for advice on the Plastic is Rubbish and A Make do and Mend Life Facebook groups. There were plenty of suggestions and white vinegar was among them.  You can find it in supermarkets, next to the chip vinegar in glass bottles with a minimal amount of plastic for the lid.
How to clean your loo with white vinegar:
Pour a tablespoon or two of white vinegar into the toilet.
Put the lid down.
Go and have a cup of tea.
Give the loo a quick scrub with a brush.
Flush.
If you don't like the vinegar smell put a couple of drops of essential oil into the pan. You can also add lemon and orange peels to a jar of vinegar to make it smell better – I'll tell you how that goes when I try it.
Is vinegar cheaper than toilet cleaner?
White vinegar costs 38p for  568ml. Toilet cleaner was costing me £1 for 750ml. I've not measured the cleaner I was putting into the toilet but I think it would have been at least a tablespoon. So by that logic, white vinegar is cheaper than cleaner.
Where can you get white vinegar?
The 39p bottle I got came from Tescos.  You can buy larger 5l plastic bottles online and in some chinese supermarkets and hardware shops and I have seen it as low as £2.50 for 5l in a local market (Eastville, fruit and veg, Bristol, Fridays). The larger bottles are still plastic but use less overall than buying the equivalent in smaller bottles of cleaner.
Is vinegar better than toilet cleaner?
Yes, yes, yesity, yes! I was scrubbing hard with the cleaner and getting nowhere. It smelled chemically clean, but I never got the grubby bit off the bottom of the pan. Vinegar worked very fast to loosen all the nasty stuff and it took minimal scrubbing to make it look like a new loo.
This swap is for keeps!
I'm so pleased to have found an alternative that uses less plastic, saves money and works better! Swapping from shop bought loo cleaner to vinegar is a definite winner!
[amazon_link asins='B00TZT6GQE,B01N6Y8TJ0,B00U2HUPRO,B01G3GTPC8′ template='ProductCarousel' store='lessstuff08-21′ marketplace='UK' link_id='10a2ace9-63bb-11e7-99c2-6dd8f4a3c4ac']