In a nutshell – Zero Waste Week is a campaign to draw attention to the fact that waste doesn't just disappear. I did it with my son 5 years ago and we are going to do it again. There is a Facebook group for the week too.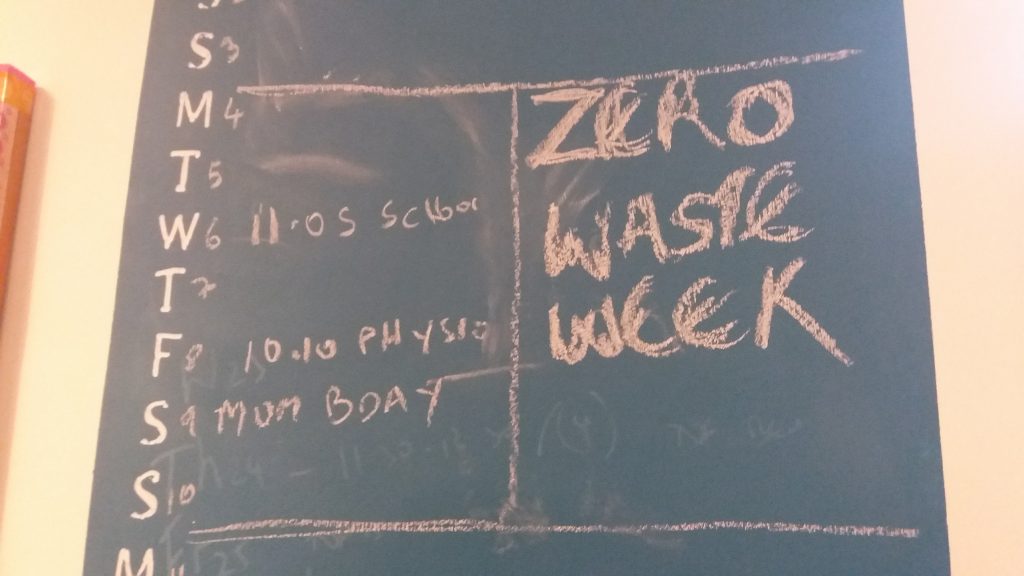 Our first Zero Waste Week
My son was 9 back in 2012 when we did our last Zero Waste Week. The highlight of the week for me was making origami fish out of Angel Delight packets. I don't think my whopping great teenager likes Angel Delight any more and he is less than enthusiastic about life itself, let alone the idea of attempting a challenge to reduce our waste.
I'm ploughing gamely on though, and since I do the shopping and most of the cooking between us we are going to try a Zero Waste week. I'm not alone in the challenge which starts on the 4th September 2017 and I am looking forward to following #zerowasteweek on Twitter.
Back in 2012 I got my weeks waste down to a crisp packet full or non recyclable rubbish. I'd even dyed my hair that week so I did pretty well. Five years later, armed with the tricks I learned during Plastic Free July I'm really hoping it will be less. And I am so glad it is just for a week! A whole month of plastic free was much harder than I anticipated.
Plans for 2017 Zero Waste Week
I've got more tricks up my sleeve now and here are some of them:
I'm looking for one thing to change
If I can find just one change I can make to move towards Zero Waste this week I'll be really happy. Small changes make a big difference long term, as anyone who has tried out the less-stuff decluttering method knows!
Join us!
If you want to join in please check out the Zero Waste Week website. If you sign up to the newsletter on Zero Waste you will get daily tips and loads of other money saving tips and goodies. Rachelle who runs the week has put hours of work into making it fun and interesting too.