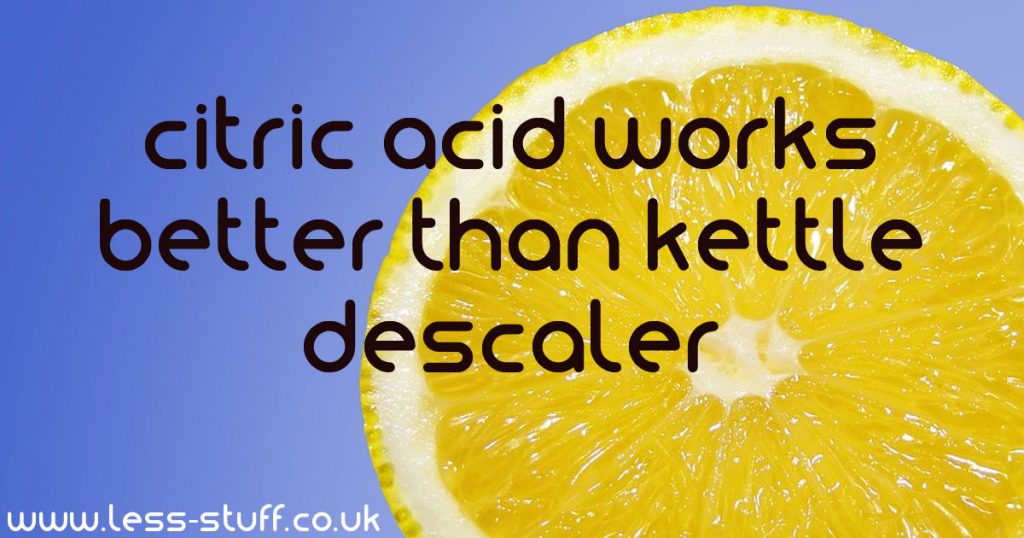 This week in Plastic Free July I swapped my sachets of descaler for citric acid, which works better and comes in a cardboard box. If this was a site without ethics the title would be 'she added citric acid to her kettle and you will never guess what happened next." Guess what? The limescale just flaked off and I could rinse it away.
I live in a hard water area and don't much like crunchy bits in my cup of tea. I'd put off descaling the kettle because the packets of solution always seemed a bit scary. Like citric acid, the descaler has a warning for getting the stuff in your eyes. Unlike citric acid, the descaler has a poison warning too. I'm treating both of these with respect and I have no intention of eating the citric acid, or putting it in my eyes.
How to descale a kettle with citric acid.
Half fill the kettle
Pour about a dessertspoon of citric acid powder in
Boil the kettle
Rinse out
Repeat if needed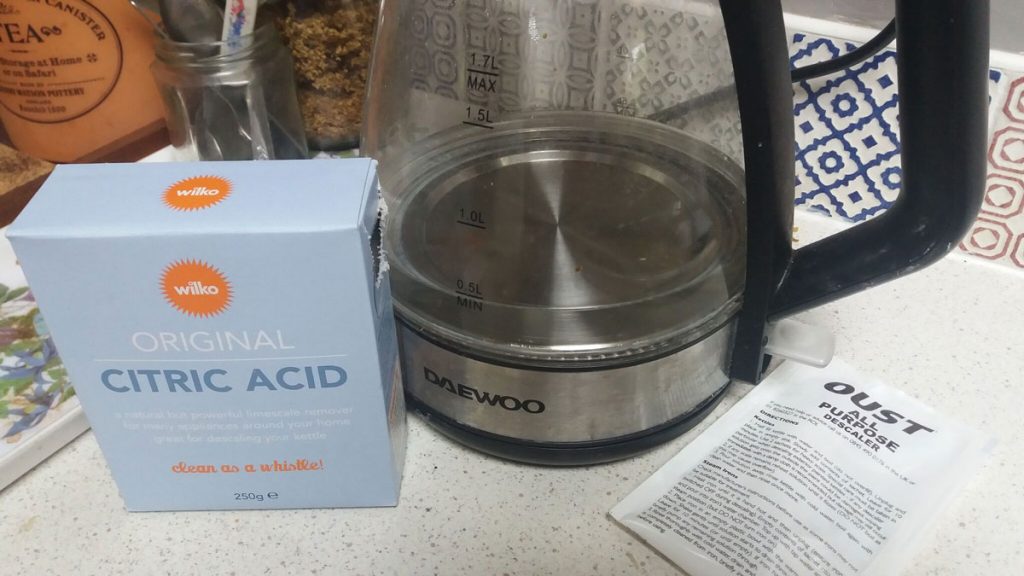 Is it cheaper?
A box of citric acid is cheaper than sachets of descaler. Wilkos citric acid is £1.50 for 250mg. A Pack of 3 descaler sachets is around £2, depending on where you buy it. You can buy 500ml of descaler in a bottle for £2.50 from Wilkos.
Does it use less plastic?
Yes! If you can find citric acid in a cardboard box you will not need a recyclable plastic bottle, or the non recyclable sachets.
Is citric acid an easy plastic free solution?
Yes, yes, yesity yes. Along with white vinegar to clean toilets, this is one change I will keep. When I find out what else citric acid can do I'll post about it, for the moment I'm happy with a nice cup of tea without flakes in it.
[amazon_link asins='B00WQ7632E,B0026WXNXG,B005L4QGGM,B01M644YZ9,B01FUA9QQI' template='ProductCarousel' store='lessstuff08-21′ marketplace='UK' link_id='fe06715f-66dd-11e7-a069-f9054971ebd1′]