I'm trying to cut down the amount of stuff I put in the rubbish. Our local council take scrap fabric as clean rags but it is much better to find a way to use it instead of recycling it.
This tutorial shows you how to make yarn twine and how you can sew it into coasters. It is easy, pretty mindless and you can rustle up a few metres of the stuff while you are shouting at Bake Off – that is what I did anyway! I thought originally that I would crochet it but it is quite hard on the hands. Not impossible but not what I call fun. It would be possible to crochet sturdy bowls out of this though so I'll try again.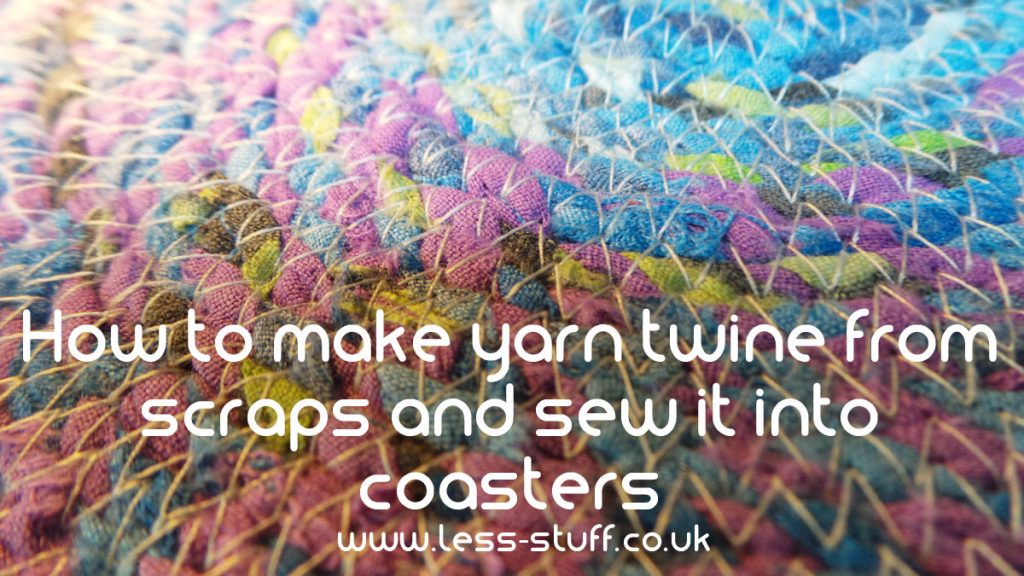 Collect strips of fabric
This is a great use for the thin middle bits of sheets when they have worn through. It is fine to tear them instead of cutting because any stray ends will be twisted into the yarn. Ideally you want to have strips of thinnish fabric that are 1.5cm wide (ish) and at least 40cm long. Long strips of fabric are harder to work with because they tangle up. Short strips of fabric are a hassle to keep joining. Two contrasting colours work well but you can add different colours as you go along. I try to stay away from using very washed out colours next to each other because you can end up with something bland looking.
Tie a knot in one end and start twisting
Hold it in place with your thumb. Twist one colour 3 times away from you and fold to the front, twist the other colour 3 times away from you and fold to the front…..
Join by overlapping and twisting new sections on
Keep twisting and joining
Once you have a metre or so of yarn you can roll it onto an old toilet roll to stop it from twisting up.
Sew it into spirals
The tricky part here is starting it off. What I do is spiral it round itself a few times to start the coaster shape off then zig zag from one outside edge to the other. This is enoug to hold it so you can start to zig zag around. Keep the gap between the coaster and the yarn in the middle of the foot and the zig zags will join it up.
Don't worry about gaps, you can go back and fill them in with zig zag afterwards. When you get to the size you want pull the yarn into the work and sew over it, then you can cut it off and sew over it to make it flat. It is a good idea to do some zig zags from end to end once you have finished.
What can go wrong?
I was hoping to make placemats out of yarn twine but it has a tendency to curl upwards when you sew it. I expect all those twists are springing together to make it curve. To get over this you can steam your work, or you can live with it and make a soft shallow bowl. You can shape the bowl with your hands over and over again, so if you have warm bread often this might be great for you.
[amazon_link asins='B001TLEHE4,B008CCK4RC,B00LN5DQNO,B073J6ZQ9D' template='ProductCarousel' store='lessstuff08-21′ marketplace='UK' link_id='bf706164-9086-11e7-98f1-d5e8f3d14b86′]