In a nutshell – as part of the Ikea Live LAGOM project I get to spend their money on an indoor growing kit. I'm aiming to grow my own salad indoors all year round with the help of the VAXAR grow house.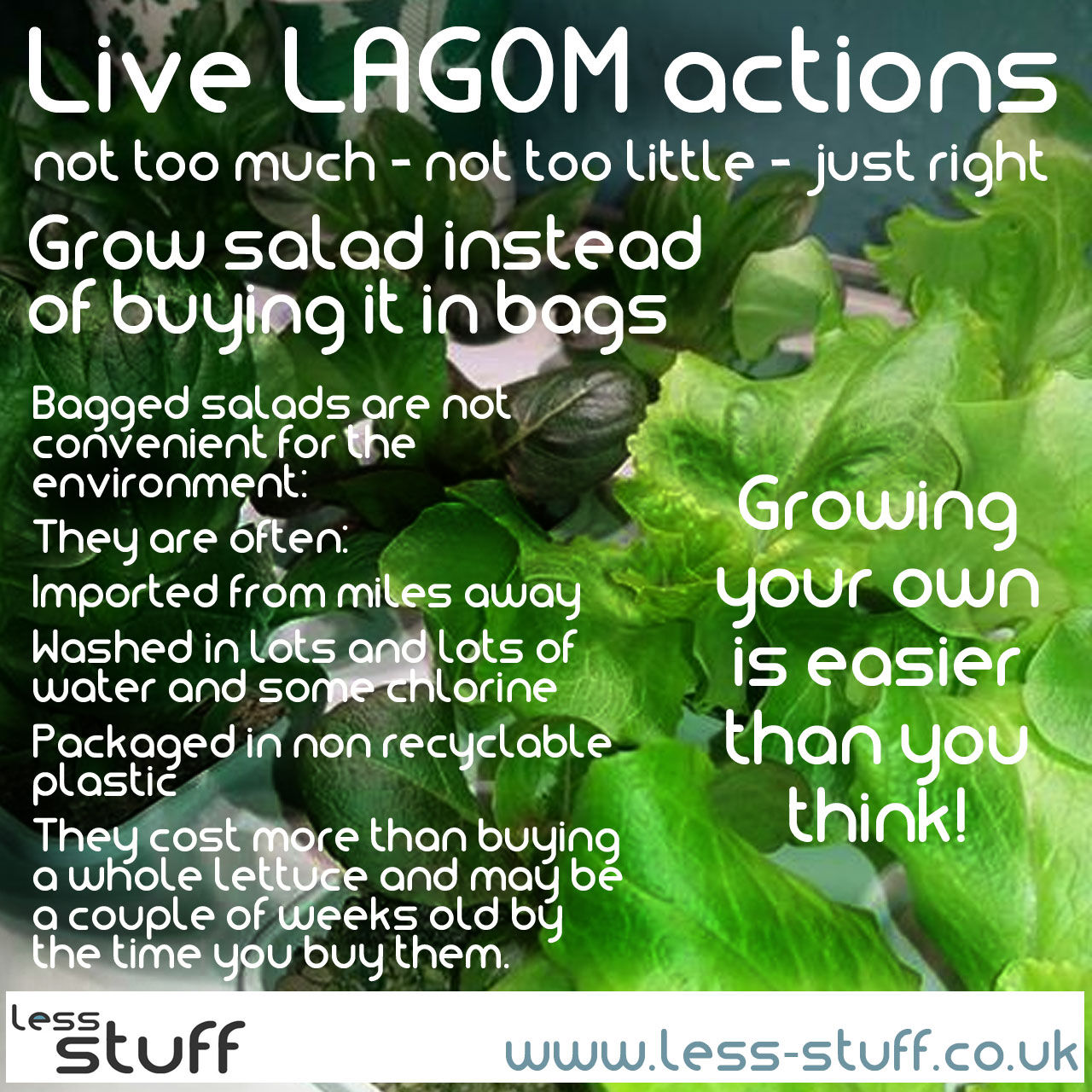 My house is a two up two down with a ground floor extension the width of the house. This means that the middle room downstairs can get very dark in the winter.
I put deep, strong shelves into the very darkest corner shortly after I moved in. They were designed to hold demijohns when I'm in a wine making mood so they are tall but still very dark. It turns out that they are almost exactly the right size to fit the larger of the Ikea indoor growing kits!
At the moment the shelf isn't being used very well, it sometimes houses a collection of dinosaurs but at the moment it's empty apart from a few things I like.
Indoor Growing
One of my Live LAGOM goals is to give up packaged salads and baby spinach. In the summer I grow salad in the garden but apart from some Japanese greens which are still going, and some beetroot tops I'm reliant on plastic bags from Lidl. Even my amazing organic veg shop sells some salad in plastic bags.

I loved the look of the Ikea indoor growing kits as soon as I saw them but I was put off by the price and the chance of them being withdrawn. It hurts when something Ikea does well gets discontinued. I have a whole lot of GORM shelving around the house that gets used in many different ways because it's so versatile but it feels like a finite and precious commodity now Ikea have stopped it.
I also didn't want to invest a large chunk of money in something that relied on consumables from Ikea.  The VAXAR uses a special growing medium, special plugs for starting seeds off and a special fertiliser. All of these things might be replaceable by something else but without actually getting the kit to see how it works, I had no way of telling.
How much will it cost?
So, along comes the Ikea Live LAGOM project and now it's not my money, I can afford to spend £75 on the largest, one level, indoor growing kit. I wasn't sure we needed the smaller incubator but I priced the kit individually and we would only save £3 by not having it. I'm a little embarrased to break my no new plastic in the house rule so soon but this relys on plastic to work. It's going to take some time to pay for itself, £75 is a lot of £1.50 bags of salad!
The idea is that the grow house will fill the darkest shelf, produce food while giving out light.
What is wrong with bagged salad?
It takes sweated labour to grow it, it's not even really washed before we eat it – and it costs a packet, literally"
Treehugger
points out that it uses loads of water to clean it but still may contain frogs!
Public Health England
had concerns about e.coli in bagged salad back in August 2016.
If that is not enough to put you off then please consider the air miles it takes to get your salad from nice warm Spain to your table. There is also a strong chance that some of that salad will end up liquifying in the bag and be thrown out.
How easy is it to grow indoor salad at home?
I set up the VAXAR grow house on a cold December day. My first thoughts on Ikea Hydroponics are here but to sum up: you probably don't need the nursery unit and it has a very bright light so don't have it in a bedroom.
The seeds went in on December 12th. It's now January 10th
drumroll……
How much work does growing indoor salad take?
Minimal work is required once the grow house is set up and that didn't take long either. I have the light on a timer to come on at 10pm and go off at 2pm, it is so bright we don't need light on in the hallway overnight. It needs a little bit of water every week. It is probably less hassle than going to a supermarket and trying to find a bag of salad that isn't already slimy.
Conclusion
A definite big thumbs up for Ikea Hydroponics. If you are considering it please read my more detailed post about the good and bad bits but overall, it's a winner! We got the £75 indoor growing kit but some of that isn't totally necessary. You could strip it down to the bare minimum and use the smaller model and save money.

For very basic growing indoors in a British winter you need a cultivation light (these are specialist growing lights, very high lumen). The cheapest at Ikea is £27. You could just put normal plants and soil under one of these. The lights come with screw holes so you can fix them under a shelf if you want to. Remember they need to be on for 16 hours a day so put them somewhere you don't relax.
The metal casing of the hydroponics unit isn't vital either but I prefer the look of it to the plastic. If you want the hydroponics set then the bare minimum is the £2.50 cultivation insert kit in the smallest size. If you don't have shelf above to hold the light you will need a bracket for it – £3.50 for the smaller fixture for cultivation light.
So that is £33 for a very honed down hydroponics kit including light, plastic inserts in a tray to hold the plants and a bracket to hold the light. It is well worth spending a fiver on a timer for the light too.
The consumables from Ikea are not expensive and last for ages.  You need – seeds (£1.50), growing media (£2.50), starter plugs (2.50) and fertiliser (£3). You can start the plugs off in a small plastic container instead of the large nursery unit.