In a nutshell – this is a quick and easy recipe that uses up lots of over-ripe bananas. It has basic store cupboard ingredients and can be on your plate in an hour. It is a great way to use up reduced bananas.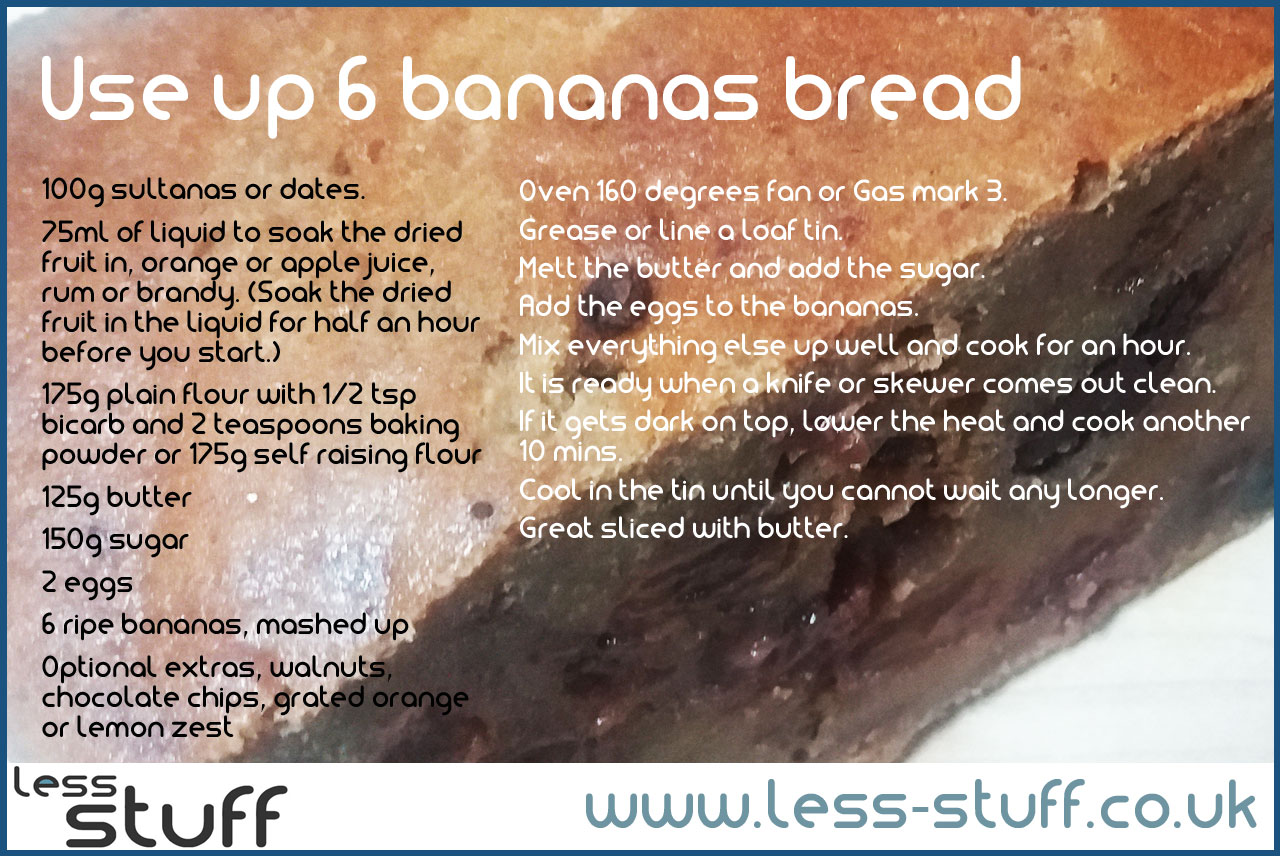 This recipe is from the multi talented Sarah Slater. It makes a lovely stodgy comforting loaf. My vegan mum says you can make a vegan version by just leaving out the eggs and using vegan marj. Because I hate those recipe posts that make you scroll down and down to get to the actual list of ingredients, here it is:
Use Up 6 Bananas Bread
100g sultanas or dates.
75ml of liquid to soak the dried fruit in – orange or apple juice, rum or brandy. (Soak the dried fruit in the liquid for half an hour before you start.)
175g plain flour with 1/2 tsp bicarb and 2 teaspoons baking powder or 175g self raising flour
125g butter or vegan marg
150g sugar
2 eggs (leave out if you don't eat eggs)
6 ripe bananas, mashed up
Optional extras, walnuts, chocolate chips, grated orange or lemon zest
A standard sized loaf tin lined or greased or both.
Put the oven onto low – 160 degrees for a fan over, gas 3.
Melt the butter and mix in the sugar well. Add the eggs to the bananas then mix everything together. (If you add the eggs to the warm butter they will scramble).
Make sure it's all really well mixed.
Bake for an hour then test with a knife to see if it comes out clean. If it starts to go too dark on top turn the oven down and cook for another 5 to 10 minutes.
Cool in the tin but it is nicest when it is just warm with loads of butter!
There would have been more photos but it didn't last long enough!
[amazon_link asins='B0001IX3LY,B003R7KZ5I,B01GJV1J9O,B004VQY6GI,B00SHJNXKK' template='ProductCarousel' store='lessstuff08-21′ marketplace='UK' link_id='e53a4844-939d-11e7-b858-eb58eb684281′]
And if you don't do eggs or butter here is a vegan alternative.
My Mums Vegan Muffins
Great for breakfast, for a rainy day, for a picnic on a sunny day, sod it, who needs an excuse!
Here is the recipe-[don't be afraid to add extras-I like them with chopped eating apple added,or dried apricots-]
You need-
225g[8oz]self-raisingflour
225g[8oz]vegetable marg
100g[4oz] raw cane sugar
2tspns.vanilla essence
2 medium-sized ripe bananas.
Mix together the marg.,sugar and vanilla.-[I use the blender] then add the bananas,then flour.
Fill muffin cases well-[This makes about 8]and bake at gas mark 4 for 20-30 minutes until well risen and golden coloured
Enjoy !
We added food colouring to ours and iced them to stop them being so healthy!
If you want to see more ideas for using up leftovers there is a whole A-Z of recipe ideas here.
[amazon_link asins='B009AQSB2E,B003W0UMPI,B005M8GMXO,B0085LKJ0C,B00HVWVJXM,B00BBCZZ2Y' template='ProductCarousel' store='lessstuff08-21′ marketplace='UK' link_id='349c8c9c-939e-11e7-a40b-297a5f370277′]