I was taught by my war time granny to keep hold of things just in case, which is why I now have fabric that I have held onto for at least 20 years in my cupboards. I also have ends of yarn in various weights and a wide selection of craft materials.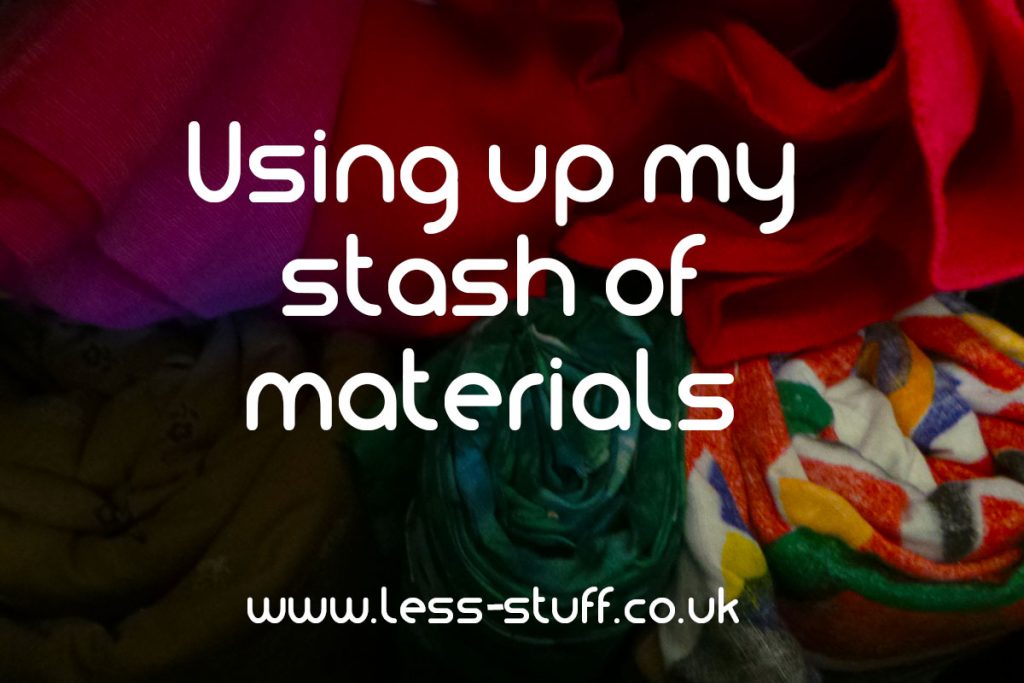 I come from a long line of make do and menders. Like a lot of people who can sew, I started by making clothes for my Cindy dolls and I progressed up to making all sorts of things, even working in the wardrobe departments of theatres for a bit.
I've done a couple of little declutters to get rid of the stuff that I really don't like or need but I have lots left. There are multiple and complex reasons I have been storing instead of using my materials.
I am afraid of my sewing machine
My actual trade, the one I am fully trained to do is to sew. My degree is in Fashion and Textiles and it took me at least a decade to recover from that before I even wanted to sew again. In those years I started to lose confidence in my ability to sew and I've avoided plugging in my machine for a long time. Recently I started sewing Morsbags which has improved my confidence no end. I am still terrified of zips, they used to be no bother at all! Basically, I need to learn how to sew clothes again.
I am worried I will mess up the raw materials
My raw materials are not precious silks and satins. They are mostly nice prints in cotton, some are quite old and I do have 2 bolts (yes, that is a lot of fabric!) of real vintage 1940's furnishing fabric. I'm worried I'll make something badly or that I won't like it when it is finished.
My fabric is hard to get to
This Victorian house has understair storage that goes very deep. It is not easy to store anything in there with the hope of finding it again. I have shelved it out and my fabric is stored in plastic crates. It is a reasonable amount of hassle moving things out of the way to get the fabric out.
I like spending money on fabric and yarn
Especially if it is a rare charity shop bargain! I find it very hard to ignore a mixed bag of knitting wool if I can see just one nugget of niceness in amongst the cheap scratchy stuff. I knit a lot and love cracking into a new ball of wool. There is something optimistic and comforting in new yarn and something somewhat depressing about the ends that are left over after a project.
What am I waiting for?
I need some new clothes. Increasingly over the last few years the quality of tried and tested brands has dropped dramatically. The time has come to actually use at least some of this stash. It is doing nothing locked away in a cupboard. Winter is coming and I'm in need of curtain linings and draft excluders. I need a new jumper, a pair of trousers and a long sleeved top…….
Watch this space!
I'm starting easy, using up leftover ends of sock yarn to make a jumper. After that, I need to get the sewing machine out. I might take a little course to help me with zips. I will try to avoid buying patterns and make simple things from what I have. The aim is to finish one project using my hoarded materials each month. It will save me money and I'll hopefully have something that lasts longer than anything I can buy.
If you have any ideas for things I can make with my stash, or can relate to the problem of not wanting to use your materials please let me know! You can chat to me on Twitter or Facebook and I'd love to hear your ideas.
[amazon_link asins='B007IUG1CG,B004N5I7GW,B00NWJQ2B2,B001TLEHE4,B001TKYGI2′ template='ProductCarousel' store='lessstuff08-21′ marketplace='UK' link_id='3a6ec9a5-c4a0-11e7-a5ff-a11270a080a4′]