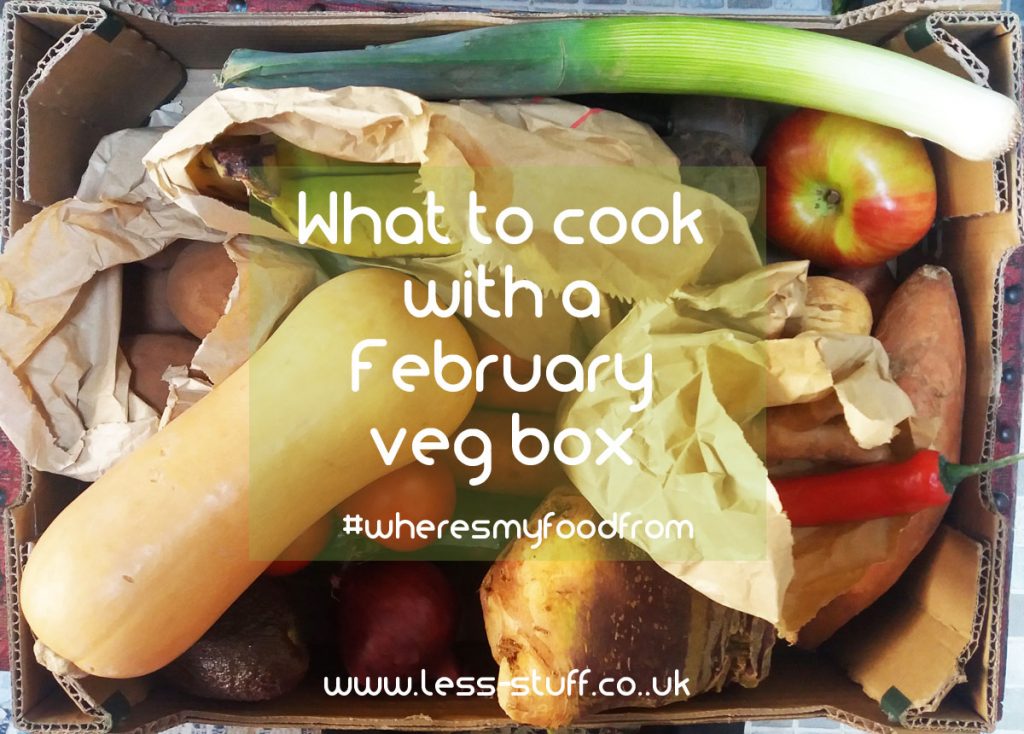 As part of the Happerley challenge to know where my food is from, I got a veg box delivered. I want to see if we eat it all and if it is good value. My box is the £15 mixed fruit and veg from Chi Wholefoods.
Chi source their veg as locally as possible but some of the produce comes from Europe. Bananas are from further afield. I am confident that Chi has chosen ethical and organic suppliers and all their fruit and veg tastes delicious and fresh.
You can write Chi a shopping list and get exactly what you want but I remembered enjoying the Ready Steady Cook aspect of a mystery box so I let them choose for me. I get into cooking ruts where all we eat is potatoes and kale so it is good to be reminded that there are other veg out there. I'm surprised how much the unknown threw me! I stared at the box of beautiful organic fruit and vegetables without an idea in my head. Chi were thoughtful enough to put 3 little ingredients in a bag for me, garlic, chilli and ginger. I'm really impressed by how helpful this is because with these 3 ingredients you can cook almost all the food I love.
Anna and Laura in the less-stuff Facebook group came to the rescue this week. I'm putting in their ideas along with some ideas of my own and links to a few recipes.
Butternut Squash
Bake the butternut squash and then scrape the flesh out and mash it, line a loaf tin with bacon then a layer of sausage meat, a layer of squash, a layer of sausage meat etc tiĺl the tin is full. Bake and turn out. Nom!
Butternut squash makes great oven chips, just slice, drizzle oil over, sprinkle salt on and cook for half  an hour or so, turning regularly.
Steam and mash and stir into mashed potatos for a 2 colour side dish.
Roasted to make a lovely salad with rocket and feta.
Root Veg
Polish veg salad, cut up a carrot, potato, parsnip, turnip and whatever else you fancy really small, boil for a few mins, then add to a bowl with a chopped up apple, a chopped up egg, a few chopped gerkhins or pickled cucumber, some tinned peas and sweetcorn, a huge dollop of mayo and a teaspoon of mustard, salt and pepper. Delish with cold meats like ham or leftover roast.
Mashed carrot and swede with a roast dinner yum.
Grated swede, carrot, beetroot etc. Mixed up with some gram flour or an egg and normal flour makes lovely fritters, especially which are expecially tasty with some chilli.
Roast veg is my standby, I use chilli oil and any veg, apples and a lemon even an orange cut in quarters.

Aubergine
Sliced thinly instead of the top layer of pasta on a lasagne (No need to pre cook them just slice, arrange and bung bechamel on top)
Prick the skin and bake until soft. Scoop out the inside and whizz up with garlic and tahini to make babaganoush or with any tinned beans and garlic to make a houmous.
For a quick, low calorie lunch, wrap aubergine in kitchen paper and microwave one way up for 3 mins then turn the other side up. Cut in half and chose a filling (chutney is good). If you put just lemon juice on the aubergine it's just about no calories and delicious.
Avocado
Mashed avocado on toast with chilli flakes for brekkie delish
Avocado, tomato, chilli, onion and lime together makes amazing salsa.

Leeks
Leek and potato soup mmmmm
Fried leeks with cheese, chop up an onion and the leek and gently saute them till soft, add a splash of stock and white wine and some grated cheese, delish with chops or sausages or anything really
Veg box recipe resources
My new favourite website: www.marionated.wordpress.com is full of easy ideas for a wholegrain, low sugar, vegan diet with plenty of fresh vegetables. I'll be making this Chickpea and Pumpkin cake over the weekend.
Riverford veg box scheme has seasonal recipes here www.riverford.co.uk/recipes
Abel and Cole have recipes on their website and if you use this link to sign up for a box I get a little commission. They often do the first box free too.
Disclosure. I am not being paid or compensated by Chi Wholefoods or any other links in this post apart from Abel & Cole which is an affiliate link.
If you need ideas for leftover food we have a brilliant A-Z of ideas compiled from contributions from the less-stuff Facebook group. You can get it for free for joining the mailing list.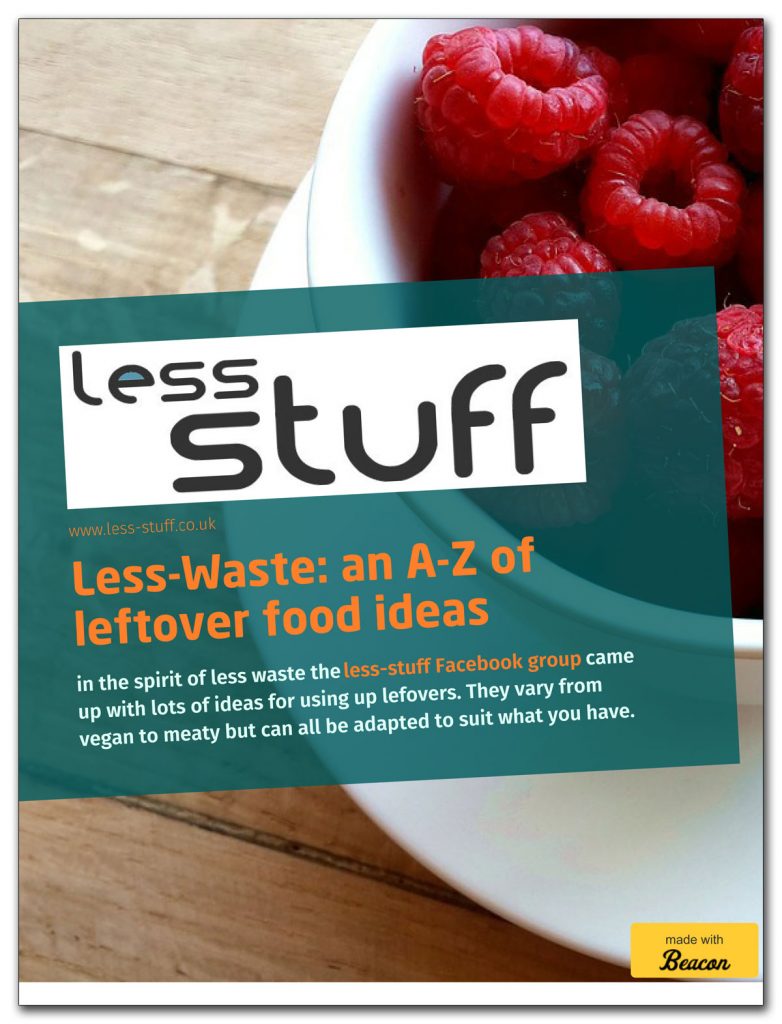 [ess_grid alias="wheresmyfoodfrom"]