In a nutshell – I've been trying to cut down my plastic consumption for a while now. Plastic Free July is a chance to ramp it up a notch and try even harder. I'll be doing it my way, I'm short on time and money is tight. Follow on social media with #pfjuk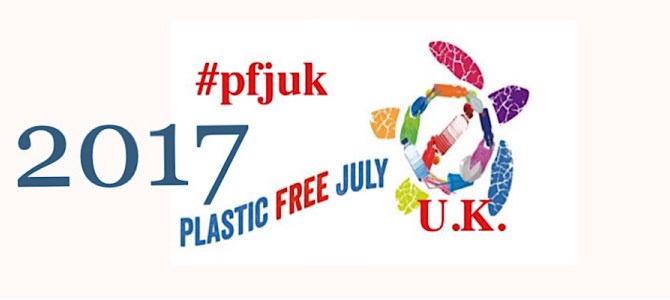 July is not an ideal month for me to make changes. My birthday is in the middle of it and school finishes, so I have the very hungry caterpillar that is my 14 year old son around morosely looking into the freezer and moaning about the lack of ice cream. However, July is also Plastic Free month and I'm up for a challenge.
I'm a self employed single parent. We are not starving but money has to be spent wisely, and time is really precious. I do not have lots of time to source plastic free items, nor do I have the money to shop at plastic free at the local farmers market. Farmers market food is lovely, it is environmentally friendly, it is local grown and delicious but it is generally double the cost of veg in Lidl.  I'll be attempting Plastic Free July on a budget with limited time to faff around sourcing alternatives.
What's in the bin today?
My recycling bin has glass beer bottles, cardboard, paper and fabric scraps, empty tins and a small selection of plastic containers. Mostly mushroom and fruit boxes. My main bin has all the plastic that cannot be recycled, which is generally the cellophane type stuff you find packaging spinach, and biodegradable plastic bags containing dirty newspaper the cats have used as litter. I compost any food waste.  Our recycling is collected every week. Main rubbish is collected every 2 weeks.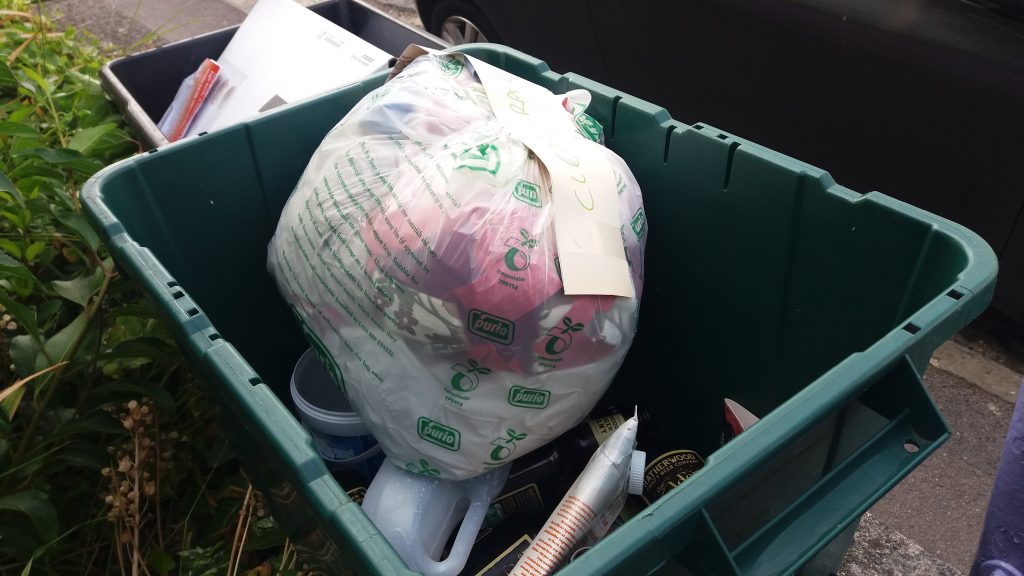 Changing what I buy
I can make an effort not to buy some plastics. If there is a choice I will choose unwrapped products. I might have to drive to a shop further away to be able to do this. I can certainly avoid some plastic that cannot be recycled, we don't need ready made fishcakes and I can make biscuits at home so that reduces the need for black plastic. I'm growing some spinach and salad so I can probably do without bagged spinach for a month but the thought of running out of spinach makes me a bit nervous. (Seriously, I love green veg!)
What I can't change
There are 3 plastic things I can think of that are not possible to change.
I drink soya milk and it comes in tetrapaks. I've tried to make it myself but it is disgusting and life is too short.
I also drink cows milk and there is no glass bottle milk delivery service round here.
The cats litter needs to be bagged up in something that does not leak.
My Plastic Free July Goals
Find easy and cheap alternatives to previously plastic things
Making it accountable
I'll post every week in July and take pictures of my rubbish and recycling. I'm hoping at the end of the month to have found some easy ways to reduce my plastic use.
If you fancy trying a month without plastic there are loads of great resources on plasticisrubbish.com including lists of shops in the UK that sell loose products and links to plastic free alternative products. If you sign up to the mailing list at www.plasticfreejuly.org they will email you tips throughout July.
Comments are open on this post! I'd love you to join in the challenge with me!
[amazon_link asins='B00VIH25FC,B01F7ZSMDO,B01EMHS9X6,B01GOXAPHO,B00N866DEK' template='ProductCarousel' store='lessstuff08-21′ marketplace='UK' link_id='00e87ab5-5a62-11e7-9ac6-07cbf4f2fc30′]