This post is about the changes that IKEA has made to be more sustainable. We can use their ideas in our homes to save money too by reducing, reusing and repairing. Read on for more ideas to make sustainability easy.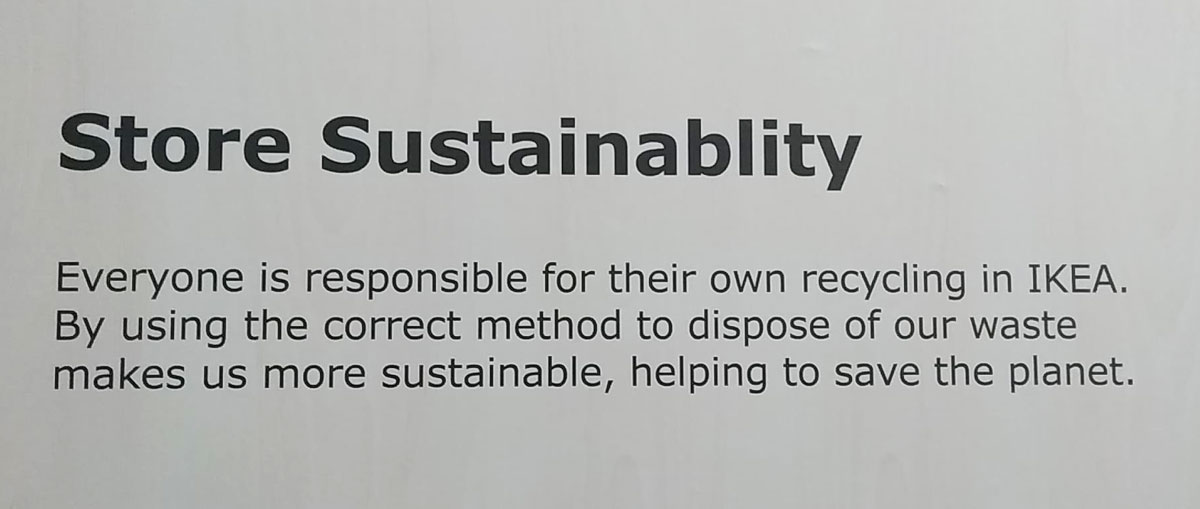 Reduce costs and change the bulbs
IKEA only sell LED bulbs now and their stores are lit by LEDs or natural light. Compared to the old style incandescent bulbs, changing to LED light bulbs can save you 85% on your energy bill.
To put this into easy maths:
If a watt of electricity costs you £1 a year (it doesn't but this is easy maths!)…
a 100 watt bulb will cost you £100 a year,
an energy saving bulb will cost you £9 a year
but a 4 watt LED light bulb will cost you £4
Since I first joined Live LAGOM, IKEA have a bigger and better range of LED bulbs. There are warm tones, bright lights for working and even smart bulbs with their own little controllers. These bulbs last longer too. Before this, I was forever changing the old style bulbs, but my LED's have been in for 3 years and counting now. They might even last me 20 years, so they really will save me money for years to come.
Reduce your water waste
I've recently installed an IKEA kitchen tap and I couldn't even tell that it had reduced the water flow by 40% as it still maintained the same pressure. I still get the water I need and it doesn't seem any slower. Using a washing up bowl can help you reduce the water you use too and the slightly soapy, leftover 'grey' water can be used on garden plants.
I'm hoping I won't need to replace my washing machine for a few years yet, but when I do, I will look at the A** one IKEA sells. It is worth saving up and spending more on major appliances with a better energy rating because in the long term it will save you with the energy bill costs.
Reuse and repurpose
As part of the IKEA Live LAGOM community, I sometimes get to go behind the scenes. This week my heart was all a flutter because we saw behind the scenes of the Bargain Basement. I love a bargain and I love saving things from landfill. When those two things are combined I get really excited!
Bristol IKEA send a lot of broken furniture, fabric and timber to charities like the Sofa Project and the Scrapstore. At the Sofa Project the staff and volunteers can upcycle and mix and match bits to make whole new things. They often have framed mirrors and shelving units that are made from scraps. The Scrapstore is an amazing resource for schools, colleges, students and community groups. You need to be a member to access the scrap warehouse but they often have open days.  Check the Reuseful website to see if there is a Scrapstore near you.
Keep a spare parts library
The Bargain Basement sells IKEA products that are in perfect condition but have been returned by customers. It also sells ex display items that might have a couple of chips or knocks on them.
I didn't realise that behind the shop floor there is another area devoted to saving products from landfill. By having this department in the store, IKEA Bristol have managed to save a lot of in-store costs from furniture that would've been wasted. If an item is returned with missing a part, the staff can replace it and repackage it to sell again.
In Bristol, the spare parts library contains bits for the top 200 products. If you need a spare part for any IKEA product it is worth asking them. They replaced a hinge on my 25 year old IKEA kitchen free of charge which is impressive customer service.
Your own library
How could a spare parts library work for you? I keep a box called 'Old Tech' which comes in more useful than I ever imagined. The screen on my son's phone smashed in his bag, but there is a spare very old phone in the Old Tech box, along with a charging cable. That will do until his phone is fixed. I'm not suggesting you hoard every cable and adaptor, but you can save money and time by keeping a few spare parts.
What was the last thing that broke in your home? What kind of things break? What would you need to keep handy for the next breakage?
Make a household mending kit
Most of us keep washers in the junk drawer but do you have the spanners needed to change one? By keeping a few tools with your spare parts you are more likely to do the job because you have made it easier. No more hunting around for the right stuff!
How about adding a tube of multipurpose glue, some strong tape and some screws to make a little mending kit for household items?  You can make your Junk Drawer into a Useful Drawer instead.
Why mend?
Mending gives things a new lease of life, saves you money and stops things going into landfill. Landfill is exactly that, land filling up with rubbish that can potentially leach out chemicals into the ground and poison soil and waterways. Landfill sites are much better at containing all this now but it is still much better to avoid this last step in a products life for as long as possible.
If you can't mend it yourself have a look out for a local Repair Cafe. These are run by volunteers who will do their best to fix your stuff for free.
There is lots you can do before recycling
Recycling should be a second to last resort before landfill. Recycling costs money and literally takes energy. If there is a chance for you to reduce what you use, reuse, repurpose or repair something it is so much better for the environment than binning it.
I hope this post has given you a few ideas for easy ways to live a more sustainable life. It can be as easy as changing a lightbulb!
This post is sponsored by IKEA UK. All views and opinions expressed are mine.
Unable to locate Global Block