Very exciting things are happening this June. The Waitrose store in Botley Road, Oxford has a whole new unpackaged area!
Enter #WaitroseUnpacked and you walk into the store to see glorious fresh vegetables totally free of plastic! Walk further back into the store and there are dried goods to put in your own containers and even refillable wine and beer! This is part of a 12 week trial to see if it is viable to offer unpackaged goods and to see if the public like it.
To celebrate this amazing step forward into environmentally friendly living, I'm working with Claire from the Frugal Family to deliver workshops in store every Friday and Saturday in June. We have a lovely space with a nice big table at the back of the store, and we have lots of ideas to help you make your containers gorgeous and to help you save your packaging from landfill. Both of us have been crafting for donkeys years and we are experienced teachers too.
All ages welcome
Supervised children and adults are welcome to join in with the activities. We have something for everyone, from simple stamping to more intricate twine wrapping and chalkboard painting. There is plenty of stuff to do for free and we are encouraging people to bring in their own jars to decorate. We will teach you the skills you need to carry on upcycling at home.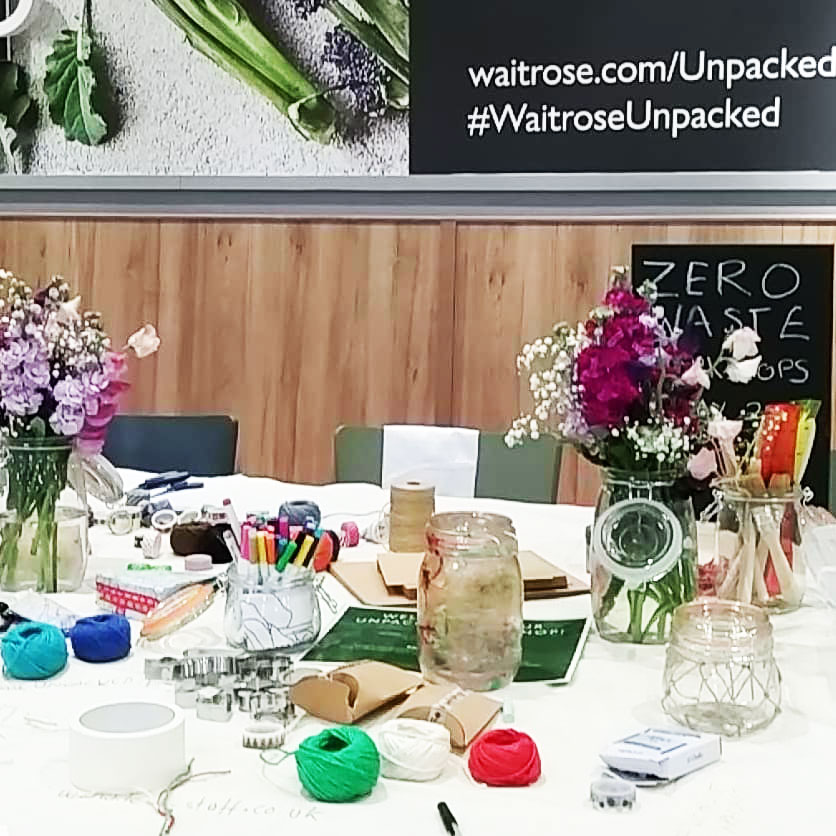 Workshop dates
All workshops run on Friday from 2 to 6pm and Saturday from 9am to 1pm.
Friday 7th and Saturday 8th June – meet Lisa
Friday 14th and Saturday 15th June – meet Claire
Friday 21st and Saturday 22nd June – meet Lisa
Friday 28th and Saturday 29th June – meet Lisa and Claire!
Although we have written loads of books together and worked on many projects remotely, we have never actually met in real life so I'm doubly excited about the last sessions.
If you want to find out more about Waitrose Unpacked, search social media with #WaitroseUnpacked
Disclosure – I am being paid to run the workshops but I am not paid to write this post or promote #WaitroseUnpacked here or on social media.