Litter isn't just on land
Every week Bristol Harbour Authority fill a skip with rubbish. They do a lot of litter picking as part of their role to keep our waterways safe. Marine Service Officer James told us that very little litter comes down the river, most of it comes from land. He said:
"If we have a busy hot summer weekend loads of people come to relax. That's what creates litter. The majority of people pile rubbish next to a full bin rather than take it home. The seagulls pull rubbish out and the wind blows it into the harbour."
The Harbour Authority do a lot to collect the litter and teams of volunteers add to the collection which is mostly plastic water bottles. This week I was part of a team of litter pickers on a very special boat.
A boat made of litter
Bristol has been lent the Poly Roger, a punt made of 99% rubbish collected from the Thames in 2017. (The 1% of non recycled material is to help with buoyancy). It was commissioned by the Hubbub Foundation who design playful environmental campaigns that inspire people to live a greener life. Starbucks donated the 5p levy on disposable coffee cups to finance the build and the boat is being lent to Central Scotland, Manchester and Birmingham as well. If we can prove we can put it to the best use, Bristol gets to keep it!
The punt was made by Mark Edwards MBE in Richmond-and is based on a design that is over a thousand years old. It is made from 8,000 PET plastic bottles and turned into super durable Plaswood which won't rot or rust. Plastic water bottles will never fully degrade so this is a wonderful way of turning them into something useful, instead of leaving them to pollute our waterways.
What is plastic fishing?
You may have seen groups of volunteer litter pickers in your area. You may even be one (if so, thank you!). Plastic fishing uses the same grabby hooks that are used on land to reach for litter that is floating around, endangering wildlife and getting tangled up in boat propellers.
Fellow fishers for the day were from Fishponds Clean Streets, a bunch of lovely volunteers who meet monthly to litter pick in northeast Bristol. They are part of LitterAction who have groups all over the UK.
The Poly Roger is powered by a lovely quiet electric motor and we glided smoothly around the Cumberland Basin. The first bit of litter was spotted in seconds and we fished it out with litter picking hooks straight it a waiting bucket.
In 20 minutes, on a wet miserable day, we had filled 3 large plastic buckets. This was a quiet day! On Saturday, Sunday and Monday mornings there are lots of inflatable hen party props, empty bottles and tins and more disposable plastic bottles floating around. You can get a better idea of the scale of the problem when the harbour ices up because all the litter groups up.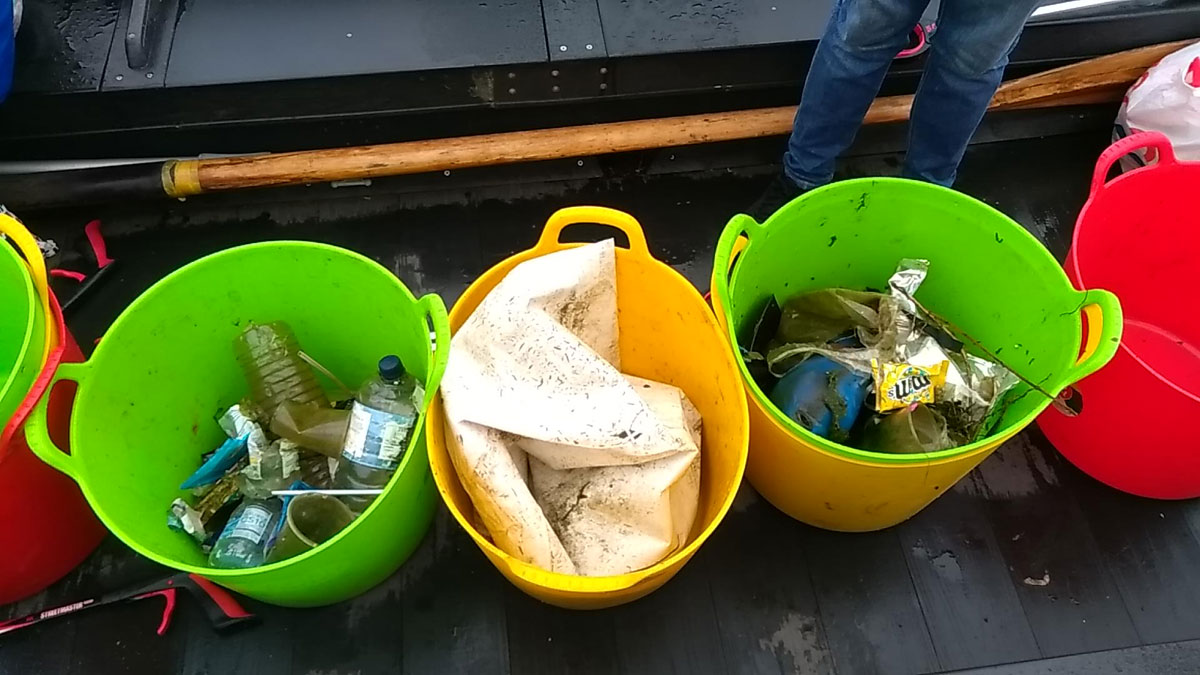 Vital #PlasticFishing stats from the Poly Roger's time in #Bristol: 300 people sailed over 24 trips, 36 bags litter collected, 3 TV appearances, 2 radio slots & 100s of tweets! Plus a scarecrow, inflatable saxophone, 3 traffic cones, a pink plastic fish & a stiletto were found! pic.twitter.com/D8n3oHYona

— Bristol Waste (@BristolWaste) June 6, 2019
How can we prevent litter in the water?
There are a couple of simple solutions.
Don't leave rubbish next to a full bin
Take your litter home or find an empty bin. Leaving your rubbish next to a full bin will result in a mess. Leaving waste by a bin can constitute fly-tipping and if caught, it could result in a fine.
Refill your water bottle
This is such a no brainer. If you spend just £1 a week on a bottle of water you could save over £50 a year. Refill your water bottle, save a fortune and help keep our waterways clean.
Huge thanks to Jess from Bristol Waste for the invitation and James our captain for keeping us safe (if not dry!). Thanks also the lovely folks from Fishponds Clean Streets. I really appreciate the work you do!
If you are interesting in plastic fishing there are monthly events that anyone can get involved with. The group are called Clean Up Bristol Harbour. They welcome paddle boards, canoes etc or there is a boat people can pick from.
http://cleanupbristolharbour.weebly.com/
https://www.facebook.com/CleanUpBristolHarbour/
Disclosure – I have not been paid or otherwise compensated to write this post. I did get a nice free trip on the harbour but if you want one too, all you need to do is join a harbour litter picking group.