What is Live LAGOM?
Three years ago I was chosen at random because I answered an email from IKEA asking me if I'd be interested in learning to live more sustainably. I was interested to hear how a brand would be able to help me save money, simply by sharing their advice on day to day routines at home! Live LAGOM turned out to be perfect for me. It is all about making little changes towards living a more sustainable and comfortable life. Lagom is Swedish for a concept that means just the right amount;  not too hot, not too cold, not too much, not too little… You can apply Lagom principles to everyday life and help our planet at the same time as saving money.
As part of the Live LAGOM community I was invited to a series of workshops and I got loads of help choosing money saving LED light bulbs, making my home cosier and learning how to grow my own salad indoors, all year round. In the last 3 years I have bought just 2 bags of salad from the supermarket and my energy consumption has gone down a lot.
Most of those workshops are available to the public now, you just need to check the times and book through your local store on the IKEA website.
I've just come back from one of my favourite workshops totally inspired! It was about breaking down the barriers that stop people trying to grow anything at home.
Here are some of the problems and loads of solutions, if you have any more please let me know and I'll add them to the list:
No soil outside? Grow in containers.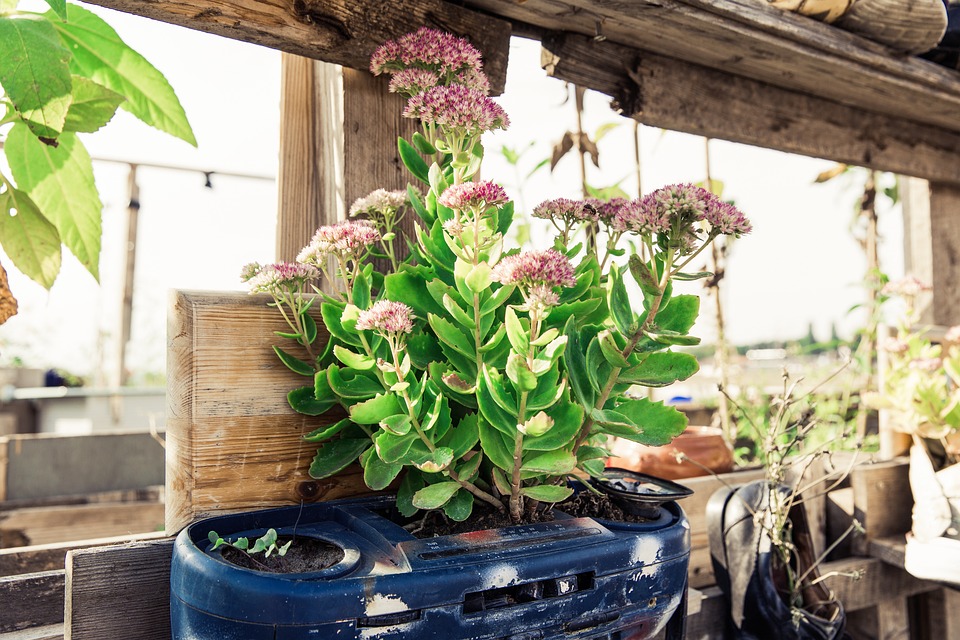 Pots of flowers or herbs look lovely on steps or outside back doors and pretty much anything will work as a plant pot. Try old boots, kids wellies, large food tins, colanders and wooden boxes. You can even grow in the blue IKEA FRAKTA bags! I had a nice batch of potatoes from mine last year.
Things to watch out for:
Drainage – drill, poke or cut some holes in the bottom of the container or use a lot of pebbles in the bottom of it so the plants don't drown.
Drought – smaller pots will dry out quicker, you can get over this by putting a few smaller pots into one drip tray and filling that with water.
Bad back? Grow in raised beds or try no dig gardening
Bad backs stop a lot of us from doing the heavy lifting and digging associated with traditional gardening. There are alternatives though. Simply raising your garden up to an easier height will be easier on your back. That could be as simple as putting some pots on an outdoor table or you could build raised beds out of timber, brick or even empty wine bottles!
IKEA have a range of useful stands for plants
Or try no dig gardening – There are plenty of sites online that look into the 'no dig' method in further detail such as Charles Dowding's No-Dig website.
No outdoor space? Grow on Windowsills
Plants on windowsills look pretty, can smell good, can provide fresh herbs and salad and can also help keep the air in your home clean.
Things to watch out for:
Damage to the sill – if you think your windowsill might get watermarks from the plant use a cork placemat underneath the pot.
Bugs – occasionally indoor plants might get an attack of aphids or other undesirable bugs. This doesn't happen often but if it does you can spray with very weak soapy water.
No money for plants? Grow the ends of vegetables
I have tried this really successfully with fennel, spring onions, celery and leeks. There's many videos you can watch on YouTube to guide you with the best techniques.

No window sills? Use a hanging basket
Very retro and very fashionable! There are lots of instructions on YouTube that will guide you step by step into making hanging baskets. Put them up at the window and you have a gorgeous natural curtain.
Or repurpose something. IKEA sell peg baskets with hooks that make wonderful planters. They are a smaller version of this hanging planter that is built for the job
Not enough light to grow inside? Use grow lights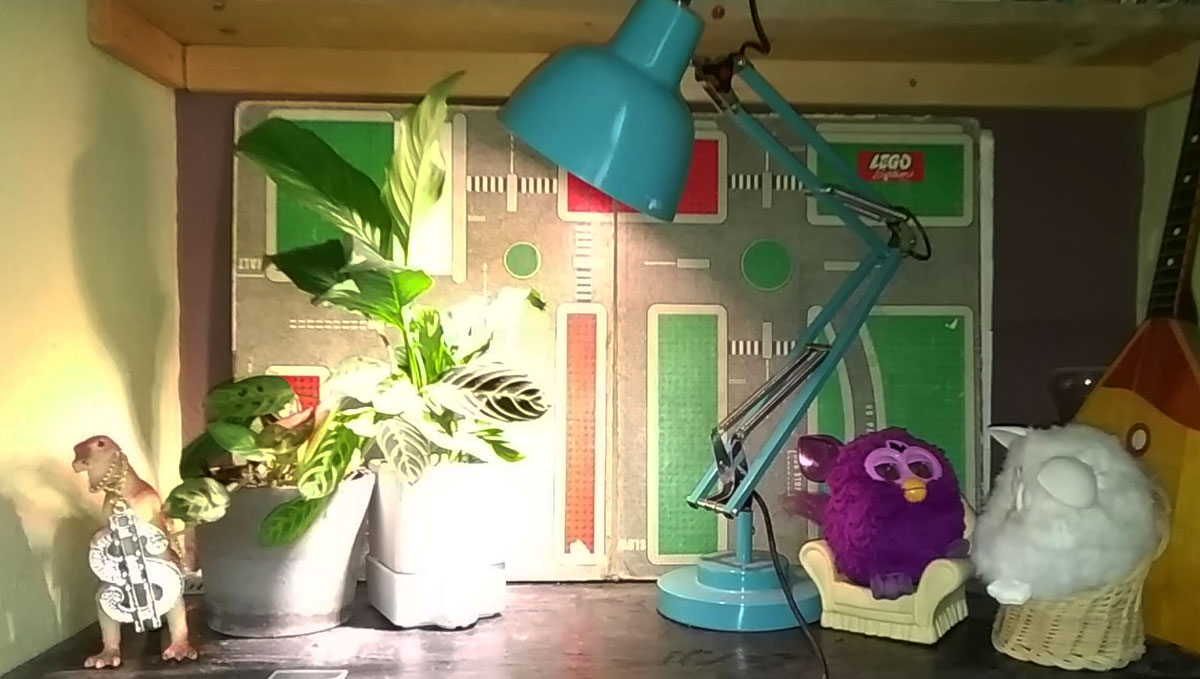 Plants need a different type of light than your normal light bulb can deliver. You can use special grow bulbs in ordinary light fittings so your plants have simulated natural sunlight. If you are growing salad the plants need around 16 hours of grow light a day. For normal houseplants you could get away with a few hours a day.
Things to watch out for:
Blue light is bad for sleep – the special grow lights give off a very blue light which has a reputation of keeping people awake. This can be used to your advantage if you have your plants in a workspace but should be turned off a few hours before bedtime if they are in a living area.
No time to water plants? Use self watering pots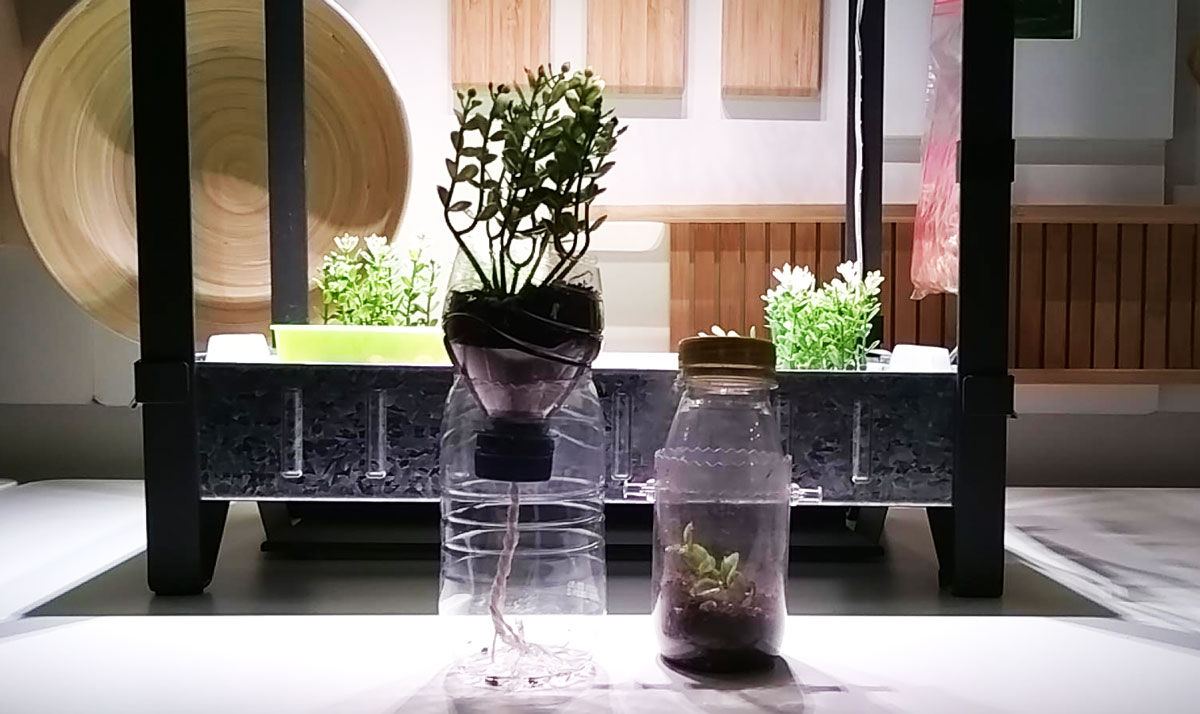 You can buy big self watering pots which are good for indoors or out.
There are also a few easy ways of making your own. The easiest is just to cut the bottom off a plastic bottle, take the top off and stick the top into the soil. That forms a funnel that holds the water while it slowly waters the plant. You can also make smaller self watering pots by cutting a plastic bottle in half, making a hole in the lid, putting some thick string in the hole and fitting the top half upside down into the bottom half. Fill with soil and seeds or a plant and once watered, the water will wick up the string into the roots of the plant.
You can use plastic bottles cut in half to make mini greenhouses too. The one in the picture has push pins in the side so it can be hung up.
No time for messing around with plants? Use hydroponics on a timer
I have had my VAXAR hydroponics unit on 16 hours a day for the last 3 years. It grows salad for me all year round and lives in a dark corner of a cold room. I'm really very impressed with it. I have it set up on a timer so the light goes on at 9pm and because it is so bright we don't use the hallway light at night any more. This wouldn't work in a bedroom or in a room you wanted to relax in so choose your spot wisely.
I spend about 15 minutes every month maintaining it, adding new seeds, mixing up the fertiliser and watering it.
My VAXAR grows croppable salad from seed in 7 weeks and I just pick it as I need it.
IKEA sell the whole kit but you can break it down into sections and use it in different ways. The light has a very long lead and attaches with a couple of screws so it could work well under a shelf or in a bathroom.
I've written lots about the VAXAR unit and a good place to start is here, with my tips and hacks.
Things to watch out for:
Plants get shaded out – grow taller plants instead of wide floppy plants as they can block out the light from slower growers. IKEA sell a carefully chosen selection of seeds that are perfect for the VAXAR.
Don't know where to start? Just grow something!
You don't need a lot of equipment to grow things. Just popping the end of your celery in some water will get you started. Look out for seeds or plants in supermarkets and start with something you like. There is no point having a whole batch of kale if you hate it!
Things to watch out for:
Fun – you might enjoy yourself
Money – you might save some
Fresh food – you might grow some, there is nothing quite like a warm tomato picked from the plant on a sunny day.
Gardening of any sort is good for mental health. It is on the whole relaxing, sometimes gets you outdoors and can get you moving about without it feeling like exercise. It can be totally free.
If you want to know more about setting up a veg garden I totally recommend this free calendar. You can choose what you want to grow and it will generate a printable calendar telling you when to plant seeds.
I also recommend joining an Incredible Edible work party even if you only do it once. They have little veg plots in public places all over the country with the idea that anyone can pick and use the fruit, herbs and veg when they are ready.
Disclosure – IKEA sponsored this post. I only write about products and companies I believe in.