Bulbs are easy!
If you don't think you have green fingers think again. Some bulbs are really easy to grow and if you plant them in the garden can pretty much be left to their own devices.
Start with something simple and slug resistant like a crocus or a daffodil but don't keep the daffoldil bulbs in the kitchen because they look a bit like onions.
This is an excerpt from the Eco-Friendly Autumn book which is packed full of ideas that will help you save money and live more sustainably. If you buy the book you will find out what you need to do to plant the bulbs too.
"There is something very healthy about preparing for joy to come – and one easy way to do this is the plant Spring bulbs now, and know that the brilliant colour and life will surprise and delight you in the months to come.
Bulbs can be found very cheaply, and you may get lucky on free-recycling groups. You could save money by buying in bulk and then sharing out between friends and neighbours. You might also find deals as part of community garden projects.
Bulbs are wonderfully clever and need very little attention – you can plant them in almost anything and hyacinth bulbs like to grow in water if you have the right vase for them. They also make wonderful gifts.
Be careful to keep bulbs out of the frost, and if it's still very cold when you see their first growth peeking out, you may want to cover them or bring them inside until any snow or severe frost has passed."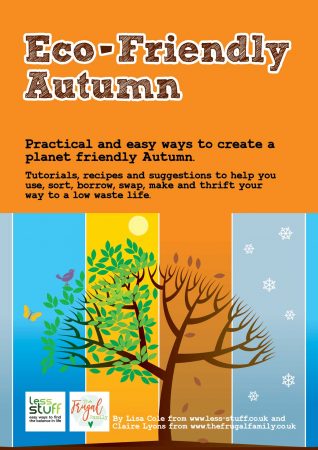 Join in with the conversation in the less-stuff Facebook group to share your ideas. I'd love to hear how this works for you.
Countdown to Cosy is a collaboration with The Frugal Family – check out what they are up to on their website www.thefrugalfamily.co.uk