Years ago I was teaching craft in an area that had a lot of poverty. We had funding through the Workers Education Authority to deliver classes that would improve mental health. The class before mine was about saving money on food. I didn't go to the class but I was told everyone walked out because the first thing the teacher said was 'buy a microwave'. Round there, buying a loaf of bread was a stretch, buying a kitchen appliance was not possible. This list of easy ways to save money on food is based on my experiences of living on very little money and on the real solutions I talked about with my craft group. They went on to sell their craft work which made me very proud!
1 – Don't be faithful
Generally, one type of digestive biscuit tastes much the same as another, so lose your brand loyalty and try a lower priced one.
2 – Do some maths
In most supermarkets the price per 100g is in small print underneath the product. It is worth giving this a quick glance in case a single item is cheaper than a pack of 4.
3 – Buy in bulk
Save up if you need to but buying a huge bag of pasta is usually cheaper than buying smaller bags. Remember to check the price per 100g though because it is not always the case. Supermarkets are wily!
4 – Check the reduced section
Food is unlikely to be a health risk if it is past the best buy date. The important date is 'use by'.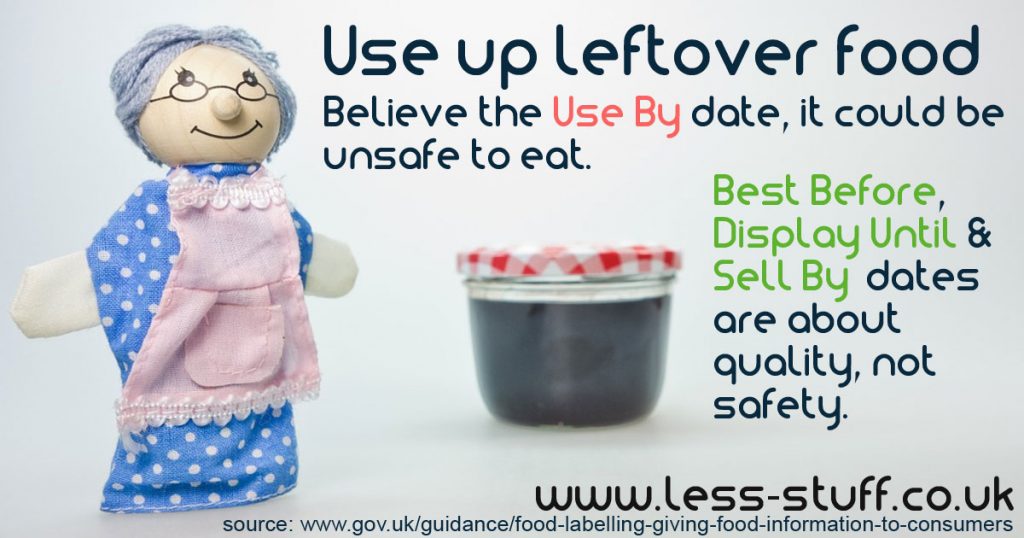 5 – Have a plan for the week
Just a rough plan of what you are going to eat and where is very helpful. Do you need to make packed lunches? Will you be eating out so need less food to cook? I base my menu plans on the protein source for the meal – so Monday could be pulses, Tuesday fish….. this is very flexible!
Read this post for more details on the easy way to menu plan when you hate plans.
6 – Use up leftovers
Cook larger amounts so you can eat the leftovers the next day, either reheated or turned into something new. Leftover roast vegetables cooked down with some stock and whizzed with a hand blender make the most gorgous soup. If you need more ideas for we have a brilliant A-Z  of leftover food that was made as a collaboration in the less-stuff Facebook group.
7 – Eat in season
Not only is seasonal, local food cheaper, it also tends to taste nicer! In the autumn my local market sells whole trays of tomatos for a few quid, it takes half an hour to turn them all into a basic tomato sauce that can be used for many different meals.
8 – Freeze things
Buy it cheap, cook it up, freeze it for later. This doesn't need to take hours of food prep. If you are wasting half a loaf of bread a week because it goes stale, freeze half of it for later. Sliced bread defrosts really fast and some toasters have a special setting for frozen bread.
9 – Shop at the market
In Bristol we have an amazing farmers market and a few local fruit and veg markets. The ordinary fruit and veg markets are really cheap and the quality is usually perfectly good. Farmers markets are more expensive but if you can afford a treat think of it in terms of less is more. One amazing loaf of bread v 3 loaves of cheaper air filled supermarket value bread. Personally, I prefer to eat bread less often and have a nicer version of it.
10 – Communities help
OLIO is a phone app that lets people who have spare food share it with others. For a few quid you could be eating restaurant food using the app Too Good To Go. If you need ideas for saving money the Old Style Money Saving board on Money Saving Expert is rammed full of helpful tips.
Join the less-stuff mailing list or subscribe to the RSS feed for more ideas for saving money and living more easily. You get loads of freebies when you sign up to the mailing list, including this gorgeous easy decluttering calendar!