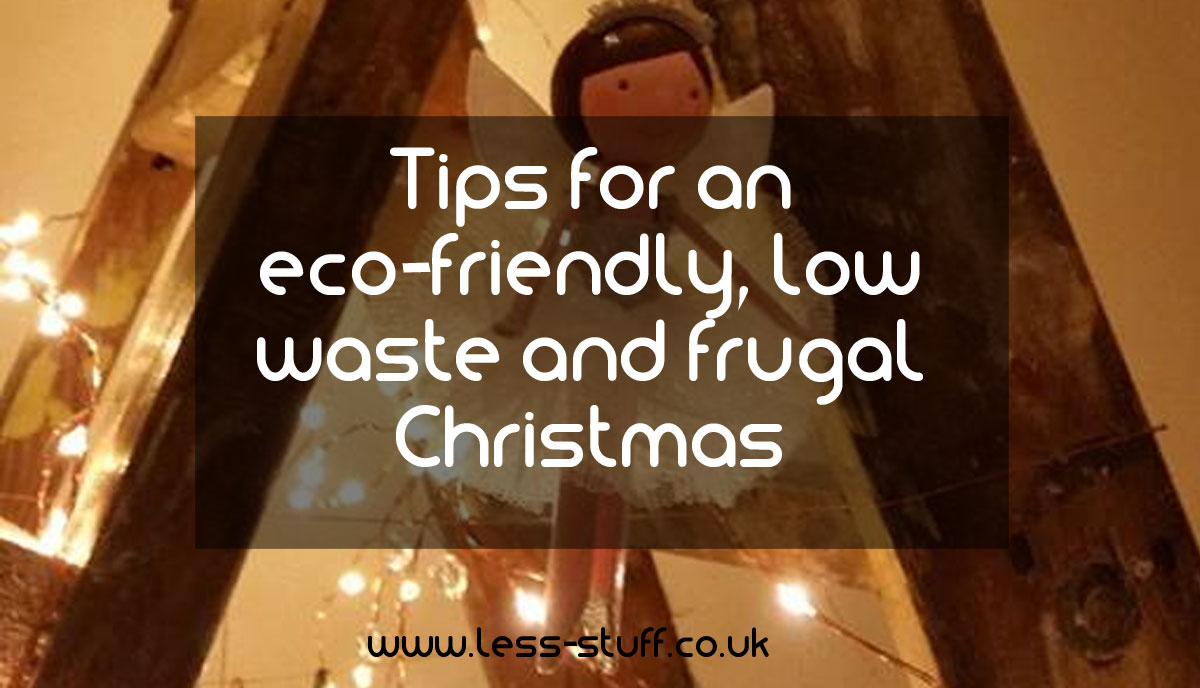 In the brilliant less-stuff Facebook group, Laura mentioned upcycling broken old artificial Christmas trees by wrapping individual branches with twinkly lights to make garlands.
This sparked off a whole load of ideas from Laura, Dawn, Jill, Claire, Liane, Carolyn, Sarah, Anna, Arabella, Bróna, Jane, Dina, Lynne, Anna, Linda, Victoria, Shirley and Clare which I have collated into this really useful post.
Reuse last years cards
Use last year's Christmas cards for tags with a hole punch and some ribbon (top tip, the ribbons cut out of clothes that are meant to help hang them but in fact just hang out of your neckline are perfect for this!)
Cutting them out with pinking shears can make them look a bit more decorative
Gift tags from cards has been mentioned, but I've received several cards that have been made by recycling the fronts of other cards.
Packaging tips
Make Christmas paper from rolls of cheap white colouring paper from hobby craft and 2 small girls with Christmas ink stampers do a good job here!
Even better a large free roll of white paper given to me by a friend who was decluttering! Ikea also sell rolls of paper.
Save the stamps off envelopes for charities such as the RSPB, some will only take the limited edition/different ones, others take all including the basic 1st/2nd class.
Remove sellotape from paper (and don't buy foil or sparkly stuff – if it crumples and stays crumples it will recycle) or use string/wool for securing.
Use gift bags and reuse until they fall apart. Or if people are getting several small presents, buy a suitable canvas etc bag and use that instead of wrapping paper.
My 18 year old, asked me for wrapping paper yesterday for his (last minute) work secret Santa gift. I had none so we got creative with brown paper, tree and leaf stamps and gold and silver ink. Designer, innit.
I cut the hanger loops out of clothes and use them as ribbons for homemade gift tags.
Make your own gift bags with old newspapers or magazines and decorate with odds and ends of ribbons, buttons etc. Make origami decorations and boxes to put gifts in. Save unusual boxes to use for future gifts – either cover the boxes or use them as templates for new one.
Use fabric as wrapping, for women scarves are great to wrap other things in if your recipient wears them.
Decorating tips
Make Christmas decorations from bits and pieces (helps if you have a small child to help) – bells can be made from cutting the bits out of an egg carton, wrap in silver foil and hang with a bit of wool/ribbon/thread.
Make paper chains from old magazines/wrapping paper etc. Or knit them using scraps from other projects
Don't get sucked into having a new 'theme' every year! There's nothing wrong with having the same decorations year in year out. It's only for a few weeks of the year!!! It's the way you display 'em that counts. Lots of tinsel and fairy lights all around always looks magical.
I stopped decorating my house. Less "OMG I NEED TO BUY" decoration shopping.
I love the fact that some of my decorations were on my grandmother's tree when I was a child and they were old then. I have decorations my kids made when they were little, that we bought cheap from Woolworths when we were first living together and money was a big issue, things my mum bought me from her holidays in Germany etc.
One new decoration every year and that's it. Also I buy my 3 oldest girlfriends the same one so our trees always bring us together at Christmas even though we can't always catch up.
Make your own crackers or, have a lucky dip bin, with appropriately wrapped male/female items – stuff people can actually use like hand cream, mini torch, seeds, a tea towel.
If you have small ornaments you really don't want to get rid of, put a ribbon round and hang on the tree. After a couple of years you'll probably be ready to declutter them
Make your own stained glass tree decorations by making biscuit dough, cut out shapes then use a smaller cutter to cut a hole in the shape, place a boiled sweet in the hole and bake in the oven to cook the biscuits and melt the sweets. Don't forget to make a hole in the dough to put ribbon or thread through to hang them on the tree.
I made crackers with cardboard toilet roll tubes wrapped in old paper. We said bang.
Crackers are so expensive now..make a pass the parcel instead.
Everyone makes and brings their own party hat with recycled paper etc too..offer a small prize for the best.
I buy cracker kits in the post – Christmas sales ready for next year.
Dawn's knitted chains

Cast on 20sts using 4ply yarn and slightly smaller than normal needles (2mm) to make a nice firm fabric. DK would probably need about 3.5mm needles and they'd be larger.
Garter stitch 5 rows (every row knit). Use one of the ends to sew into a loop, repeat with the next colour and sew it through the original loop. Repeat until you have run out of scraps or are bored!
Can be done with larger loops, but will be quite heavy to hang – this version stays very well with just a bit of blutac or having something heavy on top of it.
Don't send cards
I quit sending holiday cards, I let folks know that I'm donating instead to our local homeless charity. Most folks have got on board with this and I now receive far fewer cards.
Or make your own
I make all my own Christmas cards – it's quite easy, and it works out around 17p/card.
Secret Santa
Agree with the adults in the family to have a Secret Santa so you only have to buy 1 (adult) present with a price limit and can really think about what that person would like. Kids still get presents from everyone. (not done it this year, but plan to next year)
We've done this (Secret Santa) the last few years and it's the best thing. Do it. You won't regret it.
Secret Santa's can be quite thrifty too if you have groups of people that might be tempted to buy for everyone. Last year the works Secret Santa we had hand made.
Reduce food waste
Think about how many people you are feeding and only buy what they can eat.
My dad used to buy a mahoosive turkey every year and then moan about it not getting eaten. I have been guilty of buying a lot of 'festive' food in the past – sugar almonds, jellied fruits, nuts ++, mints, tins of chocolates. Even when I had children at home, it was all quite unnecessary. Being on my own makes things very simple and I don't buy anything I wouldn't normally eat now.
I buy individual packets of crackers and biscuits as we don't like all the ones in the variety pack, ditto for nuts.
I only buy minute cake and pudding portions because hubby is not very fond of them.
Portion planning and buying when there's offers on (my stuffing is already made and in the freezer as butcher had a deal on sausage meat).
Give money
Not exactly a frugal tip, but accept that if you have teenagers/young adults or skint parents in the extended family, they are far more likely to appreciate money than a present they don't want. If they're saving for something special make a home made card that reflects that. Son once got a fimo "car exhaust" and a lot of money, daughter will be getting a paper or fabric mini tent (depending on how creative I feel) and money.
Gift ideas
Give the gift of time: offer to babysit, to cook some homemade food, do some weeding or cleaning.
I buy presents in the Christmas sales for next year.
Make it clear that you are happy with 2nd hand stuff (eg books, grandsons Brio) as that can save a lot of money with careful shopping.
I used to keep a bag of never going to be used by me gifts that I could pass on to other people when needed.
Use local shops when possible rather than mail order
You can make a promise certificate as a gift
Ask family what they really want and buy something that will be used and valued rather than a gift item that is mainly packaging.
For the granddaughter, who is nearly 3 and has too much stuff already(!) we sponsored a penguin at London Zoo. She loves going to the zoo (they already have family passes) and the penguins are her favourite. Every 3 months she will get colouring pages, a fact sheet, an update on what her penguin is up to and some stickers. She loves stickers! I'm hoping this will all become more meaningful as she gets older and we intend to do an annual subscription for her indefinitely. We skipped the cuddly toy as she is already drowning in them!
My previous husband had dementia and I sponsored a horse from Hillside Animal Sanctuary for him. He loved getting personalised letters and photos from William. And I also did the same with a baby orangutans.
I make Grandma a calendar with photos of flowers from her garden that bloom in the relevant month.
I buy from local small businesses, mostly women-owned. I'm very lucky I live in a city where I can walk almost anywhere I absolutely need to go, so by shopping locally I don't drive all over the place.
I buy small, thoughtful gifts rather than a big extravaganza. Yes, I am one of those Aunts who buys a real book vs a PS4 gift certificate. 🙂
In 2010, the third time I was made redundant, I found an old photo frame and printed a photo of my boys when they were small. I gave it to my husband.
I just put together a wee hamper of edibles, some bought, some homemade as the last thing they need is more 'stuff'!
We don't buy presents, maybe just a token gift like funny socks for my two neighbour friends.
On the day we go for a walk, talking home made sandwiches.
Remember what it's really about
This post ends with some words of wisdom from Jane
"Once we went to a friend's on Christmas Day and were stunned by the excess. But it was their normal. And they were simply generously sharing with us.
Our circumstances vary so much. All I would say is try to lower expectations; keep what is stress free; encourage quiet time and appreciation; encourage kindness."
If you want more ideas to have an eco-friendly and frugal Christmas there is a whole book about it! Written with Claire Lyons from The Frugal Family it is packed with recipes and tutorials to make this the most sustainable holiday ever!
Click here to find out more about the Low Waste Christmas Book.