In a Nutshell – I'm part of the Ikea Live Lagom programme for 2016 and I have been given £300 to spend on things from Ikea that make my home more sustainable.
The Live Lagom project is being run by Ikea and the aim is to help people become more sustainable in their homes. Lagom is a Swedish word that means "just right", not too little, not too much, not too hot, not too cold, somewhere perfect that is in the middle. Out of thousands of applicants I'm really lucky to be one of the Bristol Lagommers this year.
The Live Lagom experience so far
I've been to the induction, had a home visit to help me identify places in my home that need some changes and next week I can go shopping! I have mixed feelings about this;  I'm spending money to save money, some of which will take a long time to pay back (£75 for a grow house to save me £2 a week in salad will take nearly 10 months to pay for itself).
Hopefully the LED bulbs are going to make more of an instant impact and I know that curtains at the back and front door will make things more comfortable around here.
I'm also trying to use natural products when I can instead of plastic. It's not the packaging I'm worried about so much here, Ikea recycle plastic strapping, hard plastic and soft plastic. It the plastic boxes and containers around the house I'm trying to avoid and Ikea is filled with them. There are some hidden lovely things too – they are starting to use bamboo more and their range of kilner jars is excellent at a bargain price.
Planning a sustainable shopping list
I've realised that when I go to Ikea I don't look at the displays at all, I have a short cut route through the rooms (which I've been told are based on real life homes) and I head straight for what I need. This means I have missed out on quite a lot of potentially useful ideas.
So, I've had a proper look around Ikea now, and I have had a chance to audit what we already do to live sustainably and identify pretty easy ways to change for the better. Also, having become somewhat obsessed with cracking the code of mystery around LED lights, I've been Googling – and I found this incredibly useful article in the Gruaniad that tells you everything you need to know.
It's all very exciting but also rather stressful – when I took my 13 year old around the local Ikea to work out lighting logistics we felt amazing. It is very liberating knowing you can afford most everything you would want with a £300 spending limit. I also feel a great sense of responsibility, this money has to be spent wisely and not frittered away.
Working with my teenager (who did the floorplan of the ground floor) and from the ideas Tara and Amie from the Ikea Live Lagom team gave me at the home visit, we have indentified key areas that need some help. We also have a couple of treats in there – the sheepskin for him and the indoor growing set for me. I'm not sure if all of this will be allowable on the shopping list but it's carefully thought out to make life better around here. I'm also more than happy to put some of my own money into it.
The plan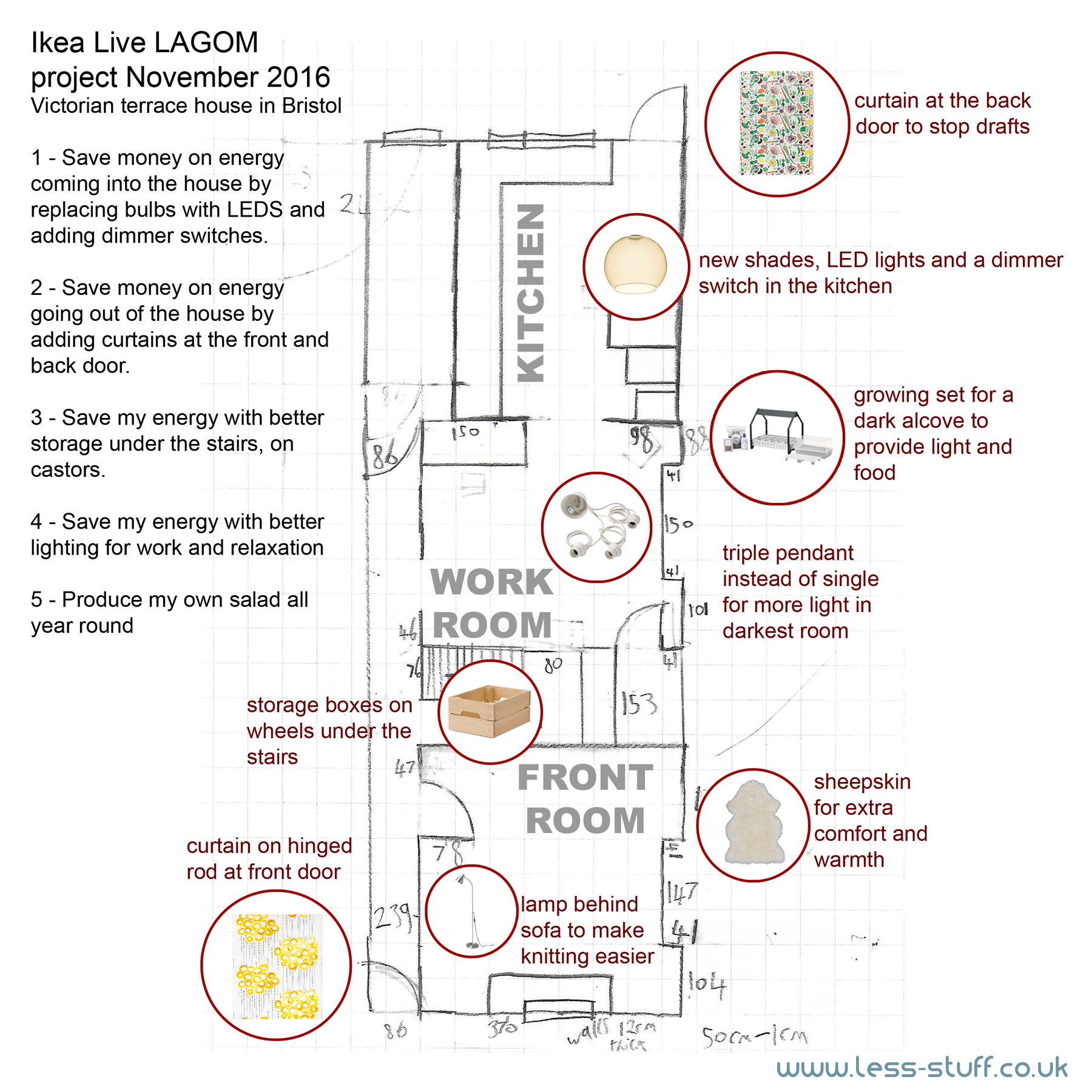 The shopping list is more of a guideline because my plan is to hit the bargain basement first and see if anything on my list (or close to it) is reduced. I've factored in fabric for the front and back doors but if I find a ready made curtain in the bargain section that might work better. I do really like the vegetable fabric they have at the moment. It is wider than I need so I could make seat covers for the kitchen chairs with the rest of it.
So, shopping is booked for next Wednesday! This all coincides with a massive building project involving taking a ceiling out and extending into the attic so it's all go round here. All of my sons room is now in my room and he will be sleeping on the sofa downstairs for a while. Next week will be very busy indeed!
Conclusion to this stage is that I'm properly excited, Ikea have been lovely to work with, always there with an idea or an answer and I'm continually grateful to be one of the few Bristol people to take part in Live Lagom.
Here is my shopping list….
[gdoc key="https://docs.google.com/spreadsheets/d/1PqhgfvruDEdYUUcWJICgEVpqMJKxv9uF4fdvTMk_ZLo/edit?usp=sharing" class="no-datatables"]