The kitchen can be a terribly wasteful place. From leftovers that never get eaten to the water we pour down the plughole when washing up. Josh an Interior Designer who is leading this years Live LAGOM project, from the Bristol IKEA gave me a nice bag of goodies to help prevent waste. Here are his top picks to help you be less wasteful.
TARTSMET dish washing brush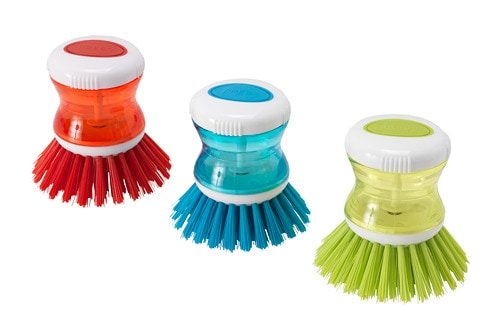 I've never used a brush for washing up, never considered it. I'm a sponge and scratchy thing girl. I'm also a girl who runs the tap far more than necessary and uses loads of washing up liquid so I was happy to try something less wasteful.
This little brush has a compartment for washing up liquid. You push it to dispense the soap as and when you need it. You store it upside down, on it's top.
Does the TARTSMET work?
Yes! It is actually better than my scratchy thing than getting burnt on food off pans and it's shape means you can get into the tricky bits of pans. It is also perfect for getting just under the edge of the sink and hob. My only criticism is that it needs quite a hard push so it wouldn't be great for people with weaker hands.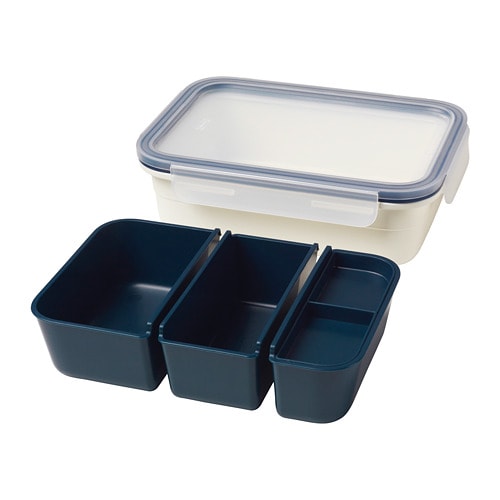 This has been my lunch box of choice for some time now. It has 3 little sections that you can remove if you want and it works well for lunches that are composed of leftovers. Yesterday I had stir fry rice (I called it a salad because it was cold), boiled eggs, beetroot and spinach and they didn't mix up at all. It is a good sturdy box and withstands a fair bit of bashing around in my son's school bag too.
The whole IKEA 365 thing gets better and better though because the range is extendable and flexible.
Glass or plastic containers
The lids for the lunch box also fit oven-safe glass containers that come in square or rectangular, shallow or deep. They can be used for storage, freezing, reheating and serving.
Josh says "Glass tubs are better than plastic; they may be heavier but they are more sustainable in the long run and don't get dirty quite so easily. The IKEA 365+ glass tubs are great for storing food and can go into the microwave, dishwasher, oven, fridge and freezer making them incredibly versatile. They also don't discolour the same. They are also easy to recycle and replace in the future."
Colour coding made easy
The snap on lids have coloured washers to seal them, these can be replaced with different colours! I'm blown away by the possibilities here, they would be great for families with mixed diets and a bit of basic colour coding could end my freezer mystery meals.
Different lids
The silicone lids can be used in an over or microwave
The bamboo lids are gorgeous looking and it's a sustainable timber too.
There is even a chopping board that fits the container as a loose lid – fine for the fridge, great for batch cooking.
Josh says "The different lids we have for our food jars and tubs are also really good for their different uses with some being multifunctional and some being able to be used in the oven due to their heat resistant material qualities."
Neat little lunch bag
You can get a neat little bag to fit 2 shallow lunch boxes or one shallow box, a water bottle and some fruit which is what I take to college. My only gripe about this is that there is no way to store a flask in it upright and I worry mine will leak if it is on it's side. It fits the IKEA water bottle well though, which has a handy little handle too.
Under shelf storage
Both the plastic and glass containers can be used under shelves with these neat sliding fixtures. My shelves are made from scaffolding plank depth timber and the holders are designed for IKEA units that are 18mm thick. I took mine to college and bashed them around with a hammer to make them bigger. In retrospect, it would be easier to just hacksaw off the ends, file them back and paint them again. That sounds like a lot of bother but it is a 20 minute job if you have the tools.
On a normal IKEA shelf the container holder hooks over the front and is screwed in at the back. The holders have holes at the front too so there is no need to the hook over bit on a thicker shelf. I live and learn, constantly.
Anyway, DIY digression apart, these are ace! They fit the deep and shallow containers and they make use of the dead space under a shelf. I love these a lot!
With this holder for container, you can use the space under your shelves in a smart and efficient way The holders are flexible and can be used for both square and rectangular containers in the IKEA 365+ series.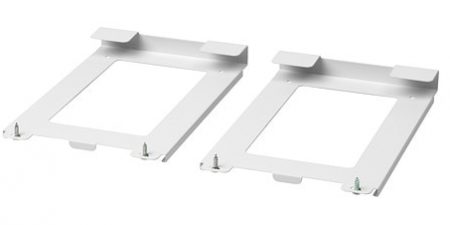 Reusable plastic bags
Not all plastic is rubbish! If you can use the plastic again and again it is a fantastic material. These ISTAD bags are great for the freezer because you can freeze things flat to save space. Nureen from Feed Me Good uses them to freeze ready prepared veg, complete with herbs and spices!
Nureen says "The best thing about making your own vegetable bag is you can customise them to your own taste, why not add some prawns and rice to make a complete meal. Plus, you cook them by boiling them in water, baking them in the oven or microwaving the bags."
Check out her blog for more ideas about reducing food waste.
Additional IKEA tips & ideas
Where to store what
The Cupboard
The food cupboard is the nerve centre of your kitchen, and it's where you should keep all your non-perishables. Tinned goods, sauces and pasta are prime examples of cupboard essentials. Just remember to give your food cupboard a good check every now and again. One of the biggest causes for over-stocking is simply not checking what you already have before you shop.
The Fridge
The fridge is your go-to storage centre for any fresh food and is absolutely essential in your quest to reduce food waste. Meat, veg, fruit, dairy – anything that's highly perishable – should always be kept in the fridge without question. It's not perfect for everything though. Contrary to popular belief, you shouldn't store bread in the fridge as it actually makes it go stale faster. Certain fruit and veg, like potatoes or bananas, should be kept cool, but not in the fridge. To get the most out of your fridge, make sure you keep it between 0°C-5°C. If it's a little too warm, your food won't last as long, and if it's too cold, your food could end up partially frozen. Fridge temperatures are a great help.
The freezer
If you're keeping food for later, the freezer is your guy. Many different types of food can be stored in the freezer, allowing them to keep well beyond their labelled use-by date. 10 ways to save foods that often go to waste
The average UK household wastes around £60 worth of food a month, so here are some tricks for making sure you've got supper not surplus.
Make stale bread old news by transforming it into croutons to give your salad real crunch.
Freeze the big cheese. Yes, you can freeze cheese! You can actually freeze most things. If you're buying a hefty block of hard stuff, chop off a chunk and freeze for later. You can also freeze milk.
Fruit juices can be used to make salad dressings. Try mixing orange juice, honey, mustard and a small amount of balsamic vinegar. Berries are also welcome.
Cucumber and lettuce should be kept in its packaging in the fridge (if it came wrapped) and in the crisper drawer – if your fridge has one. This can gift a cucumber 3-4 more days of life.
If not pre-packaged, wash and dry your lettuce leaves, store them in a tub lined with a piece of kitchen towel. Alternately, store them in a bowl of water in the fridge – just change the water every couple of days.
Onions are best stored in a cool, dry, dark place (they don't like fridges but do love a tote bag). Chopped onions can also be frozen to save you time when you need dinner on the run.
Store a half pepper with the stalk and seeds still in – it will last longer. Vegetable alchemy. The same works for avocados.
Leaving the stone in an avocado will delay discolouring.
If potatoes have sprouted, simply remove the sprouts before use. They're still good to eat, just give green or rotten bits the chop before cooking.
High-risk rice. Cool leftover rice by running it under cold water and pop it in the fridge immediately. It can be kept in the fridge for 1 day or frozen for use later. Always re-heat until well above 70c before eating.
When in the fridge too long, rocket and spinach can lose their colour. What's not right for a green salad will certainly contribute to a sumptuous soup.
We eat what we can see. IKEA's Korken jars and Tupperware are idea for helping you to see what you have in store before you buy more. They also make stock rotation in the fridge simple so that you can eat the most perishable items first and avoid waste!
Disclosure

I have not been paid to write this blog post. I was given a bag of goodies to review. All opinions are my own unless otherwise stated and this post may contain affiliate links.