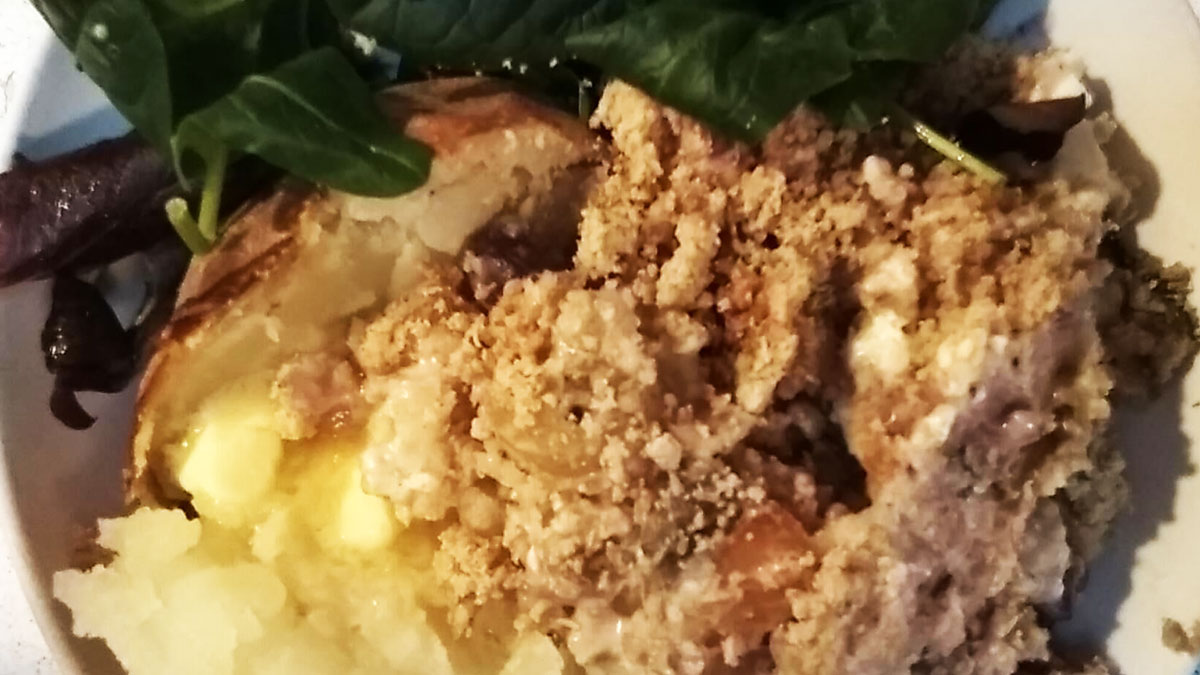 This is a genuinely lovely comfort food recipe with the added benefit of being a fridge clearer! You can add almost anything to it. Cabbage, Pak Choi, Kohl Rabi, Swede, Turnips….all those hungry gap vegetables will be turned into delicious nommyness with the addition of a super easy white sauce and a savoury crumble topping. The only thing to watch out for is beetroot because it will turn the whole thing pink.
For this recipe I tried out 2 new ingredients I have never used before. Buy Wholefoods Online sent me a packet of healthy organic oat flour and another of 1kg organic barley flour to try out.   I mixed these in equal quantities with normal plain flour to make the crumble and the result is a great texture with a slightly nutty taste.
I used butter, feta cheese and cow milk but this recipe works just as well with any vegan cheese you can cook with, tofu, yeast flakes and soya or hemp milk. You can also add bacon or bacon bits.
Root vegetable crumble
A brilliant way to use up odds and ends of any vegetables, especially good in the hungry gap.

Ingredients
1000

g

of any vegetables

if you use beetroot this will be pink

500

ml

milk

50

g

plain flour

60

g

butter or alternative

200

g

flour - any sort

I used a mix of plain, barley and oat flours

3

tbsp

olive oil

2

tsp

chopped herbs

optional

100

g

cheese

optional
Instructions
Chop up all the root veg, any leeks and tougher stems of spinach and put on the pan to boil. You can add spinach leaves to wilt when it has cooked a little. The aim here is to just soften the veg, not to boil it to a mush.


Chop up any garlic, onion, celery, courgettes and mushrooms and saute in a little olive oil.


When the veg is softened drain the root veg and pour into a baking dish. Add the fried veg and mix up.


To make the white sauce put the milk, 50g plain flour and 50g butter into a pan. I used the one I fried the veg in. Whisk as the mixture comes to a boil and keep whisking until it has thickened.


If you are using any cheese add it to the veg mixture.


Then pour over the white sauce. You might want to add mustard or salt or pepper or all of these things.


To make the crumble mix the flours and the olive oil with your hands.


You are aiming to get a nice crumbly mix. If you have any herbs, hard cheese, chopped nuts or seeds you can add them too.


Sprinkle the crumble mix over the veg. You can use the remaining butter to dot onto the top of the crumble mix. Bake for around 45 minutes. The top should be golden brown and the vegetables cooked through.

Disclosure – Buy Wholefoods Online gave me some ingredients to review but I haven't been otherwise compensated for this recipe or blog post.