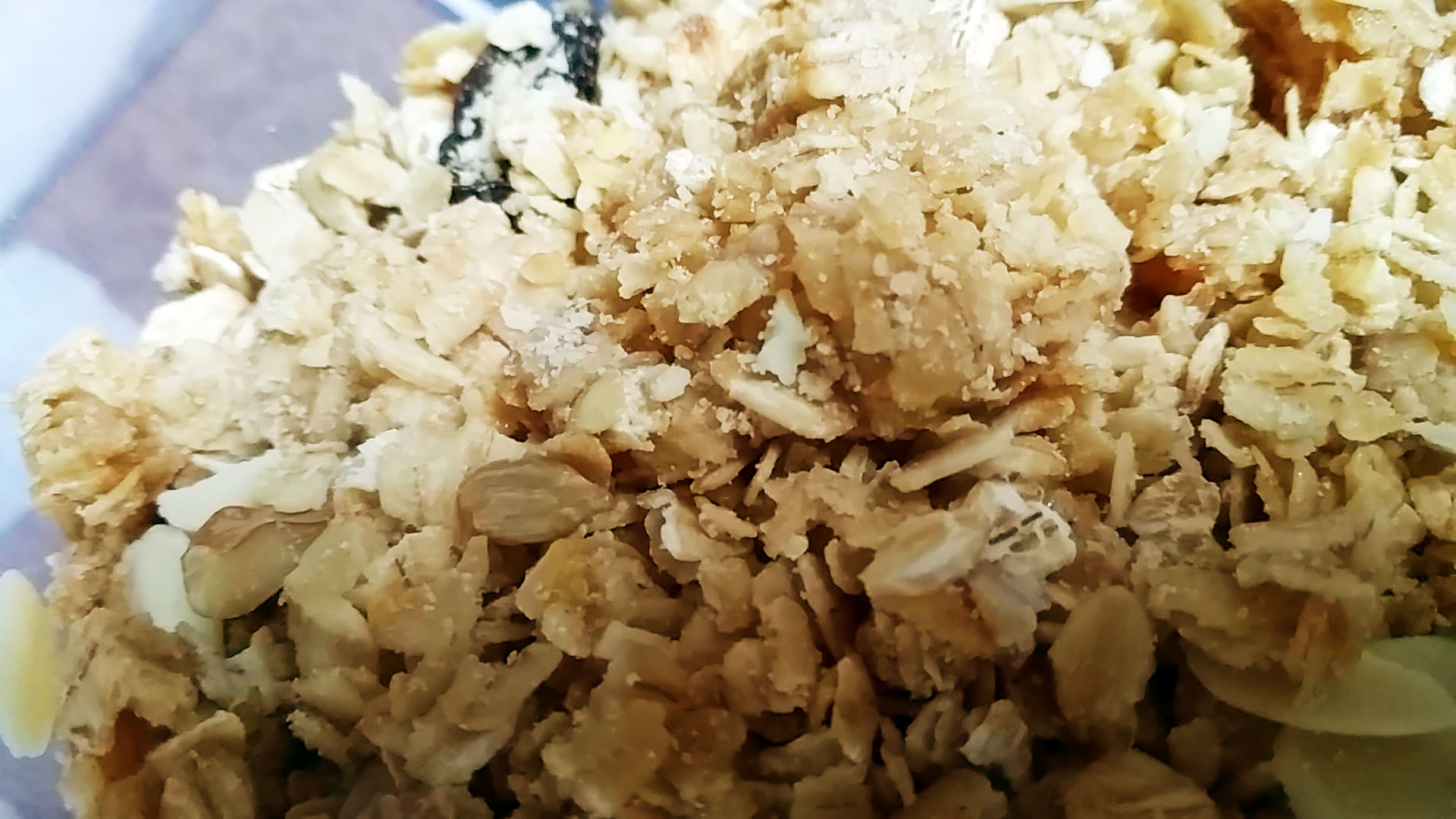 Delicious for breakfast with yoghurt and apple puree, nice as a topping for crumble too. Not the best breakfast choice if you are trying to keep your carbs and sugar low but at least you know what is in it if you make it yourself.  If you are careful you can make this frugally and zero waste too. Lidl sells loose nuts and oats in paper bags and there are a growing number of zero waste shops opening up all over the place now too.
The key to a successful granola is even quantities of oil and sugary stuff and a reasonably low cooking temperature.
Adding more starchy stuff helps it clump more but remember it will crisp up as it cools so don't worry if it doesn't look like it has worked when you take it out of the oven.
Easy Granola
A really simple recipe for granola that will use up any odds and ends of dried fruit or nuts.
Delicious with yoghurt and apple puree!

Ingredients
1

tbsp

coconut or light olive oil

1

tbsp

maple syrup, honey or a mixture

150

g

rolled oats

50

g

barley flour, oat flour

optional but helps with clumping

1

tbsp

seeds, pumpkin, sesame or sunflower

1

tbsp

mixed nuts

break if you prefer

1

tbsp

dried fruit including coconut flakes

chop up if large
Instructions
Heat up the oven to 140c or gas mark 2/3. The idea is more to dry out and toast the ingredients than cook them.


Mix the oil and syrup and honey together. If it is cold, or you are using a solid oil it helps to melt it.


Add the oats and flour if you are using it and mix well until the oats are coated.


Spread the mixture on a baking tray and put in the oven for 15 minutes


After 15 minutes carefully move the granola around on the tray and add the seeds and nuts.


Put back in the oven for 10 to 20 minutes, depending on how toasted you like your granola.


Tip out onto a clean tray or some baking parchment to cool down - clumps will form as it cools.


If you have cooled the granola on baking parchment you can lift that up to pour it into an airtight container. It will keep for about 6 weeks.

Notes
I make a double batch of this granola and split it at the adding nuts stage. That way I can make 2 different flavours. Pecan and goji berries if I'm feeling flush (or if a bargain comes up). Walnut and sultanas if money is tighter.
Unable to locate Global Block