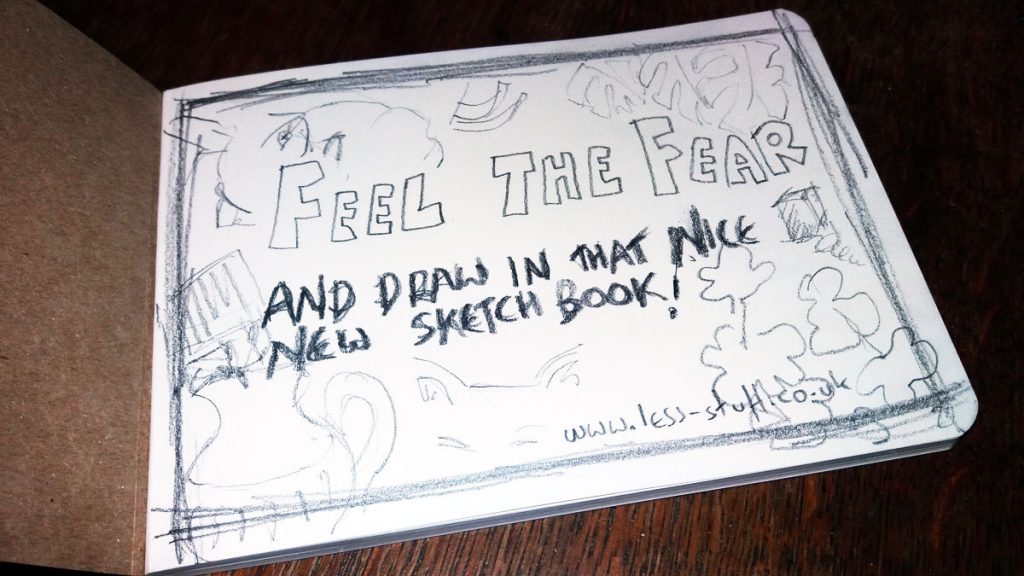 I don't like or enjoy drawing.  So, although I'm a professional designer in my day job I still feel a deep anxiety when I need to draw something.
Despite my hatred of putting pencil to paper, I love new sketchbooks. My gut reaction with a new sketchbook is to hoard it away because it feels too good to use. This is clearly nonsense and I will never win the Turner prize with that attitude. If you stand still you go nowhere. This January I'm going to face my drawing fear and get drawing.
With perfect timing my stationary enablers and less-stuff site sponsors Pocket Notebooks have just sent me a little Flying Spirit Sketchbook to review.
[adrotate banner="11″]
What is the worst that can happen?
Wars will not start and volcano's are guaranteed not to erupt just because I draw hands that look like bunches of bananas. It is possible that my sketchbook will get into the wrong hands and I will be publicly humiliated but very unlikely.
Break the white page block
Alex Mackenzie was the head of department when I was on my foundation arts course a million years ago. His advice when faced with a scary white page was to draw a border around it. My, less authoritative two pence worth is a suggestion to make it messy. If I try to make it neat I'm likely to be struck with perfectionism.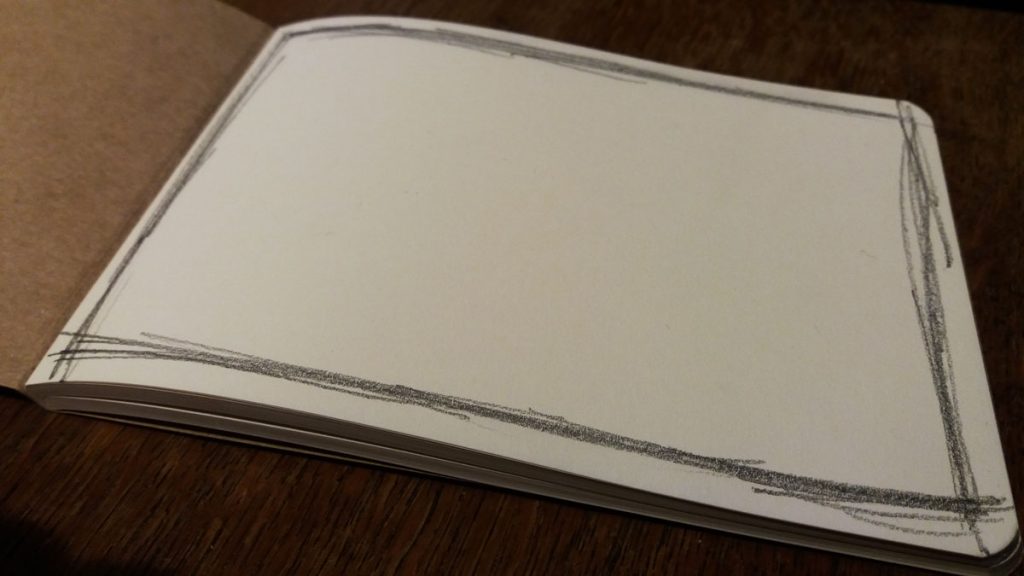 How to get better at drawing
I was a good and confident at drawing when I was a child and I used to draw for fun. What I need to do is draw something little every day and build that confidence back up. I have a pencil, a rubber and a sketchbook, all I need is a little challenge.
Safety in numbers
All over the internet, groups of people are gearing up for a January creative challenge. Challenges in groups are great for accountability but you can often just stalk and see what others are up to without sharing your work. You can guarantee that some people will be astoundingly talented and you can guarantee that other people will be terrible. The chances are that you are somewhere in the middle, the trick is to not be intimidated by the Leonardo's and to be encouraged by watching how the others improve over a few weeks. Share if you feel up to it because it will help everyone else. Also, these things don't work at all if no one shares. Expect kind words and encouragement because all the other members of the group will be dreading criticism so much they will be polite. If you are reading this at a different time of year don't worry, there are challenges all the time, you just need to seek them out.
Choose a challenge
Here are 3 free drawing challenges that look straightforward, non biased and good for every skill level. They are not promising anything other than fun and relaxation. I am not being paid to promote any of them. I am signed up to one of them but I haven't tested them all. They all look good in different ways.
Run by a printmaker and illustrator. Daily emails encourage you and there is a Facebook group to support you through the month. Suitable for anyone of any age or level. You can draw for 30 seconds a day or for hours and the goal is to draw for 30 consecutive days.
Drawing mindfully with the intention of slowing down and relishing the time spent is the name of the game in this challenge from the Art of Mindfulness. There are a couple of meditations on Soundcloud to help you along the way too.
Now in year 4 at 64 Million Artists. Sign up to get a short creative challenge daily. It requires materials you will already have and encourages a sense of humour and using up junk from the recycling bin.
If you don't have a sketchbook
You could do any of these challenges on A4 photocopier paper.  Thicker paper is nicer to draw on but very thick and course handmade paper can be challenging. The thrill of a beautiful new sketchbook is a joy and pleasure that I encourage everyone to try just once. It doesn't need to be a big book. Mine is handbag sized with a cover that looks serious. The company who make them, Clairefontaine, have been around for generations and started off by using the waste rags from the local textile industry in the town of Etival Clairefontaine. My little notebook is a 100 pages of gorgeous clean page possibilities and at £3 a pop would be money well spent.
If you see me on one of the January drawing challenges please give me a little like, even if my drawing is at the rubbish end of the scale. A little confidence boost can go a long way.
Lisa