Halfway allready!
I weigh 10st today, 1.4 down from yesterday.
My neighbour has just come over with a lovely smoked rainbow trout so that is lunch for me! I still have extended soup to eat and I'm looking forward to the leftover mushroom soup, which was so easy to make despite using a little of the butter ration. Onions and garlic softened in butter, add mushrooms, cook a while, add water, cook til soft, whizz up, add milk – I used soya 'cos that is what we like.
Breakfast
Porridge and treacle or honey
juice
T's packed lunch
Salmon sandwich
6 little coconut biccies
juice
a chelsea bun
Potato Bread Recipe
Cold Mashed Potato
Flour to make it up to 500g
mix together with fingers
add a splash of oil
teaspoon of dried yeast
200 to 300 ml of warm water
knead lightly (it is very sticky) and leave to rise
With these quantities I made 4 Chelsea Buns and a loaf big enough to share as the main carbs in yesterdays dinner.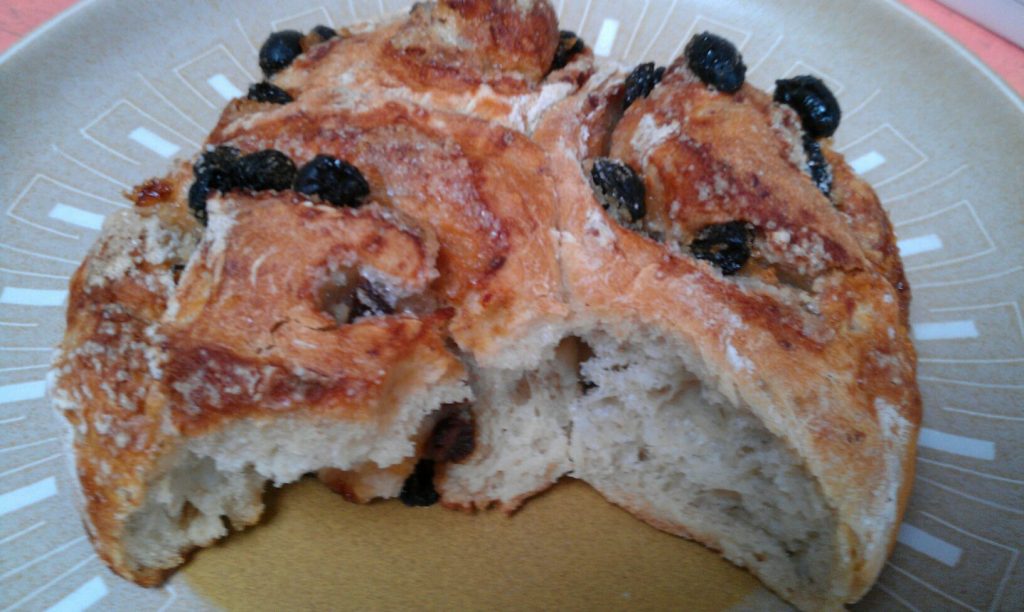 T has afterschool club so he will get toast or crumpets at around 4.30.
My lunch
Vegi soup and bread with smoked trout!
Dinner
Toad in the hole with 2 of the vegi sausages and one egg from our 4 (having swapped my sweet ration for 2 eggs)
Fried Mushrooms
Gravy
Dessert
Chelsea Buns (made with mashed potato in the dough)
Day 4 and my 8 year old has only just started to complain about rations. He wanted marshmallows and I said he could but he had to swap some of his sweet ration for them. I'm really proud of the way he has thrown himself into this. Tomorrow we are looking forward to eating out!
[pt_view id="35d73e2oa5″]