In a nutshell – it is Zero Waste Week 2017 and I'm trying out ways of extending the life of old things. This week I turned a useless duvet into 16 useful things.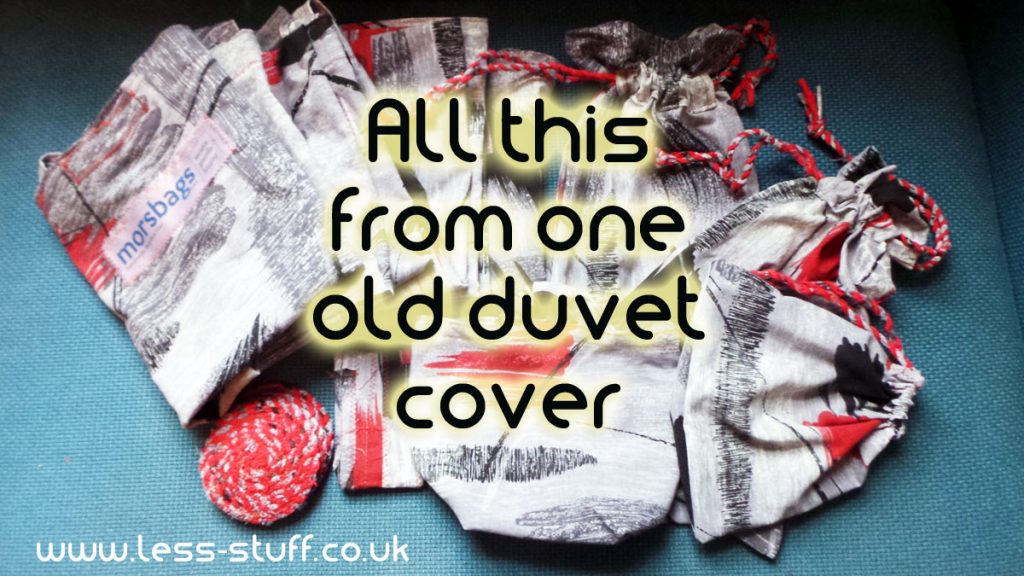 I've been making Morsbags for a while now but the bag of clean rags going into the recycling was bothering me a bit. Zero Waste Week was a great opportunity to see if I could use up a whole duvet to make something useful. There was nothing wrong with the duvet cover, it was just scratchy and we never used it. I can't imagine anyone else wanting to either. So much better to give it an extra life or 16! A lot of these ideas would work for ripped and worn duvets too, you would just need to choose the strongest fabric for bags. Any weak or thin material is great for making yarn twine with.
Zero Waste Cutting Strategy
Unlike curves, squares and rectangles leave no waste. I started off by cutting off the popper edge then ripping down the edges of the duvet cover to make it square. Then I cut out the biggest bits of fabric for Morsbags first. What was left became fabric strips or smaller rectangles for little bags.
7 Morsbags
Some of these have fastenings so I could reuse the duvet poppers. I zig zagged them onto the opening of the bags.
4 Smaller Bags
The larger bags follow Vicky's pattern for produce bags. I made one to fit a wine bottle so it can be used as a gift bag. The smaller bags are a simple drawstring and a tiny Morsbag, to use as gift bags.
4 Coasters
To make these more interesting I added some scraps of red fabric.  I'm saving scrap strips of fabric now to add to a growing ball of yarn twine.
Cat toy/lavender bag/dolls house cushion…
This little thing uses up the last of the fabric scraps, just roughly zig zagged together. It is stuffed with the smaller bits and the ends of cotton. I put catnip in mine which my cat ignored so it has become a dolls house cushion instead.
The total count
7 Morsbags, some with poppers to fasten
1 wine bag
1 produce bag
2 gift bags
4 coasters
1 cat toy
How tricky was this?
Morsbags and the drawstring bags are a doddle to make. Coasters are a little more fiddly and the cat toy was the fiddliest. I was sewing all day purely because I wanted to get it done. The tricky bit is thinking ahead for ways to use the available material. You don't want to end up with too many narrow strips, unless you need lots of coasters! I was trying to save tea towel sized bits after the Morsbags were cut out because that is a good useful size. I totally enjoyed doing this and I've got packaging for some xmas presents (2 jam jars fit in the smallest bag), an xmas present (coasters) and a couple of useful bags for Zero Waste Shopping.
Save