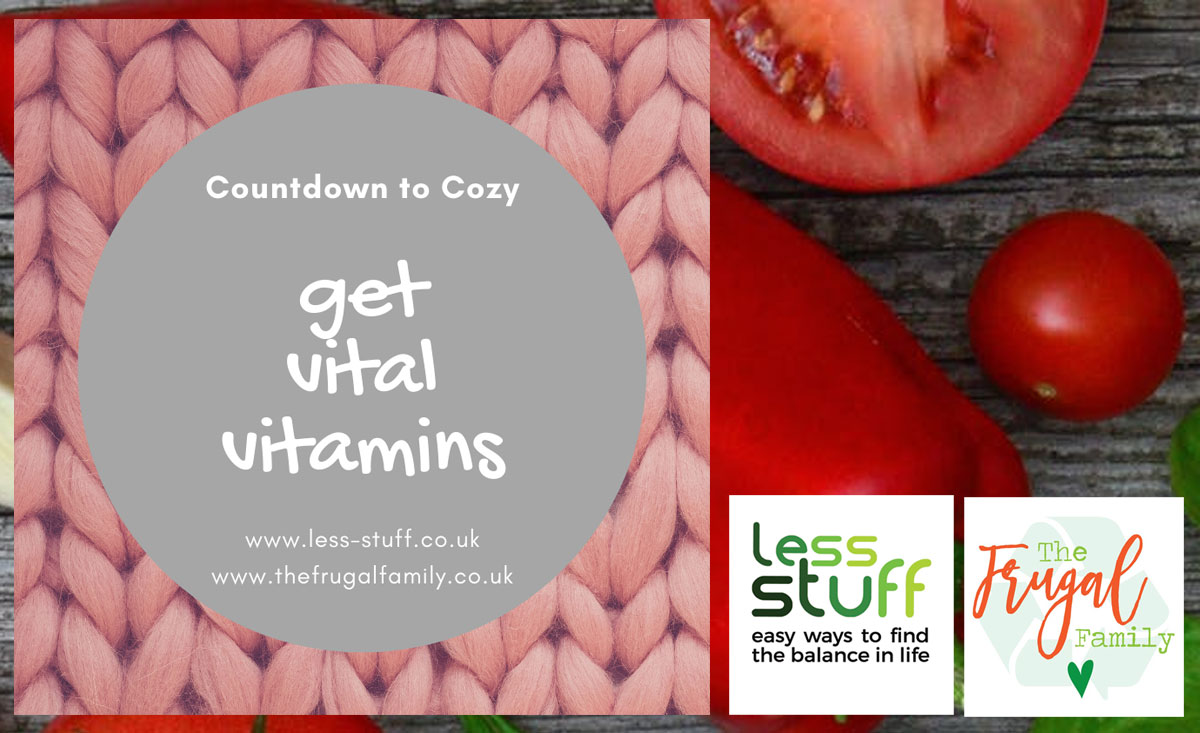 It might be miserable and grey outside but that is no reason to eat miserable and grey food. If you choose colourful fruit and veg it's an easy way to make sure you are getting a good range of vitamins.
Here is a rainbow of ideas:
Red
Red cabbage – vitamin C
Cranberries – vitamin C
Tomatoes – vitamin C
Red pepper – Vitamin A and C
Cherries – vitamin C
Orange
Carrots – Vitamin A
Pumpkin – Vitamin A
Sweet potatoes – Vitamin A
Oranges – Vitamin C
Grapefruit – Vitamin C
Yellow
Lemons – Vitamin A
Bananas – Vitamin C
Sweetcorn – Vitamin C and B
Green
Dark green leafy veg – Vitamin A, E and C
Broccoli and Brussels sprouts – Vitamin K
Asparagus – Vitamin K
Kiwi fruit – Vitamin C
Cucumber – Vitamin C
Blue
Blueberries- Vitamin C and K
Blackberries – Vitamin C and K
Purple
Elderberries – Vitamin C and B6
Beetroot – Vitamins B and C
Grapes – Vitamin C
Blackcurrants – Vitamin C
Damsons – Vitamin A, C and K
Blackberries – Vitamin C
I've got one of these lovely charts from www.lizcookcharts.co.uk up on my kitchen wall and it's so useful. It reminds me to use nutritional yeast which is delicious and full of good things. It helps me to get out of the rut of buying the same things every week and sometimes I play a game to try and get a bit of every vitamin and mineral into a meal.
I'm not an affiliate and she hasn't paid me to advertise. I just really love her charts!

Don't forget to grab the rays
If there is any hint of sunshine, go and grab that vitamin D! It's amazing what a few minutes a day will do for your overall well-being.
Getting your vitamins is just one of the ideas in the Winning at Winter Workbook.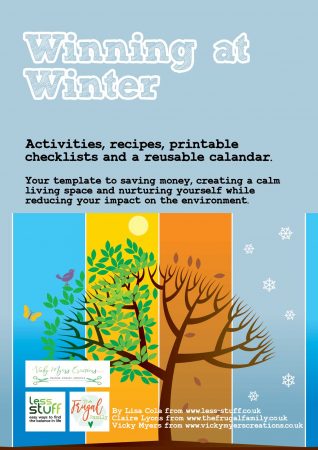 You can find Winning at Winter on Amazon in Kindle and Paperback format or from less-stuff as a printable PDF.
Join in with the conversation in the less-stuff Facebook group to share your ideas. I'd love to hear how this works for you.
Countdown to Cosy is a collaboration with The Frugal Family – check out what they are up to on their website www.thefrugalfamily.co.uk