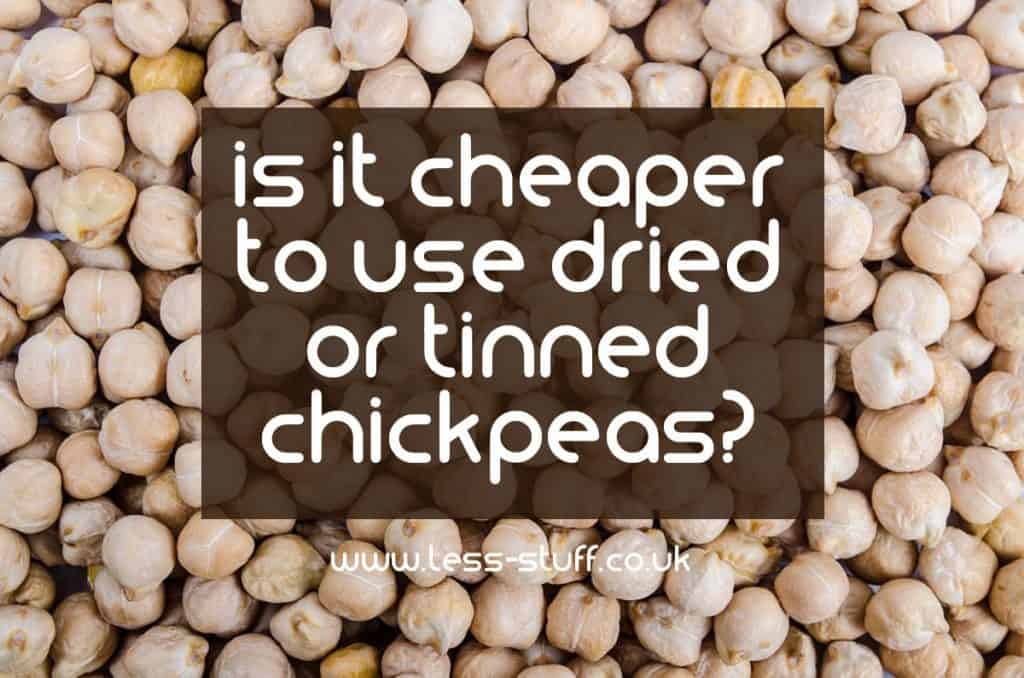 Cooking organic chickpeas from scratch costs less per 100g than buying non organic chickpeas in a tin, unless they are on special offer, in which case you save a few pence.
We eat a lot of chickpeas. They go in curries, soups, with rice, pasta and mashed up to make falafels and hummus. Leftover curried chickpeas make fantastic pastie fillings and spare chickpeas work well to thicken soups.
Chickpeas are 8.4% protein which is higher than kidney beans (6.9) and lentils (7.6) which makes them a cheap source of good food to feed a hungry teenager. They contain zinc which is supposed to guard against colds and iron and copper (which helps the iron absorption). They also have loads of fibre and are all round good guys.
On a good day, when there is an offer in my local shop, I can buy 2 x 400g tins of non organic chickpeas for £1, or 1 tin of organic chickpeas for £1.  The drained weight of a tin of chickpeas is 240g. Dried organic chickpeas are 42p for 100g. I wanted to find out how much hassle it was to soak and boil them from dried and if that saved me money.
Non organic super cheap tinned chickpeas cost 21p for 100g when a tin is 50p, this is worked out using the weight of the chickpeas in the can, not the total weight. Three tins for £1 offers make the chickpeas workout at 14p per 100g
Organic tinned chickpeas cost 42p for 100g again, using the weight of the actual chickpeas in the can.
100g of dried chickpeas swelled to 232g, which makes them cost 18p per 100g when cooked.
I cooked my chickpeas on the gas hob for an hour, starting off with a boil then reducing to a simmer. The dial on the gas meter didn't move a whole unit, so I assume that the cost of cooking them was minimal. I could factor in the cost of washing a sieve but I'd still have to use a sieve for the tinned chickpeas, and I'd probably cook them in a saucepan too.
How to prepare dried chickpeas
There are a few different ways to make your dried chickpeas edible.
Stage 1 – re-hydrate
Whatever you do, they will need soaking first until they double in size.
You can soak them in cold water overnight or bring them to a boil then soak for a further hour.
Drain and rinse after soaking.
Stage 2 – cook
In a pan on the hob, cover with a few inches of water, bring to the boil and simmer for an hour (or until they are as soft as you want)
Keep the lid on for soft chickpeas, keep it off for firmer ones.
Use a slow cooker on high for 4 hours or slow for 6 hours
You can add a bayleaf, onion or celery to the water if you like.
Prepared chickpeas can be frozen or kept in the fridge for 3 to 4 days.
How much hassle is it?
I chose to soak my chickpeas overnight, which is zero hassle. It took about 5 seconds to drain and rinse them under the tap. Because not everyone has a slow cooker I cooked them on the hob. It was minimal hassle to remember them.
Basic frugal hummus recipe
My hummus recipe uses peanut butter instead of Tahini because it is about a third of the cost. If I have any tahini I'll sometimes do half and half.
A couple of table spoons of chickpeas
A large dessert spoon of peanut butter
A splosh of olive oil
A splosh of water
Crushed up garlic cloves (I like it garlicky, but add to taste)
Juice from one lemon
Paprika to finish
Whizz all of this up using a hand blender keeping the paprika and some oil to sprinkle over when it is done. If you don't have a hand blender it is possible to make very nice hummus using a fork to mash the chickpeas. It will be a nice chunky texture instead of smooth and creamy.
Hummus variations
Add grated beetroot, carrot, avocado, caramelised onions, roasted aubergine, spinach, kale or use kidney beans or butter beans instead of chickpeas.
Hummus is a fantastic way to use up odds and ends of vegetables and can be fun to experiment with. Try adding cumin or coriander too and don't forget a nice pinch of sea salt at the end.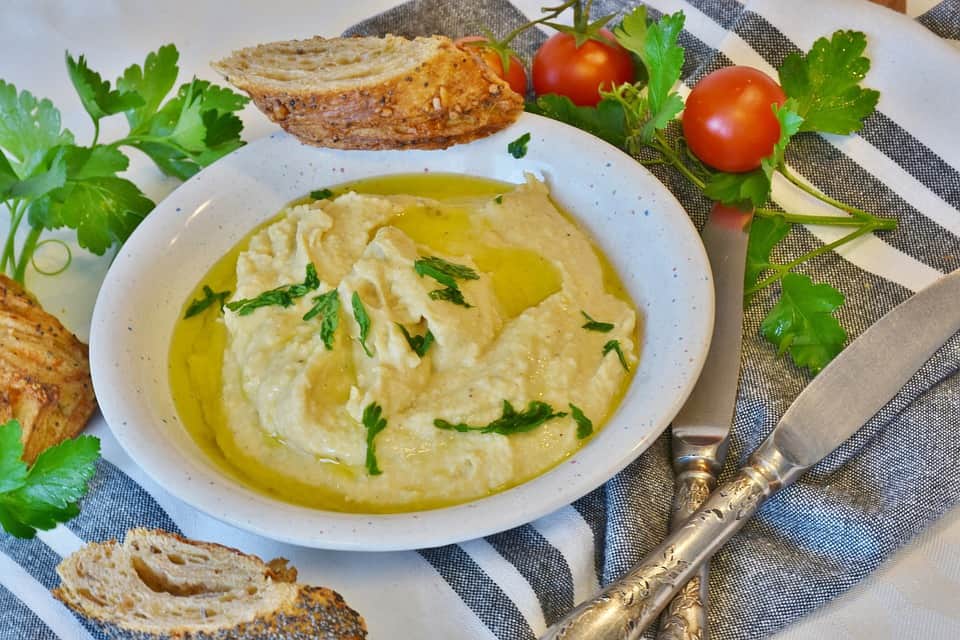 [amazon_link asins='B007FOZ43M,B0013G6DJC,B00DJ634FK' template='ProductGrid' store='lessstuff08-21′ marketplace='UK' link_id='c3682a0f-364f-11e8-a9d4-5f05f0b5cfb3′]