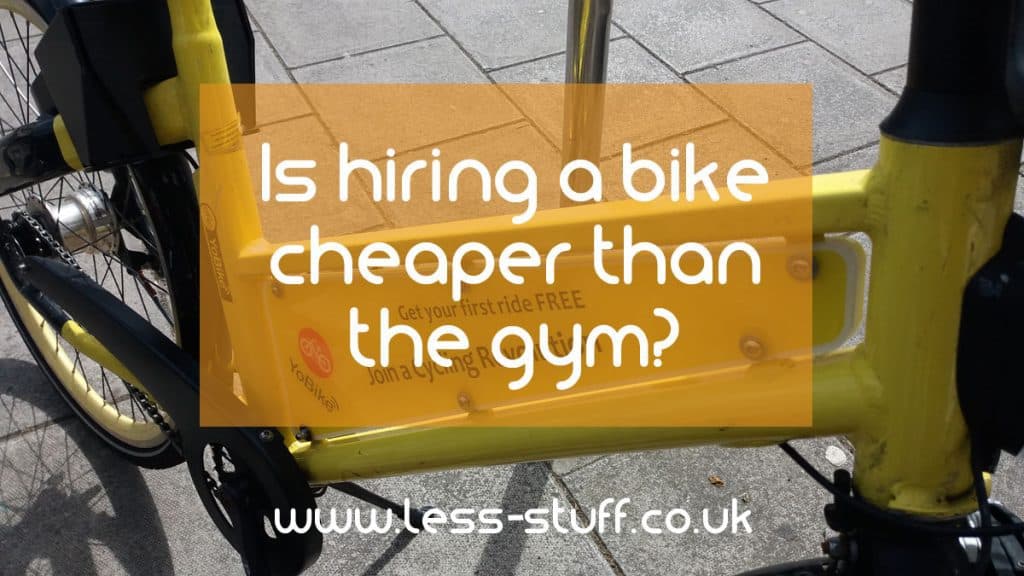 This is about my first adventure with a Yo Bike.
I do own a pushbike. It was my present to myself on my 40th birthday and it was built by the very lovely John the Bike who is no longer with us.  He measured my legs, looked at how I used a bike and carefully sourced me loads of second hand bits to make me something custom built but affordable. Then he painted it really badly so the Marin frame would be camouflaged and it would be less tempting to bike thieves.
I haven't ridden my bike for about 8 years. Not since running did my knee in and weight lifting did my shoulders in. I've done lots of physio (thank you NHS) and lots of Pilates (thank you Lisa Evans) and finally I'm in a place where I can think about cycling again.
Because my bike has sat in the hallway for almost a decade it isn't fit to ride without a fair bit of maintenance. I thought I'd try out a Yo Bike instead. I could cycle for a little while and stop if things started to hurt.
What is a Yo Bike?
Bristol's answer to the London Boris Bikes. A Yo Bike is a bright yellow basic push bike you unlock with a phone app. They are free for the first go and after that £1 per hour to hire with other options like yearly membership. They are distinctive and parked all over Bristol.
How do you hire a Yo Bike?
You need the app on your phone and you have to add a bank card to it to get it working. This initially put me off, along with the fact I could only log in via Facebook. But one sunny day I had a coffee in the nearest 'Spoons, downloaded the app and just did went for it. The app will locate the nearest bike to you and you scan in a code to unlock it. You need to park it in a designated spot and make sure you lock it again afterwards. All this went really smoothly.
What are they like?
I found a traffic free space just near where I unlocked the bike and had a practice. The seat is adjustable in height so you can make them slightly more comfortable. These are bikes for short distances. Mine had a wobbly seat that swiveled but I could cope with that. I also discovered, after about half an hour, that they have 3 gears. None of which made much of a difference. Bristol has loads of cycle lanes and paths, some of which are a bit cut throat in the rush hour but there are plenty of quiet places to get some practice in. I was off!
Be prepared to have dickheads shout at you if you ride one of these bikes. One militant cyclist thought it was ok to shout 'get your own bike' at this nervous cyclist without knowing any back story. I wish him flat tyres on a daily basis and if I see him again I will be on full rant mode.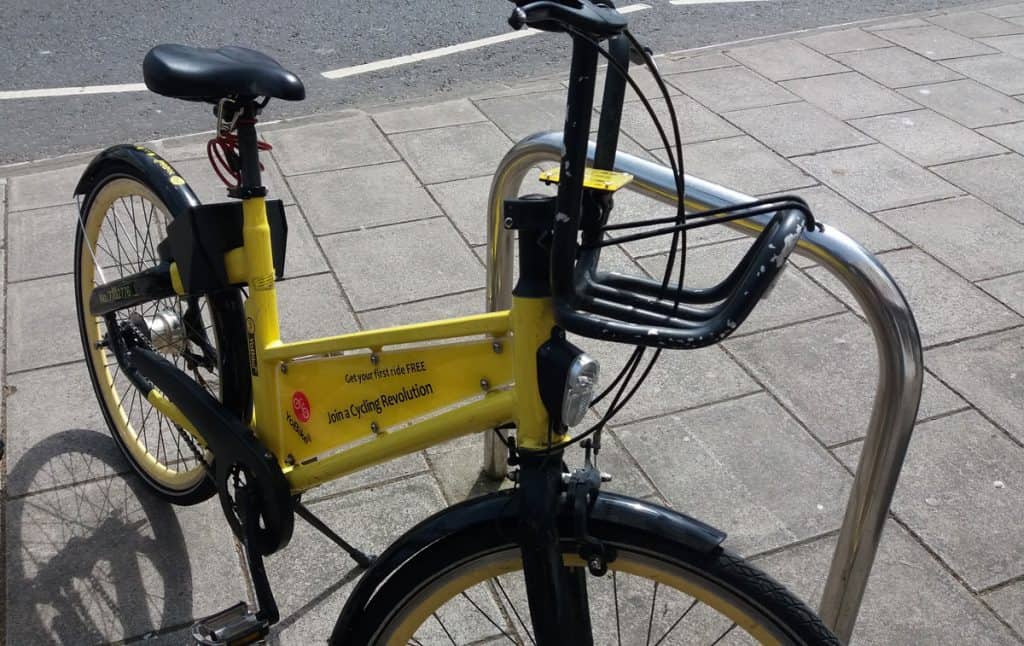 Is it cheaper than getting your own bike?
You can get a yearly membership for just under £40 that gives you 2 x 1 hour rides a day. Or you can spend a fiver and get a day pass. All of these options are cheaper than replacing my beautiful bike if it got stolen. It is much cheaper than the gym if you went for a daily cycle.
The best bits?
I can walk into town and cycle home
I can cycle part of the way somewhere
I don't need to worry about bike theft
I don't need to worry about maintenance
The bad bits?
Cost, if you are not worried about your bike vanishing, it is more expensive to hire than own
Comfort, they are a bit one size fits all
I felt a bit vulnerable cycling without a helmet
Conclusion
I'll get one again. I really enjoyed my first bike ride in 8 years, despite the tosser who shouted at me. I'll hire one again though maybe not tomorrow, I'll see how my legs feel after today.
You can find out more about Yo Bikes at https://yobike.com/. This is not an affiliated post. I have not been paid or compensated in any way to write it.
Like this? Want more? Join the less-stuff tribe for news and info to help you get organised, be healthy, save money and be more eco-friendly.