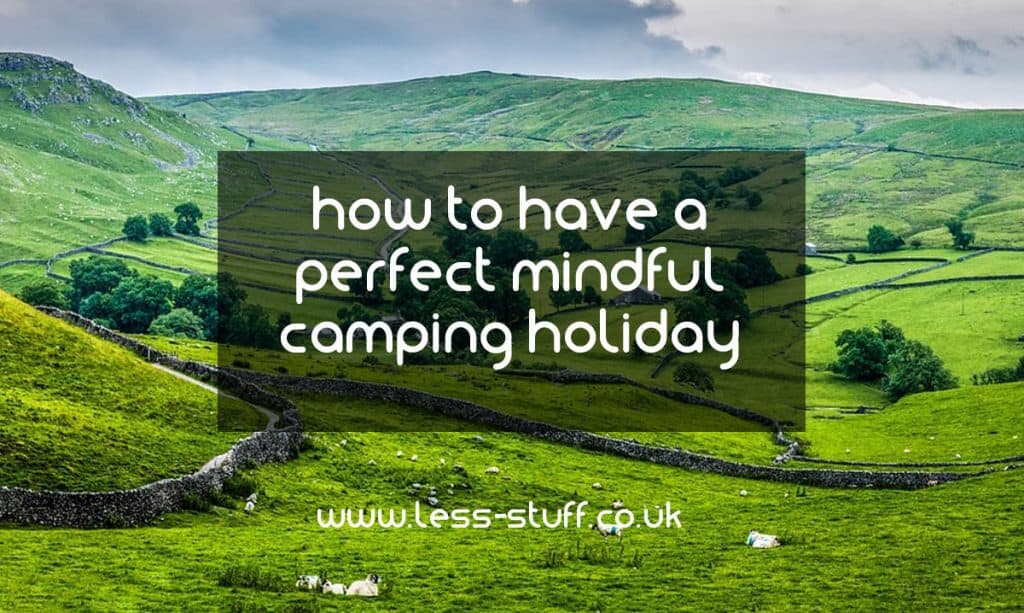 I call my car an escape pod, and the most frequent escapes  are for an overnight camping trips. Staying away for longer involves cat sitters, worrying if the fat one has taken his medicine and if the little one has done a dirty protest in a very inconvenient place. An overnight camping trip restores me and recharges me for a few weeks. There is something about getting totally away from it all and making time to appreciate the planet that works well for me.
To do quick getaways you need to be organised. All the stuff I need to eat, light a fire, make a cup of tea etc. is kept in one box. I use an old, heavy duty toolbox for this which doubles up as a seat. Big blue Ikea bags are helpful inside the tent and a place to put muddy shoes is vital. There are nifty storage solutions you can buy too, check out this folding organiser. On the way to the campsite I'll stop and get something for dinner but the toolbox has tea, coffee and tins of emergency beans. There are other things you can do to make camping easier……
Get a good tent
Spending money on a tent is a good investment even if you only camp once a year. Cheap tents that last a year contribute to landfill and a decent tent will make camping more fun.  I got lucky in the sale with mine and got a pretty expensive tent for a bargain price as it was the display model.
Points to consider when choosing a tent
I've been camping in my tent in vile weather but stayed dry and warm and had an amazing time. I like a tent with a porch so that I can still make a cup of tea, or heat up some of the baked beans if it is horrible outside. These are things that I think are important in a tent.
Easy to put up – I like colour coded sections and instructions that are sewn to the tent bag so they can't blow away.
Light to carry – I don't often want to camp right next to my car, and I don't like carrying heavy things too far.
Has a top layer that goes up before the inner – so you can put up a tent in the rain.
Has a porch – for cups of tea in the rain.
Has good ventilation – even in the cold you need a bit of air in a tent.
Is well made to last – because why add to the thousands of cheap tents that are abandoned at festivals each year.
Is size appropriate – you do not need an 8 person tent if it is just you going away for the weekend. I suspect tent capacity is based on people smaller than I am so I use a 2 man tent when I camp alone.
Fits back into the bag after you use it.
Opens on different sides – the sun rises in the east and sets in the west so if you are clever about it, and have a tent with doors that open on each side, you can see both in one camping trip.
This Vango tent range fits the bill beautifully, I'd go for the 2 man Vango Omega 250 tent, it is well priced, nice and tall so you can sit up in it. It is very similar to my tent that is now discontinued.
Comfortable things
Roll mats are great, you can get tiny ones that self inflate. Personally I have a large and somewhat heavy old woolen rug as my underneath level and a good sleeping bag on top of that. I also sleep much better with a pillow and it is worth 2 trips back to the car to get all the comfortable things. Don't forget to take warm, dry socks in case it gets cold at night. You can really push the boat out and take a tiny hot water bottle if you feel the cold at night.
Light
Tealights in jam jars are gorgeous but not the safest thing in a tent. Get a decent head torch for reading and consider a rechargable LED lantern for a brighter glow.
Great views
I spend so much time on my computer my eyes forget that they can focus on anything further than 2 feet away. Campsites on hills tend to have the best views but it is worth looking at river side sites too.
A place away from everyone
My perfect campsite is one which has different camping areas for different needs. There is a family area near a volleyball court, a few areas for small groups and one or two spaces for just one tent. Not all camp sites have everyone lumped in together. Check out [amazon_link asins='0749578483′ template='ProductLink' store='lessstuff08-21′ marketplace='UK' link_id='1f4613d0-3985-11e8-81d3-6d23e7967ffb'] for some really unusual places.
No signal
If WW3 is declared I'd rather live as long as I have in blissful ignorance. It does not matter to me what anyone had for lunch or what they said about my cat pictures. Leave the number of the campsite with loved ones if you are nervous about being out of touch but seek places with terrible phone signals. Your brain will thank you for the rest.
Campfires
A campsite isn't a proper campsite without a place to make a fire. The best campsites will sell you dry wood and have designated areas to keep you safe.
My favourite campsite
Middle Ninfa is in the middle of nowhere but conveniently not very far from Abergavenny. If you are driving you need a decent clutch on your car, and a good handbrake for the top of the hill. Or 'make friends with a brick' behind the wheel as a friend once suggested.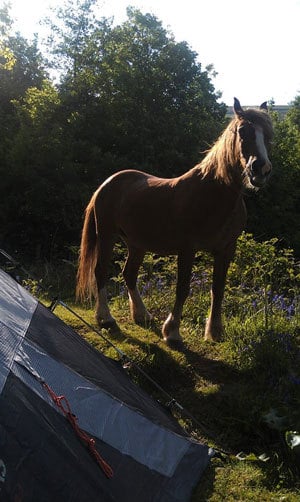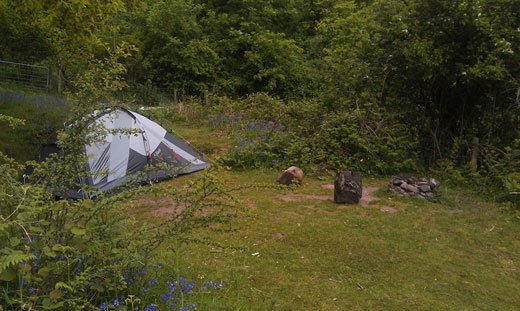 I was really lucky to get the Dixie field which has enough room for a tent and a campfire. It was far away from everyone and although I could see the occasional child, I didn't hear them. Occasionally a horse squeezes it's way in as well. I cannot resist asking horses why they have a long face, this horse didn't seem to mind too much.
The campsite owners sell firewood and you get a mixture of kindling and thicker wood in the bag. It's the kind of thoughtful touch that makes Middle Ninfa special, little things like providing wheelbarrows to help you move your stuff really make a difference. There are a couple of compost loos and a place to wash dishes and brush your teeth with clean running drinking water.
The views around the site are just gorgeous at any time of year and there are plenty of walking tracks and it is close to the Usk Valley Walk. I heard tale of a pub over the hill I was too lazy to walk to.
If you are feeling in a more social mood there are plenty of choices, a main camping field which looked nice and flat, and smaller ones which they only every rent out to one whole group so it would be a great place for a camping birthday party. There are lawn games you can borrow for free, home grown vegies to buy.
MIddle Ninfa is really well organised, friendly, easy to stay at camp site. I will be back.
Disclosure – This post is sponsored by www.simplyhike.co.uk. It contains an Amazon affiliate link to the tiny campsites book. I have not been paid in any way for mentioning Middle Ninfa campsite.