In my hunt for the perfect present I'm grouping together a list of ethical gifts that are under £10 (or $10 depending on where you are in the world!). I don't get any freebies or money for advertising these products unless I mention that in the description.
If you have a product you want to add to the list, please fill in the form at the bottom.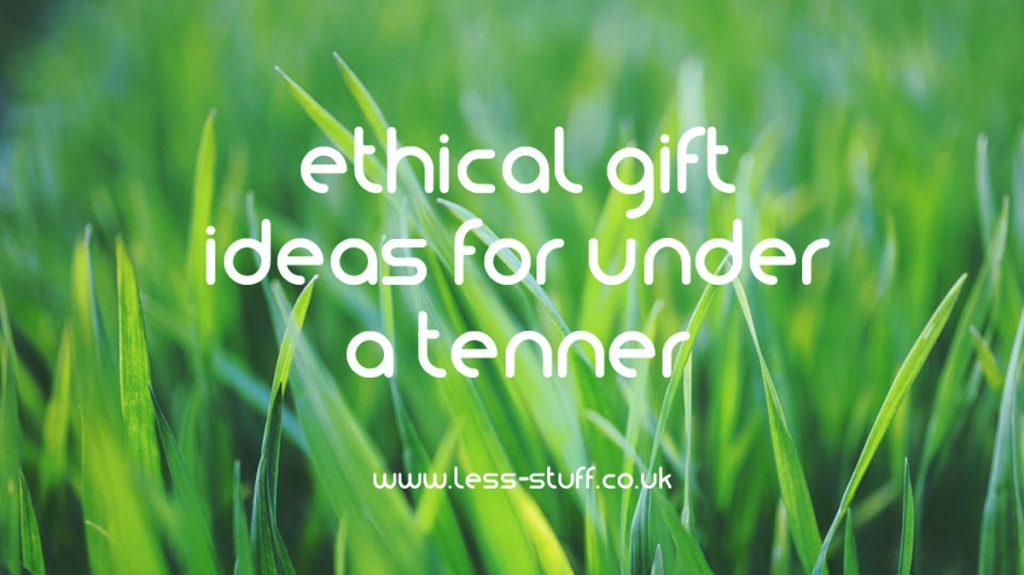 ---
Reusable shopping bag
House of Kind has a charity tote bag which is a stylish way to say no to plastic bags and supports CoppaFeel breast cancer charity. Designed by talented London artist Nikki Strange, it is ethically made in India and then printed here in the U.K.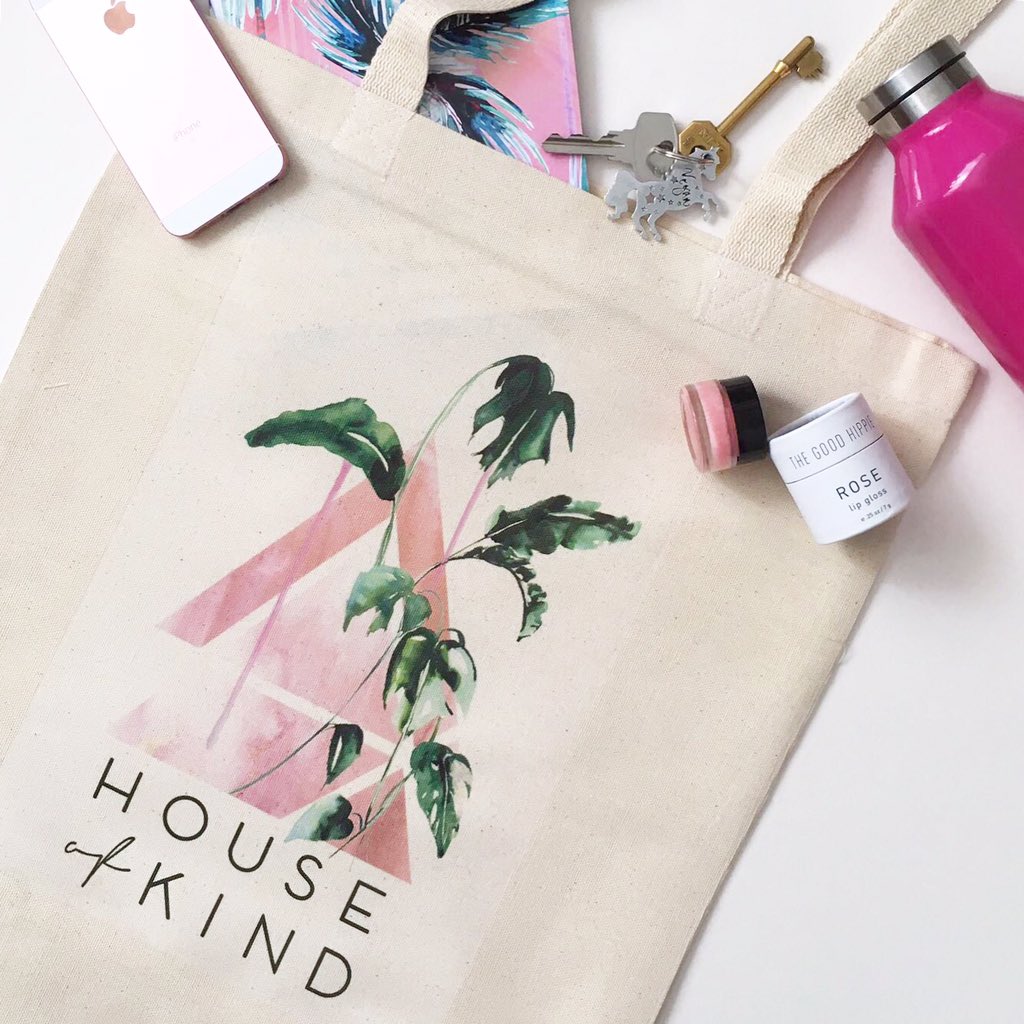 ---
Gorgeous leafy notebook
This beautiful notebook from Hetty and Betty has a decoupaged kanu leaves and bamboo cover. It has approx. 90 pages of handmade paper.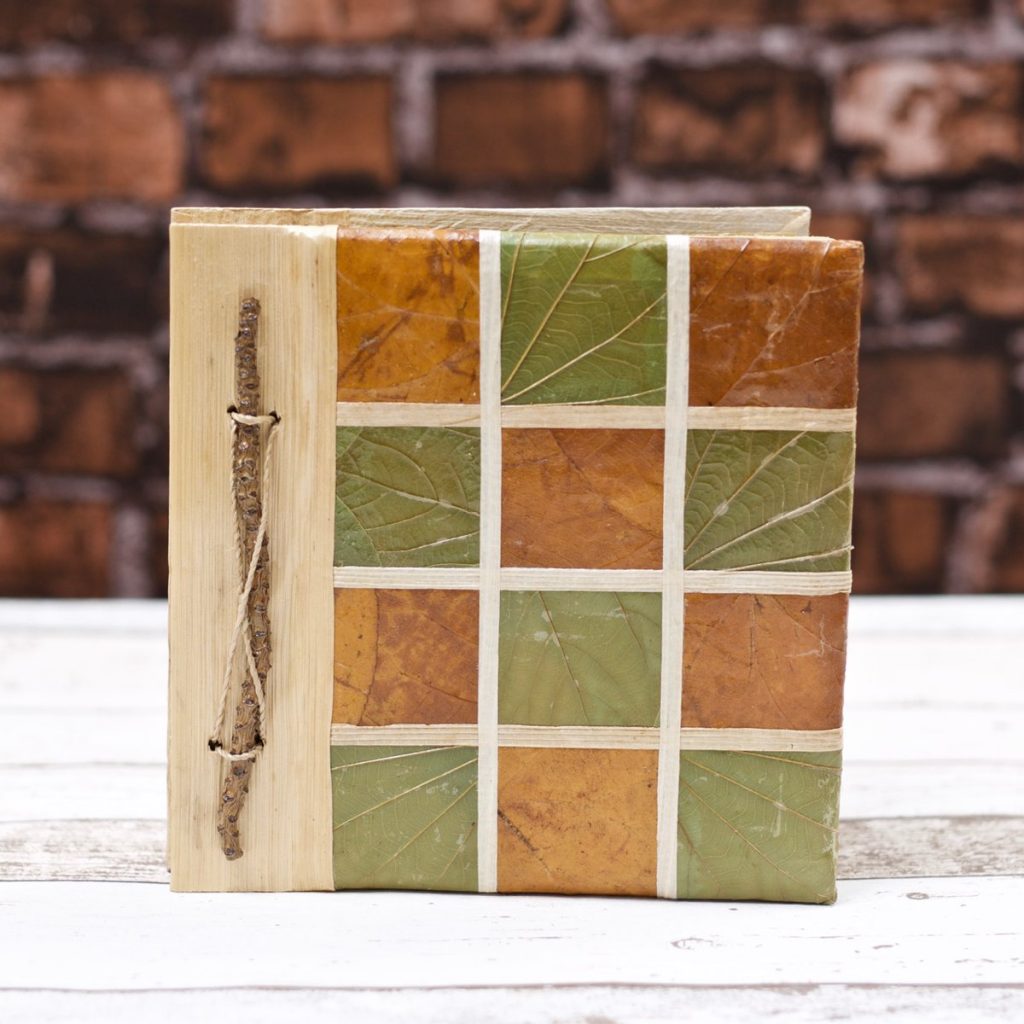 ---
Chocolates that help people
Harry Specters is an ethical chocolate company and social enterprise. The company hires and trains young people with autism to help them progress their careers and skills.
All of the chocolates are made in the factory in Cambridge and the young people are fully trained chocolatiers.
The box is for £7.50 or £7.85 with Christmas chocolates.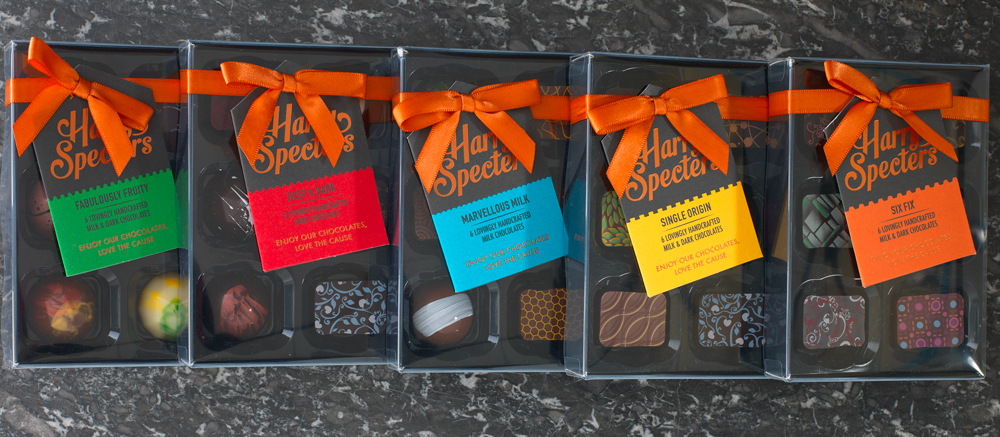 ---
Little lanterns
These pretty little lanterns come in a choice of antique brass, copper or zinc. The flame is not too exposed meaning they work perfectly as both indoor lanterns or outdoor lanterns. www.home-sanctuary.co.uk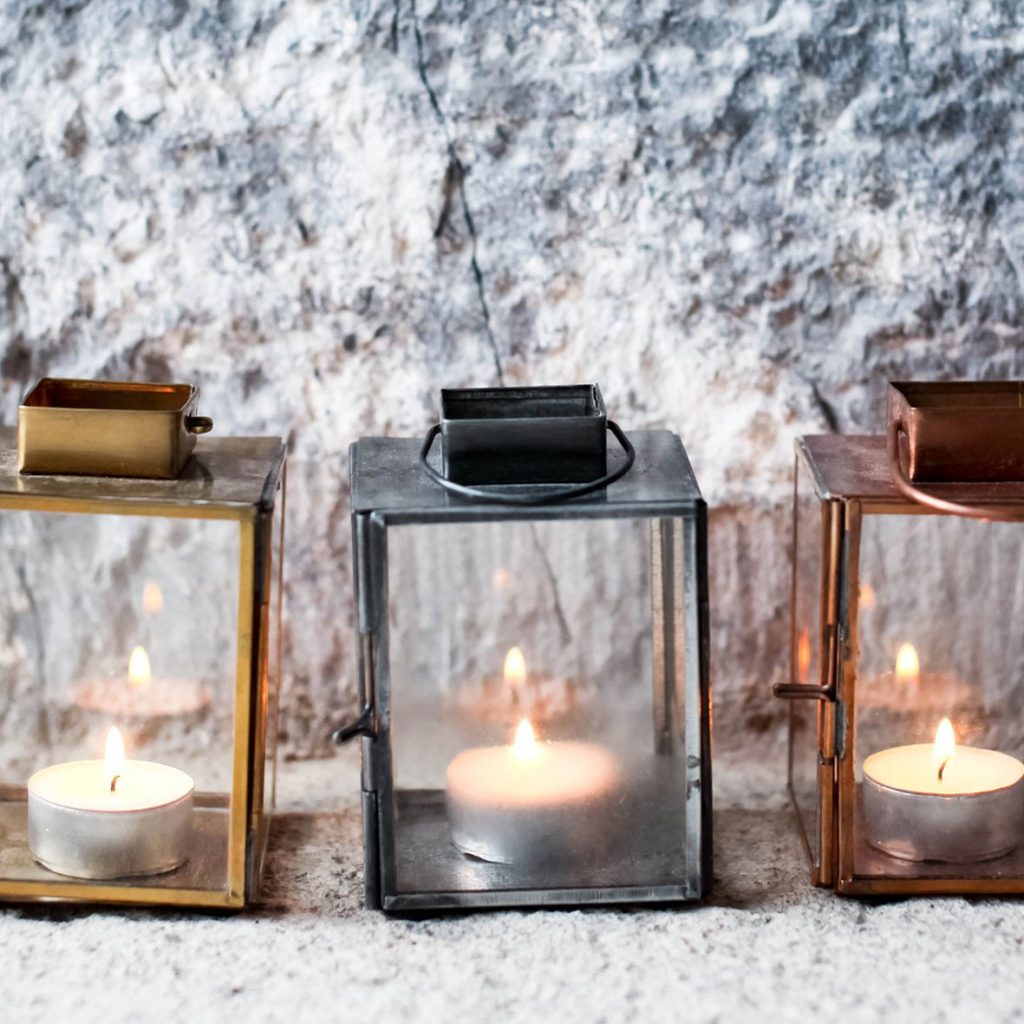 ---
Children's Picture Book about Ocean Pollution
Duffy's Lucky Escape is a story of the dangers turtles face in the ocean due to plastic pollution. This beautifully illustrated story guides young children through Duffy's adventure and her encounter with plastics in the sea after a storm, teaching children the importance of looking after our environment and how they can help in a fun and friendly way. A percentage of each sale goes to national marine charities.
Order your copy now for £7.99 if you would like it signed and dedicated please ask.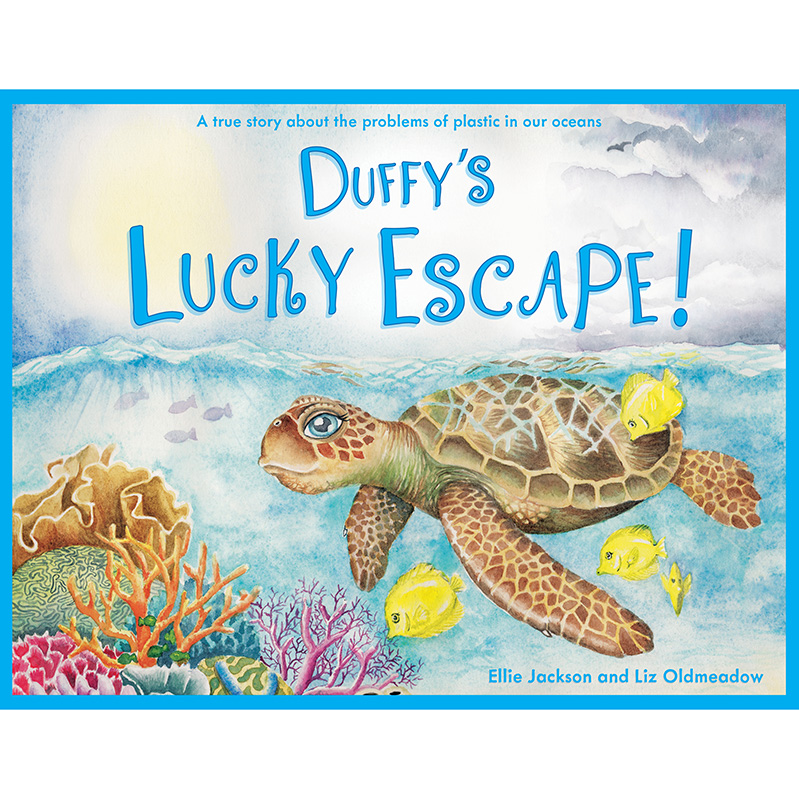 ---
Denim Flower Brooch
Where does it come from say "As part of our zero waste philosophy we commissioned the very talented Madge Hatter to make some ethical, traceable flower brooches using the left-over scraps from the our denim children's clothes collection! All the fabrics used are ethically produced and environment friendly, plus your brooch comes with a traceability code so you can explore its creation journey." Each brooch is unique so please get in touch with your colour preferences and they will find the perfect one for you!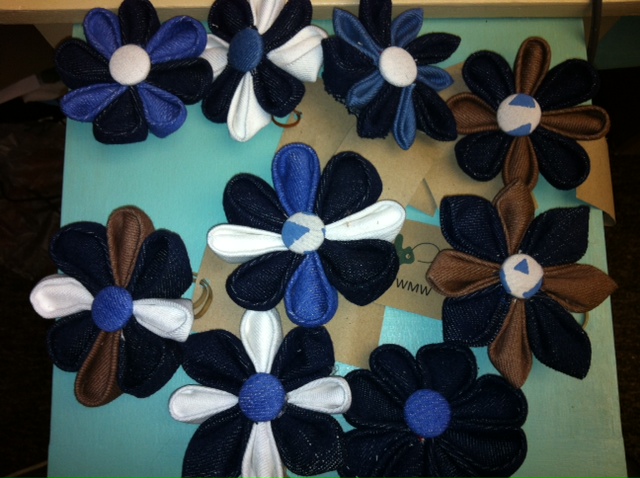 ---
Online Style Club Monthly Membership
The Online Style Club is a monthly personal stylist membership club that costs just £10 per month and gives you access to your very own real life virtual personal stylist and shopper 24/7! You can contact your personal stylist for help as many times as you like – there is no limit, plus you also get access to the exclusive Facebook group where tips, tutorials, offers and other freebies are shared on a daily basis. It is just £10 per month and you can cancel at any time. Luisa says "I am an ethical fashion stylist and bloggers, offering a wealth of free content online, as well as online styling services. The aim of my content and services is to provide my audience and clients with a basic but essential education in fashion and style which will enable them to make more informed decisions when shopping so that they buy items they will love and wear. There is also a Swap Shop for members only."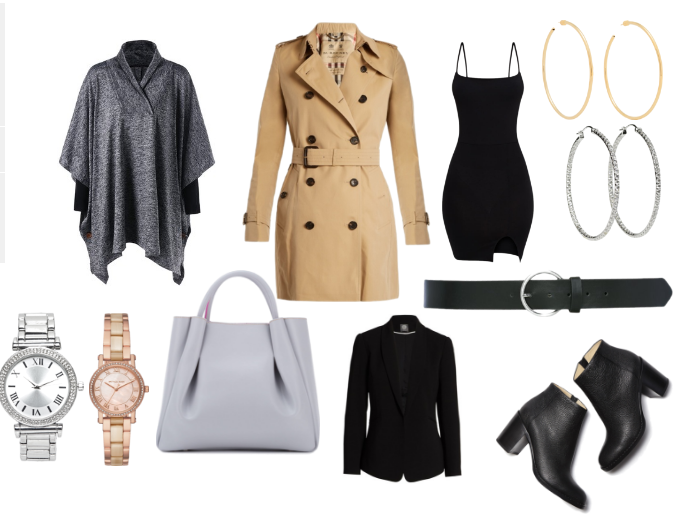 ---
Endangered Species Notecards
Available to purchase from Nov 12th at www.stationerytreasure.co.uk  
The designs are inspired by Mistletoe, a Christmas favourite and actually an endangered species in the UK – due to the decline of traditionally managed orchards. In support, 50% of profits from sales of our Christmas 2017 collection will be donated to the People's Trust For Endangered Species who are running a campaign to protect Britain's orchards and it's biodiversity. The cards are printed on cairn eco white card, a 100% recycled paper produced locally in the UK, using vegetable based printing inks. They are hand finished in house using Finetec gold water solluble paints (made from mineral mica) and they come accompanied by a choice of recycled envelopes (cairn eco white and kraft) or Gmund Gold for a touch of luxury.
The set of 3 cards is £9 (free p&p for mainland UK) www.stationerytreasure.co.uk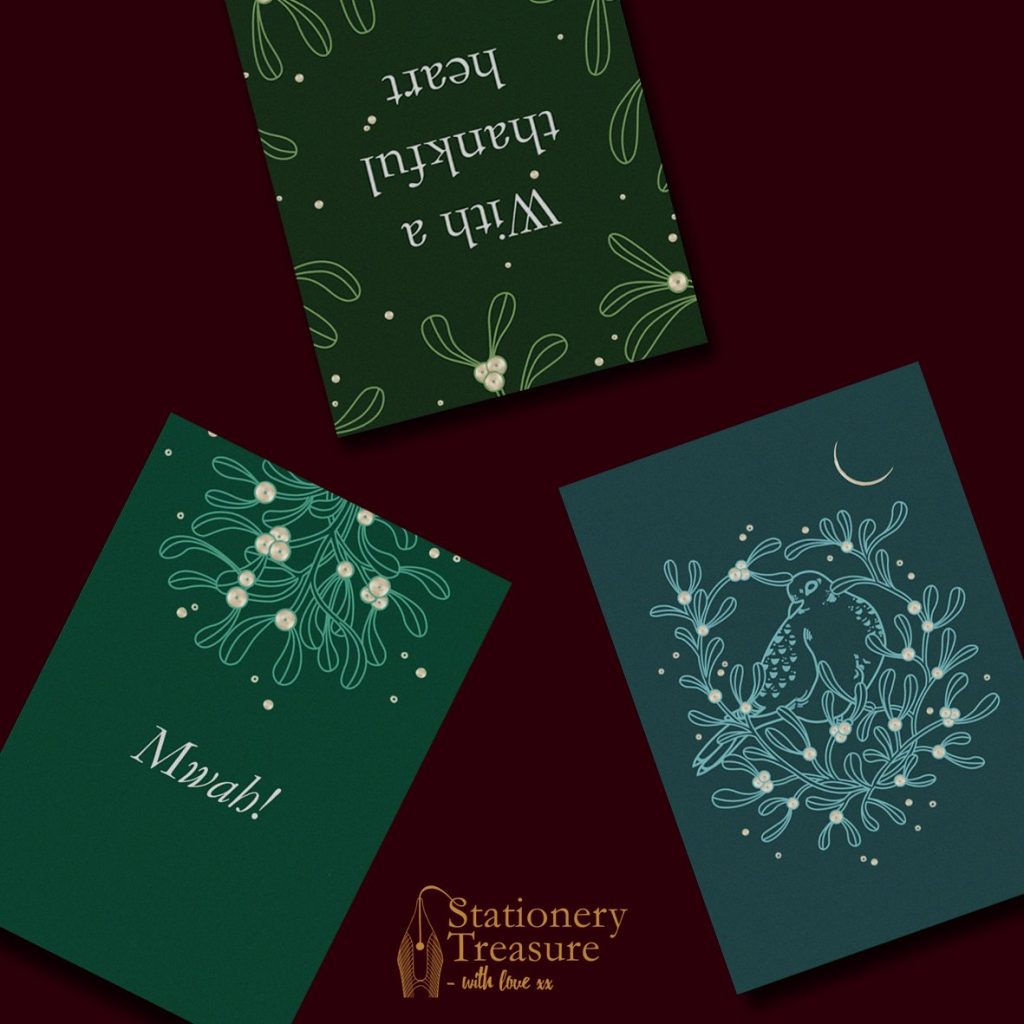 ---
Sustainable Non Toxic Bracelets
Halia Rose  says "All my jewellery is made of 100% non-toxic, BPA free and food-grade silicone. They are durable, heat-resistant and washable (dishwasher safe or warm soapy water) so look as good as new each time and last for years. They are also baby-safe and even chewable which is great if you have teething babies or a little nail biter. Also fab for office workers as the soft (but durable) silicone won't scratch on desks. They last for years so can be passed on to others makes them ethical plus they come in recyclable packaging.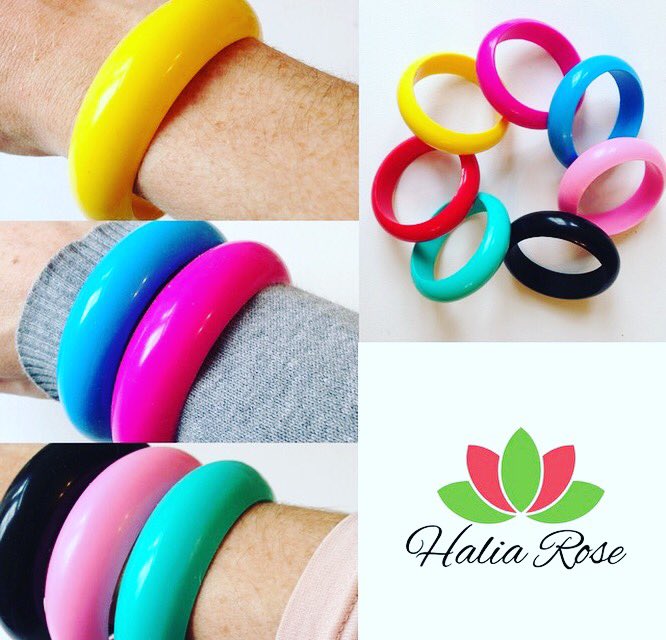 ---
Handmade Christmas Cards
Handmade greeting cards made from recycled office waste paper. Not only are these cards eco-friendly but also help young orphaned adults of Rwanda to gain economic independence. From www.ethicological.com who ship only to the UK.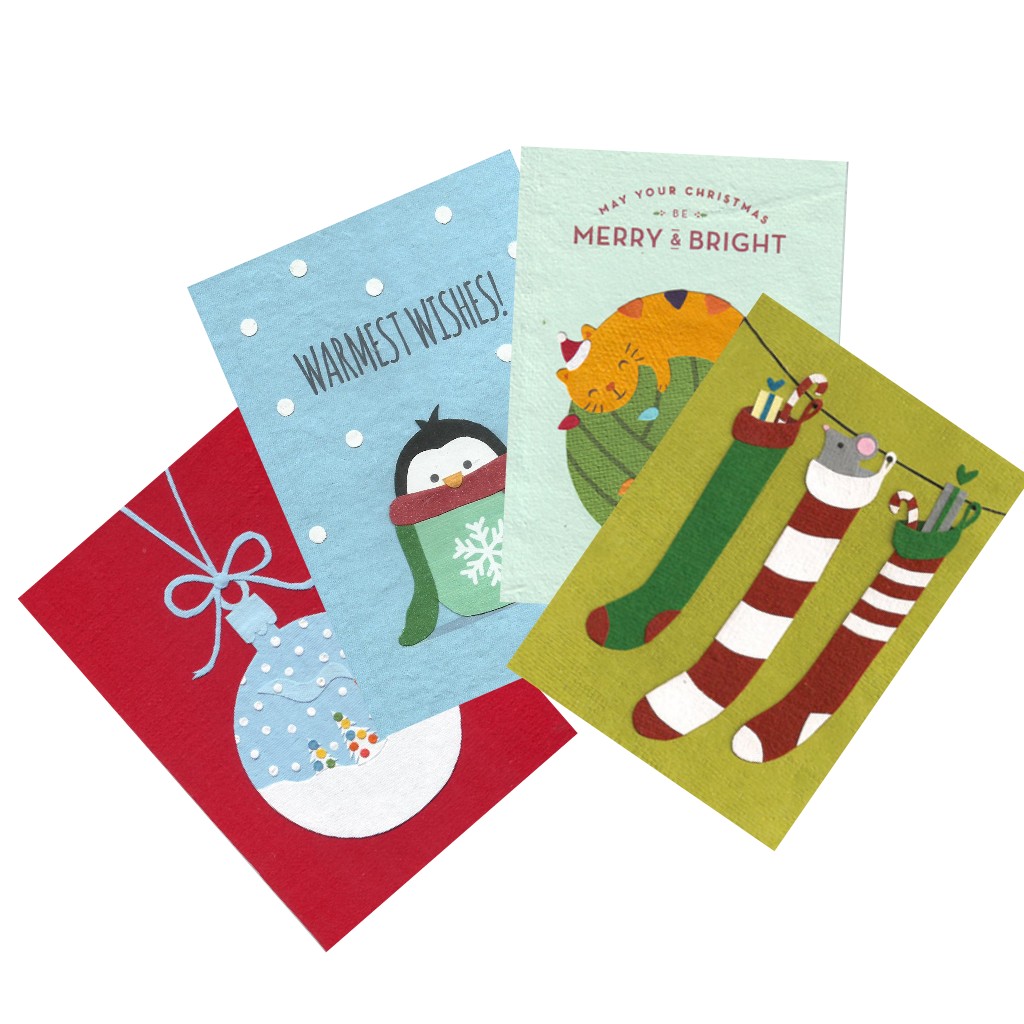 ---
Love Specs
Light diffraction sunglasses that turn light trails into a string of love hearts! 100% of all profits raised go to Love Support Unite's projects creating sustainable families futures in Malawi. Love Specs are ideal for individuals, events, festivals and wedding, sold as single specs, party packs of paper specs or wholesale. They look amazing and come in black or white! We ship within the Uk and Europe.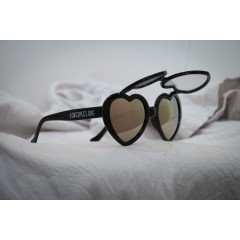 ---
Envelope of Eco-Felt Christmas Decorations
Inside the beautiful eco felt envelope with Merry X-mas cutout, you will find 2 of each eco felt hanging decoration – reindeer, heart, star and Christmas tree. These are a very light grey – almost white in colour (envelope on the right in the photo). We also have a darker grey available.
Designed to be excellent for storage or posting as a unique, decorative gift. From www.andkeep.com
Eco felt is the circular economy at its best – the material is made entirely from recycled plastic bags and bottles.
Can ship worldwide. Shipping costs default at checkout. Free uk delivery over £30, £1.99 under.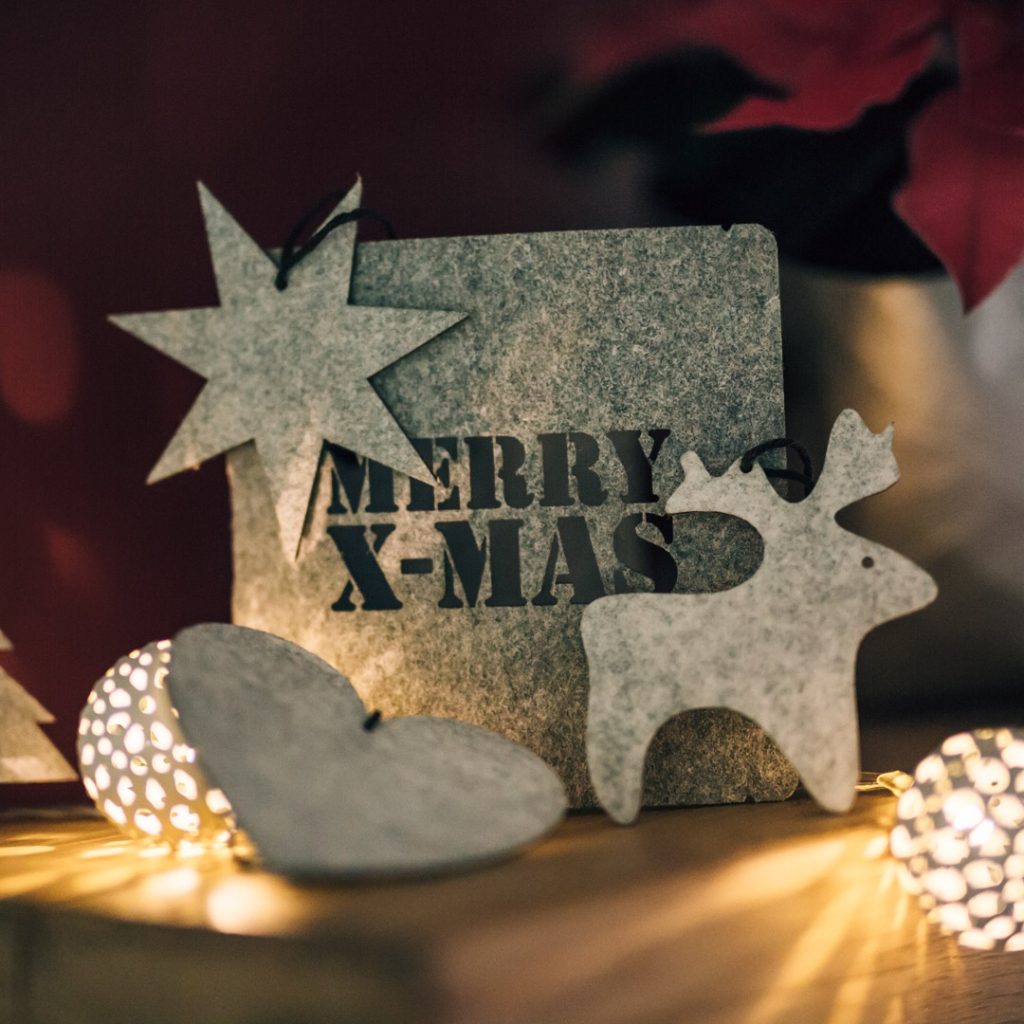 ---
Lemongrass & Cedarwood Travel-Size Body Wash 100ml
The Handmade Soap Company is an ethical, home fragrance brand that prides itself on cruelty-free products. None of their products are tested on animals and never will be – rightly so. Their collection includes, soaps, hand-creams, and body lotions.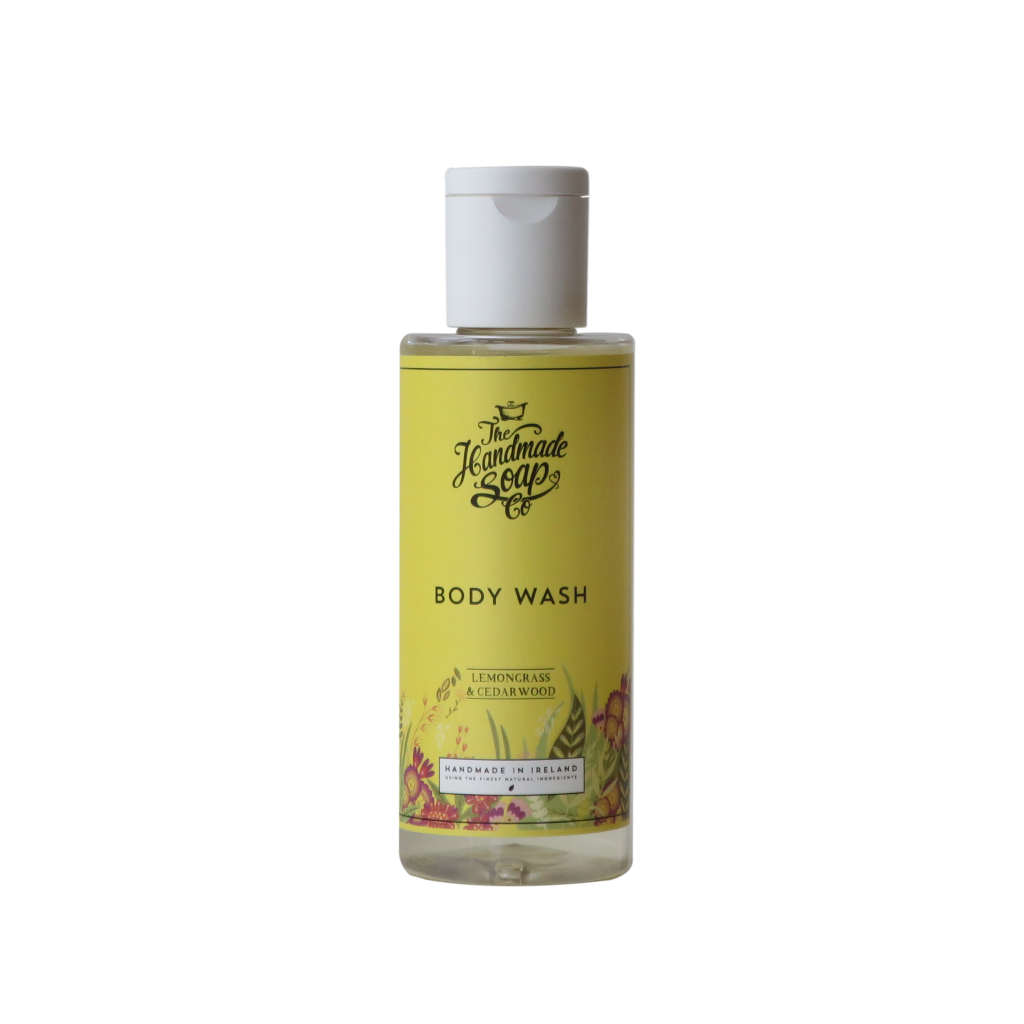 ---
Fairtrade and Organic Coffee
New Kings Coffee provides a selection of single origin, Fairtrade and Organic coffee, served in coffee bags (like teabags) for a quick, convenient and mess-free way to make a great cup of real coffee. Choose from our range of coffees, or buy a selection box of every variety:
– Dark roast from Sumatra, Indonesia
– Medium roast from Guatemala, Central America
– Light roast from Sidamo, Ethiopia
– Decaf roast from Peru, South America
10% of profits are donated to charity, Grounds for Health, who support women with cervical cancer in developing countries and notably some of our coffee growing regions. The coffee bags are compostable; made from a 100% sustainable source of corn starch. We have arranged for the foil packets to be recycled by Terracycle, a specialist recycling company, if these are returned to us. The outer packaging can be recycled as normal. Ships to the UK only.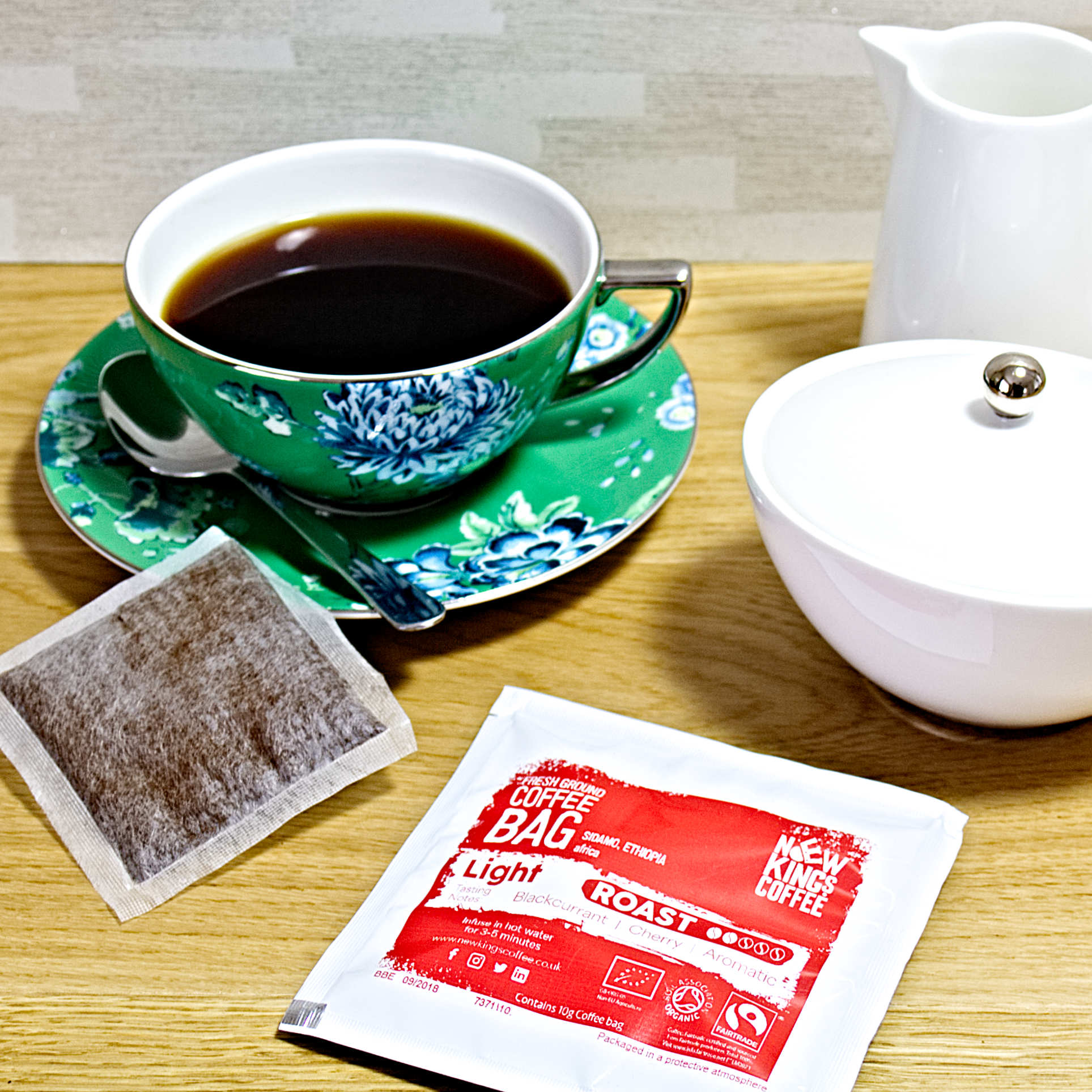 ---
If you want to add a product to the list please fill in this form. Please just send one product! Unless you want to pay to be an advertiser on less-stuff which I'd love!
[gravityform id="2″ title="true" description="false"]