In a nutshell – I bought the Ikea Vaxar hydroponics unit as part of the Ikea Live LAGOM project. This is how it is 3 months after setting up with some growing tips and hacks.
As a Live LAGOM participant I had to come up with resolutions that would help us live more sustainably. I chose growing salad all year round as one of those resolutions. The idea was to save on the money spent buying bagged salad and the waste that comes with the packaging and the leftover limp salad that gets forgotten in the fridge. I worked out the running costs of the Vaxar hydroponics kit and if I had paid for it myself wouldn't be saving me money until next year.  Because lovely Ikea gave me money to spend it's already saving for me. I have bought spinach in bags but no bagged salad at all for at least 6 weeks. I eat salad daily, sometimes twice a day, sometimes 3 times if I have it with scrambled eggs for breakfast.
It took just 7 weeks to go from seed to salad in a cold room, over winter. That is impressive!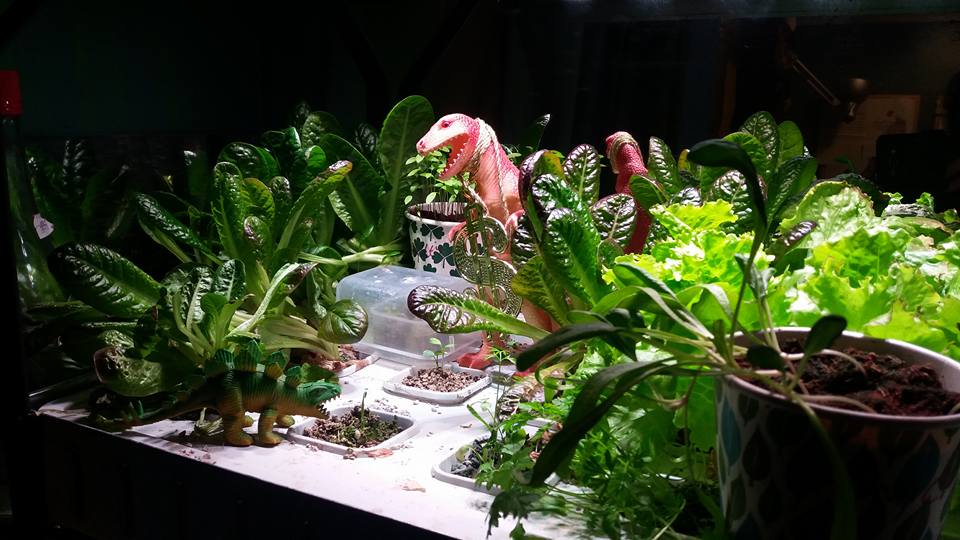 Ikea asked for hints and tips so here are mine, along with an update of how I'm keeping the hydroponics unit maintained and producing.
Keep starting off seedings
If you use a small Tupperware you can start off a few seedlings at a time. I keep mine at the edge of the main unit, under the light. I generally have a larger Tupperware upturned to form a lid.
The nursery unit that is part of the Vaxar kit is way too big for me. If I had space for 3 tiers of lights and rows of growing cages it would make sense. Even for the larger, one level hydroponics unit the nursery produces far too many seedlings and sits around doing nothing in between growing. Save a fiver, use a Tupperware instead.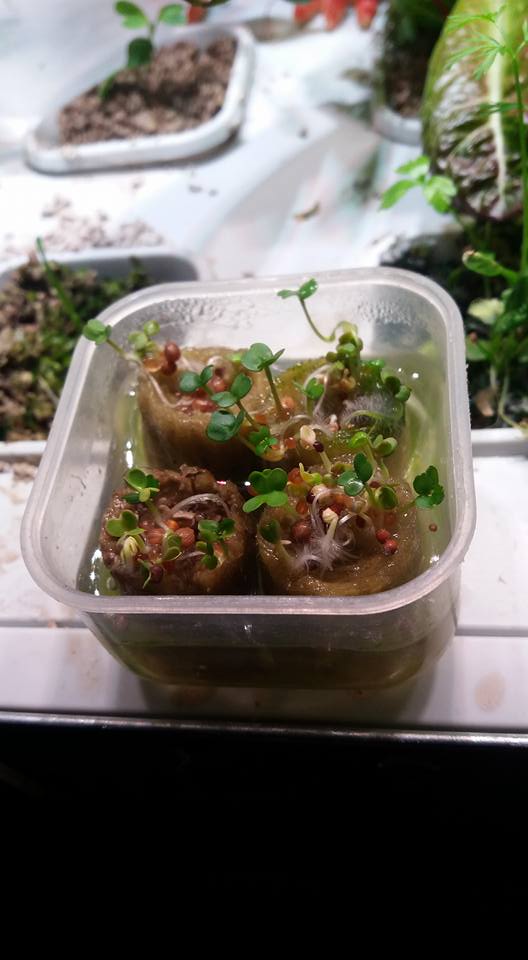 Take out bigger plants
I've just found out that ready to eat plants keep fresh if you pop them into a container with all the growing medium. Take the cage off, wash it and reuse it. This frees up space in the grow house for new, fresh, seedings. The pot of fresh salad leaves keeps for a week on a table or work surface without any attention at all.
Eat the outside leaves first
If you want to keep the plants in the grow house start by eating the outer leaves first. The plant will continue to grow quite happily as long as it has some leaves on it.
Repot in a bowl
The growing medium is messy and gets everywhere. You can do all of the repotting from plug to cage in a bowl to save lots of bother.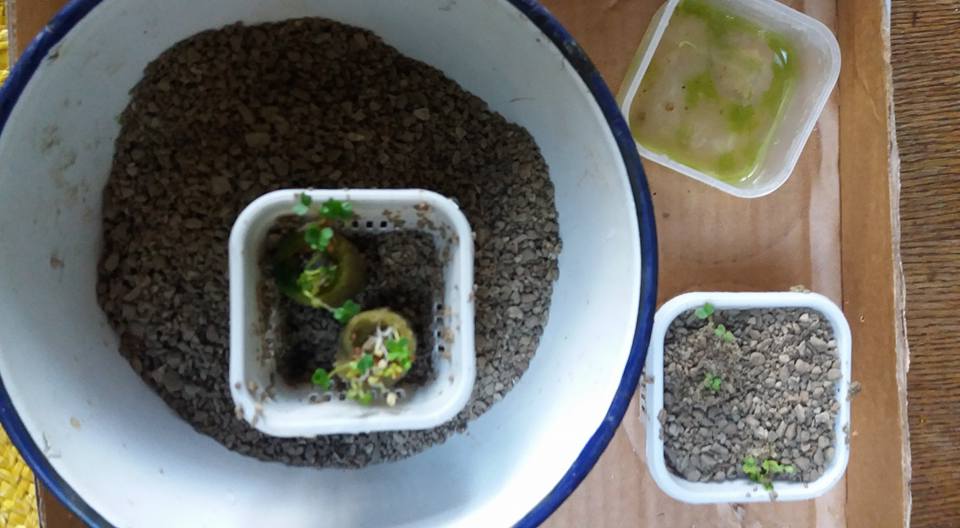 Reuse the plugs and the growing medium
When the plant has finally give up all it can give, leave what is left which is a tangle of roots and growing medium, in a bowl with some water. The next day you can swoosh it around and take out the roots to compost. The plug and the growing medium can be rinsed in a sieve and dried off to use again.
[amazon_link asins='B01DYA7WT4,B0085UXVUI,B01N4AJ99G' template='ProductAd' store='lessstuff08-21′ marketplace='UK' link_id='c67dc15a-03df-11e7-8fa9-cd9fe546c219′]
Put the grow house where it is going to stay
It holds a lot of water, moving it results in water everywhere. If you don't have the galvanised outer unit the plastic flexes and there are lots of spills.
Move bigger plants to the outside edge
The leafier plants shade out the new seedlings. It's easy to just move them to the edge of the grow house so they can flop over the edge. This gives your new seedlings more of a chance. Be careful to get all the roots back into the water when you move them.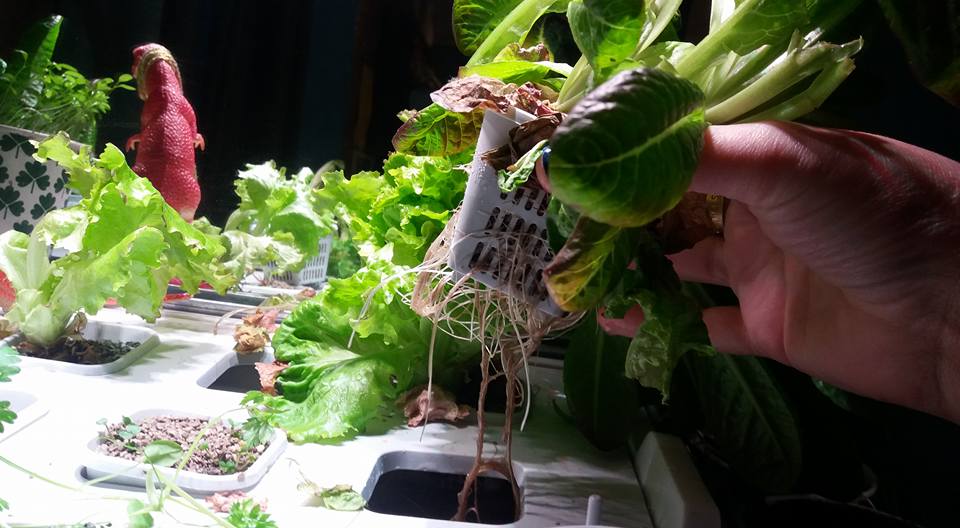 Use the edges of the grow house
I've got plants in pots around the back of the grow house. They are not shading or squashing anything but they are getting the benefit of the light.
Keep the fertiliser mixed up
I'm using a scant teaspoon to an empty wine bottle which is then recorked. The little water level indicator gets sticky if roots wrap around it so you might need to push it around a bit to free it up. If you are using the galvanised housing you will need space to get around the post to water. If you are left handed you will be in a winning situation here, I find it really tricky as a right hander.
[amazon_link asins='B003VO8I9W,B00G3CFJS2,B003UMQRWA,B00HZ60ONK' template='ProductAd' store='lessstuff08-21′ marketplace='UK' link_id='dc4e2af1-03df-11e7-9e49-55a83f442dbe']
Get a timer and use the lights for 16 hours a day
For maximum leaf production the grow lights need to be on for 16 hours a day. I have a Wilkos timer that cost a fiver and means I don't need to think about it. If your plants are long and thin they are probably craving more light.
[amazon_link asins='B00GP1RQVY,B006AUV7UQ,B0036OXD0G,B005C9S0I8′ template='ProductAd' store='lessstuff08-21′ marketplace='UK' link_id='f284d0a8-03df-11e7-84fe-85f7a97485e6′]
Maximise the light
I've got mirrors all the way around the unit (which is helpfully in an alcove). The idea is to bounce the light around more so it reaches more leaves. The lights are specifically designed to be the right colour temperature for growing foliage.
Do not put the grow house in your bedroom
This is a bright light, actually it's 3 lights, one red and 2 cold white. It is not good for your sleep patterns, nor is it good to read by. The National Sleep Foundation have lots to say about bright lights and bedtime.
Don't freak out about the green stuff
It is algae, it is not going to morph into an alien during the night and suck your brains out with a straw. You can avoid it by keeping the water covered if the cages are not being used. If you mix up the fertiliser in bottles keep them in the dark.
Experiments and Ideas
I'm considering putting tin foil in the apex of the grow house, to reflect the light even more.
I'm experimenting with taste – is there a difference between hydroponically grown spinach or soil grown? Results coming when they are bigger!
I'm experimenting with cutting out phase 1, the plugs and I have some seeds straight into the medium. Time will tell.
Some forums suggest that pumping the nutrient around the roots gets better results. I have an old fish tank pump and bubbler so I might give this a go. I don't think it's needed though and the pump is noisy.
I'm considering getting another light to stick under the shelf for growing plants in pots. I'm wondering if indoor chillis are a possibility like this.
My thoughts after 3 months of indoor growing with Ikea Hydroponics
I love my indoor grow house. It gives off light so bright we no longer need a hall light at night. It churns out salad with very little fuss and is a great addition to my office. Out of all the things we were able to get with the Live LAGOM project it has to be my favourite and I am grateful on a daily basis for the fresh salad we eat.
[amazon_link asins='B01A72MR3S,B01KNEEECW,B071XV133W,B071ZYQ36V' template='ProductCarousel' store='lessstuff08-21′ marketplace='UK' link_id='4d99026c-c3f0-11e7-b581-8b86718209bc'][amazon_link asins='B01A72MR3S,B01KNEEECW,B071XV133W,B071ZYQ36V' template='ProductCarousel' store='lessstuff08-21′ marketplace='UK' link_id='4f120e0f-c3f0-11e7-9964-5728ce0d2e7d']
Unable to locate Global Block