I've just come back from an amazing preview of the new IKEA at Millennium Way Retail Park in Greenwich, London.
I did have a bit of trouble finding it, because it is not the normal big blue box. This IKEA has windows! Lots of them. The whole place feels open and welcoming and on the last day of January, with the sunlight streaming in it was a bit gorgeous too.
Sustainable in the community
IKEA have worked with the local residents, colleges and businesses to create a building that could easily become a community hub. There are multiple places to sit and drink coffee with friends or catch up on some work in quieter corners with the free WIFI.  If you don't want to drop your kids off at Smaland there are lots of engaging little games for them to play through the store. There is even a roof terrace with incredible views over the Thames. IKEA have thought hard about how to make this store into a flexible community space with workshops and a new outside ecology area. It's great to see more green happening in the city especially as they are taking Live LAGOM to local schools.
Sustainable power
IKEA in Greenwich harvest all their rainwater, all the lightbulbs are LED's, they use solar power and they love daylight. They have used renewable construction materials and are aiming to achieve 100% renewable energy.

Sustainable transport
The new IKEA is easy to get to by train, bus or cable car if you are brave. The 500 co-workers are all getting to and from work using public transport, if they can do it, you can. There is a car park but they encourage people to travel sustainablly and have made it easy for you to get your haul delivered instead. If you live within a 3 mile radius you can get Zedify to deliver by electric bike. The cost is £5 for what they call a small box (which is actually pretty big) and £7 for a large box. I see this working really well for people with young kids and pushchairs – instead of having to lug it all home in a bag or even pack it into your car, someone else will do it for you, all you need to do is pack your box as you go through the store and pay for it. This is a genius idea I hope will catch on in other cities. For bigger things you can hire an electric van and they have arranged with the local taxi services to deliver without you having to sit with your goods.
Circular economy
When I visit IKEA I get to the Bargain Basement as soon as humanly possible. IKEA in Greenwich have made this area even better with a Learning Lab right next door. This is really exciting!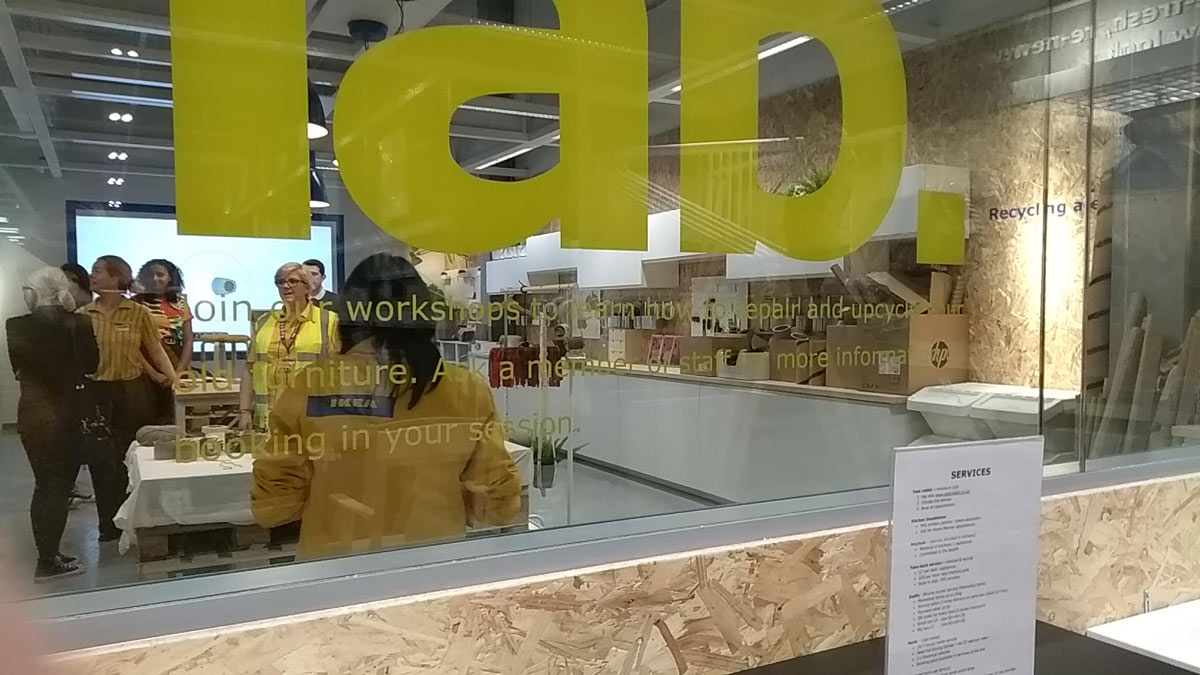 Experts will show you how to repair and upcycle your bargains and they will be running workshops for kids and adults that use up packaging and materials that would otherwise be wasted.
Live LAGOM throughout the store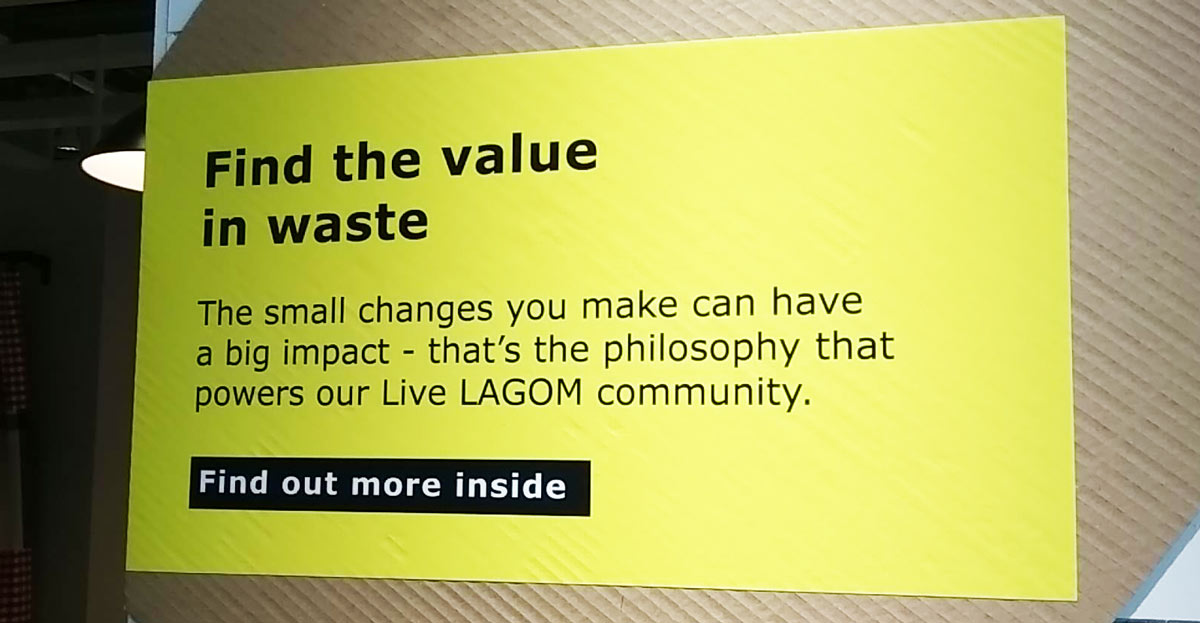 I've been part of the IKEA Live LAGOM community for a few years now so it was great to see these signs throughout the store. The room layouts are designed to reflect the local housing so there are lots of solutions for small space living that incorporate Live LAGOM principals to help you save money, time and energy by using just enough of a resource. Every now and then little signs show you the material that the recycled products are made of.

A real step in the right direction
I've been really proud of IKEA since they decided to stop selling plastic straws. This is a huge company that can make a big difference by proving that little changes matter. What I'm most impressed with is the Learning Lab and I'm so sorry I don't live nearer, I'd be there upcycling as often as I could!
I was also really happy to meet Besma and Nureen in real life. They are the other 2 Ikea Live LAGOM influencers. You can find Besma at www.curiouslyconscious.com and Nureen at www.feedmegood.co.uk
Disclosure
IKEA paid for my travel to the open day and gave me breakfast, lunch and a goodie bag. They didn't pay me to write this post. All opinions are my own.