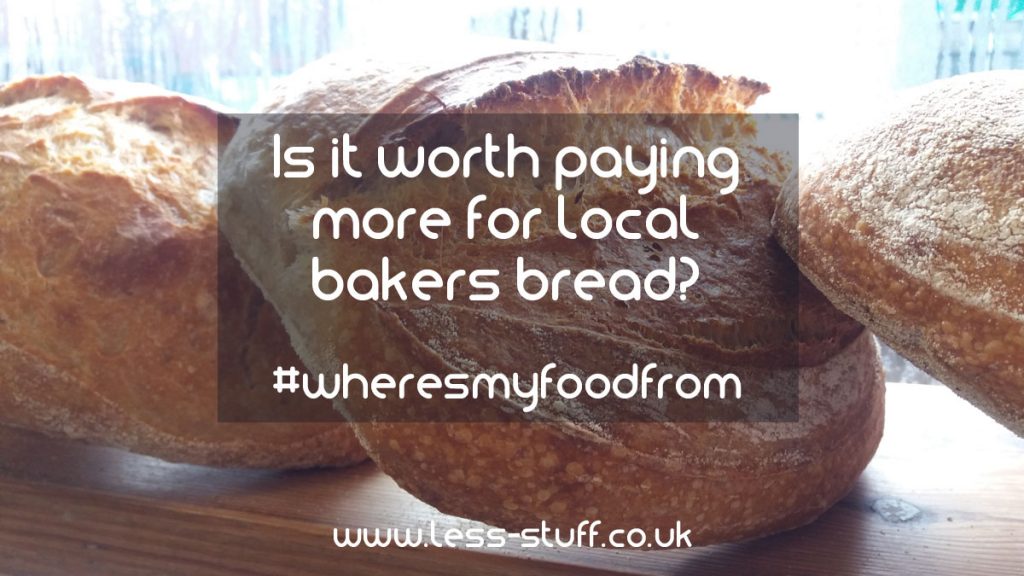 I'm taking part in the Live Happerley Challenge to know where all my food comes from. Bread is a bit of a food trigger for me, one slice is never enough, so I try to avoid buying it all the time. I get bread for my son's sandwiches, toast and sometimes we have cheesy beanos (on toast). This week I'm looking into where my bread is from. I'm comparing sourdough from the local bakers and the closest supermarket. For comparison I've  listed the ingredients of the bread I buy most often, for sandwiches. The ingredients list is a little horrific but the sliced wholemeal is super cheap.
I also have a recipe for easy sourdough bread from less-stuff Facebook group member Linda. Making your own bread is the very best way to know what goes into it.
I'm writing this first thing in the morning so instead of relying on my maths I've used this calculator to work out costs.
Shopping choices for bread
We are lucky to have a fantastic bakery just a short walk away. They sell the most amazing bread and cakes which are worth the money in my opinion. I walk past them on the way to the train station sometimes and they are a nice friendly light on in the dark early hours of the morning.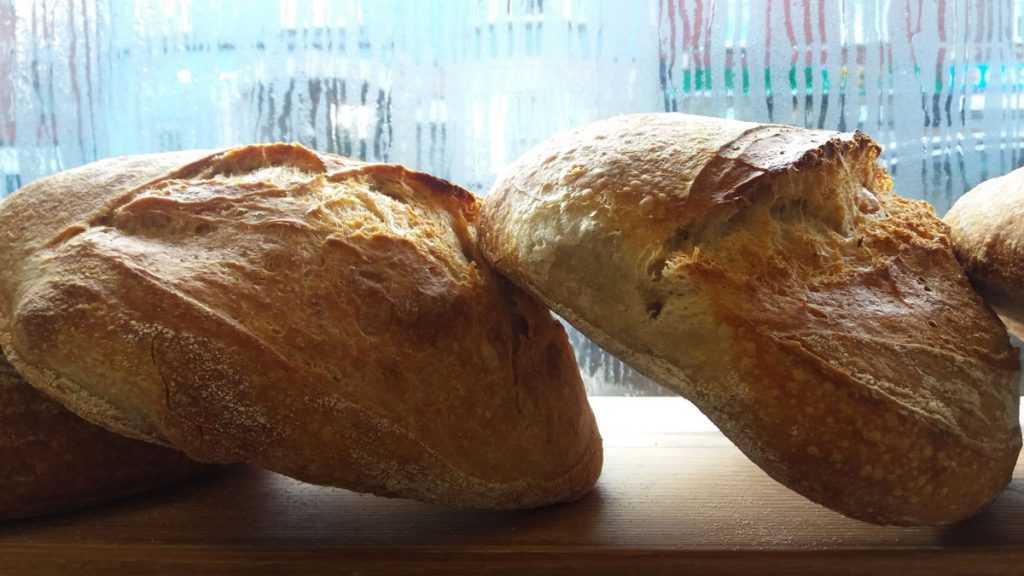 Ingredients:
Sourdough starter (flour and water and natural yeasts), Salt, Flour
Old Market Assembly Bakery can #namethefarm. They say:
"Our flour all comes from Shipton Mill. The organic white flour we use is untreated-organic-white-flour-no-4 and the stone ground organic flour we use is here stoneground-organic-wholemeal-flour-706"
The white flour is made from a blend of Canadian and English organic wheats, and the organic flour is from a single variety of English wheat called Maris Widgeon, combined with top quality organic wheat from the continent.
Good points:
You can buy it warm straight from the bakery and speak to the people who have been up since before dawn making it.
It has large holes to catch melting butter and tastes amazing.
It is packaged in nice heavy paper bags that can be reused for many things, including holding the food scraps before they get composted.
It only has 3 ingredients and the bakery know exactly where they came from.
It is surprisingly cheaper than supermarket sourdough!
Bad points:
It goes stale really quickly because there are no preservatives in it. Day 1 is best for bread and butter, Day 2 is good for toast. Day 3 it is getting a bit too hard to eat but that is ok because it makes incredible croutons.
Tesco Sourdough Bloomer. £1.60 for 180g. (89p for 100g)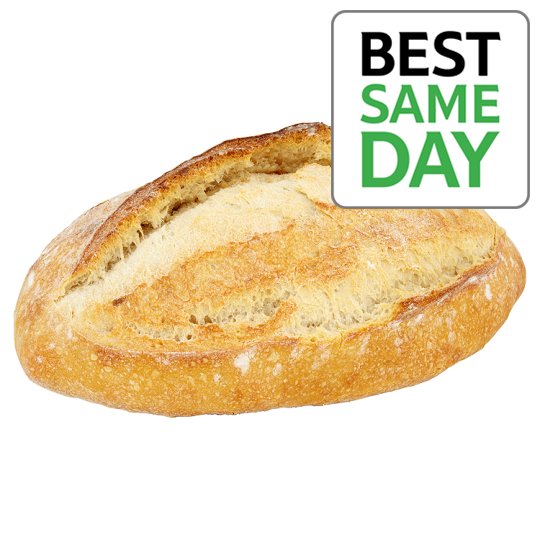 Ingredients
Wheat Flour (Wheat Flour, Calcium Carbonate, Iron, Niacin, Thiamin), Water, Rice Flour, Salt, Wheat Flour, Rapeseed Oil, Flour Treatment Agent (Ascorbic Acid)
Good points:
It is nicer toasted.
It has holes but they are not very big.
Bad points:
It goes stale really quickly and feels kind of squishy. Like there is lots of air in it.
Tescos Wholemeal Sliced Bread. 55p for 800g (7p for 100g)
Ingredients:
Wholemeal Wheat Flour, Water, Wheat Gluten,Yeast, Rapeseed Oil, Salt, Spirit Vinegar, Soya Flour, Processing Aids (Rapeseed Oil, Calcium Sulphate, Water, Palm Oil, Enzymes, Sunflower Lecithins, Polyglycerol Polyricinoleate, Carnauba Wax, Linseed Oil, Glyceryl Triacetate, Mono- and Di-Glycerides of Fatty Acids, Acetic Acid, Tocopherol-Rich Extract), Caramelised Sugar, Emulsifier (Mono- and Di-Acetyl Tartaric Acid Esters of Mono- and Di-Glycerides of Fatty Acids), Preservative (Calcium Propionate), Palm Oil, Flour Treatment Agent (Ascorbic Acid)
Good points:
It is already sliced and easy to turn into sandwiches for a packed lunch.
It doesn't taste great and I don't generally want to snack on it.
It is very cheap (but not the cheapest!)
It lasts for a long time and takes week to go mouldy or stale.
Bad points:
It is not lovely tasting bread.
Try making your own Sourdough
Sourdough bread needs a starter, so you need to do a little prep before you can make it. There are loads of videos on YouTube to show you how, or you could ask a friend who has a starter if you could have some of theirs. It gathers natural yeasts and takes a little time. Linda recommended the Shipton Mill instructions for making sourdough starter.
This is how Linda from the less-stuff Facebook group makes her Sourdough bread. I've cut and pasted her instructions below:
Sourdough – very simple no knead white overnight loaf (Thanks Linda for the recipe)

Ingredients
Rye starter (old) 5g


Wholemeal wheat flour 150g

White wheat flour 450g

Sea salt 8g

Water (22-25ºC/72-77ºF) 400ml

Total 1013g
That's not a misprint: only 5 grams (about a level teaspoon or a pea-sized piece) of sourdough starter is needed. It doesn't have to be fresh, but it is best from a source that has already proved itself in action, as it were. If you are using a relatively young starter, increase the amount to 10 grams.
"most recipes have an extra process where you make a production sourdough with some of your starter, some flour and water and ferment it often for several hours or overnight, before you add the bulk of the flour and water. "

This recipe is weird as it uses so little starter and it is an all-in-one process.
Method
Mix the starter (straight from the fridge is fine) with the warm water and add the flour and salt.
Mix in a bowl until all the flour is wet, turn the dough out onto the table and work it for a minute until any lumps have gone. This is not really kneading, just a thorough mixing, and it should take no longer than a minute, or two at the most. Note that this is a pretty wet dough (75 per cent hydration). It needs to be, to allow the very small initial number of yeast cells to multiply and 'pump' enough carbon dioxide gas to raise the dough without too much resistance from a tight gluten structure.
Linda uses a sheet of compostable greaseproof paper to line the bowl for proving .

Leave it at room temperature for a couple of hours if possible and then transfer to a cooler place (10–12°C/50–54°F) for 16 hours or until it has risen fully.

The exact timing depends on the starter and the temperature. It might be easier to give it a full 24 hours to rise.  Linda said:

"I heat an old Le Crueset pan in the oven for half an hour. Then lift the paper and bread and pop them into the pan. Lid on and bake for 25minutes, take the lid off and bake for another 25 mins. Lift out using the paper."
Baking temperature and time is much the same as for any plain loaf so 40 to 50 minutes for a 1kg loaf and a bit less for half-size ones. Start at 230°C (or as high as your oven will go) and turn the heat down by 20°C after 10 minutes' baking.
This one keeps well but doesn't really have holes. It comes from Andrew Whitely DO Sourdough, slow bread for busy lives, which Linda highly recommends. She says "His French Country loaf is the one with the holes and is delicious. Bit more complicated though."
[amazon_link asins='1907974113′ template='ProductAd' store='lessstuff08-21′ marketplace='UK' link_id='64448446-1c60-11e8-9927-d5e0ca65d084′]
Conclusion
I'm really surprised to find out that sourdough bread is cheaper from the local bakery than the supermarket. It tastes nicer too and the wholemeal flour even has a name. From a frugal point of view the local bakery is not going to beat the wholemeal sliced loaf I get for sandwiches. I won't bother buying supermarket sourdough bread again though.
Disclosure – I am not paid by Tescos or the Assembly Bakery to promote their products. The link to the breadmaking book Linda recommended is an affiliate link, if you buy through me I'll get a tiny bit of commission.
[ess_grid alias="wheresmyfoodfrom"]